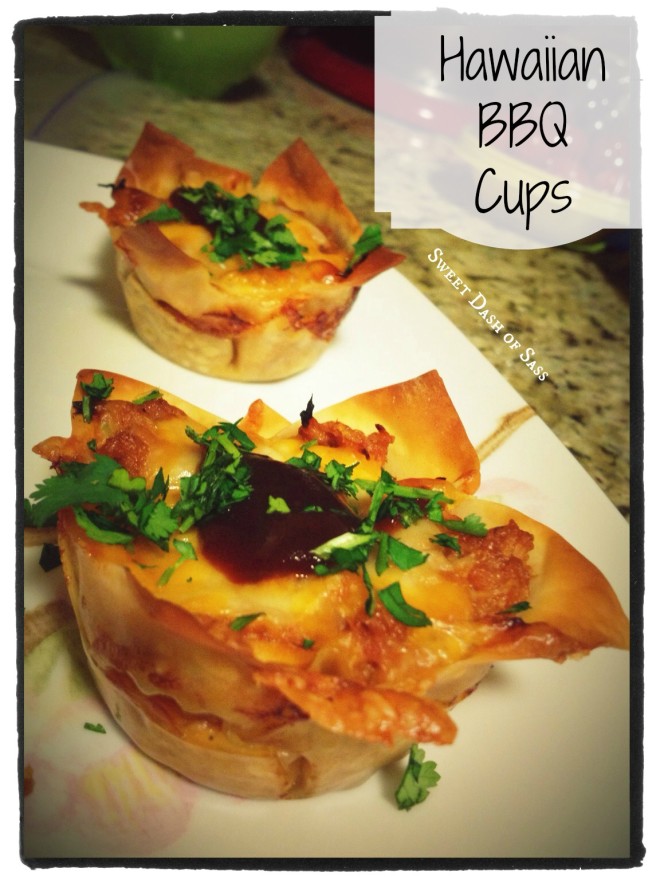 Hawaiian BBQ Cups
Author:
Sweet Dash of Sass
Ingredients
2 large, boneless chicken breast, cooked and shredded (about 1⅔ cup)
½ cup pineapple tidbits (drained)
4 TBSP barbecue sauce (Recommend – Sweet Baby Ray's)
1 TBSP chopped scallions
16 wonton wrappers (typically found in the produce section)
1 cup shredded cheddar cheese
Garnish: Sour Cream and/or chopped cilantro
Instructions
Pre-oven at 375 degrees.
Mix shredded chicken, pineapple, BBQ sauce, and scallions in a medium bowl until well coated.
Lightly spray 8 cups of a muffin tin with non-stick spray and press one wonton wrapper into each muffin cup
Spoon half of the chicken mixture evenly into the 8 cups, and top with half of the cheese mixture
Press another wonton wrapper on top of each cheese layer. Lightly press to avoid any air bubbles.
Note: Try to rotate the position of the wrapper so it isn't exactly the same way the bottom one is.
Lightly spray edges of wonton wrapper points.
Repeat the chicken then top with cheese. The cups will be very full.
Bake 18-20 minutes. Let the cups cool for 5 minutes before popping them out in order for them to keep their shape.