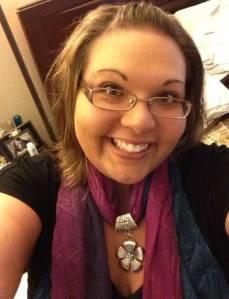 Hi there! I'm Sara, the face behind Sweet Dash of Sass.  I've always had a passion for cooking/baking.  If I ever had to make a career change, I think I would highly consider going to Culinary School.
A little bit about me.  I currently live in the San Francisco Bay Area with my husband.  In late 2010, we relocated out here from Cleveland, Ohio – I was offered an excellent job opportunity from my current employer that was too good to pass up.  My now-husband relocated out here with me.  (I was not a fan of long distance relationships.)  It worked out perfectly, as he was able to get a transfer with his job.  Since we both didn't know anyone out here, we relied on each other a lot.  That helped our relationship grow much stronger. And in December, 2011 he proposed at the same location where we had our first date in Cleveland.
Over the next year, all my spare time involved wedding planning.  I really did love the planning part.  Planned our whole wedding from California (we got married back in Ohio).  On March 16, 2013 – I married my partner in crime – Bob.  You will hear me mention him throughout the blog.  Not only is he one of my biggest supporters, but he is also one of my taste testers for many of the recipes you see on the blog!
After the wedding, I didn't know what to do with my spare time.  I happened to glance through my personal Facebook page and noticed that I had posted a lot of food dishes from the previous year.  Plus, my friends and family would always ask me for recipes, so I thought I should put all the recipes online.
The blogging community is amazing.  I have interacted with and learned from so many people around the world.  Very inspiring.  I never imagined seeing some of my recipes float around on Pinterest or even Facebook.
Also, the recipe that has given me the most success was one that I made my husband on our second date!  It's one that I hold very close to my heart.  The fact that so many others have made this dish in their homes and love it as much as we do, makes me smile.
Everything recipe wise you see on the blog I physically made in my kitchen.  All photos are personally taken by me – mainly with my iPhone or iPad.   My husband now knows to not eat the "perfect looking" cookies or to wait a few minutes before diving into dinner so I can get the "perfect" shot.  He even sometimes jumps right in to help "stage" the photo.
A few of my favorite foodie related things:
 Poppyseed Roll (made with extra poppyseed feeling)

I remember my Grandma making this during the holidays like Christmas and Easter.  Since she has passed, my mom has taken on that tradition.  Whenever she puts a few slices out with the other holiday cookies, I go straight for this EVERY TIME.  There is only 1 place that I have come across where they make it very similar to my Grandma's recipe – Bea's Bakery!

A good piece of cake (not usually chocolate) and a scoop of ice cream.  I'm a big fan of ice cream made out of Coconut Milk!
Adas Polo – it's my favorite Persian dish, hoping to get on the blog soon.  It's basmati rice with lentils, raisins, mini pan fried vermicelli noodles and Saffron Chicken. Till I get it posted, here is my second favorite dish.
Hawaiian Papaya & Pineapple
Oh, and Hawaiian Shave Ice!  Definitely do not confuse this as a Sno-Cone.
Spicy! (Sriacha/Crushed Red Pepper type, not Tabasco/Buffalo style)
Vietnamese food!
In case you didn't know,  you can subscribe via email to not miss out on any of my blog posts.  Plus, I will send special links from time to time exclusively to e-mail subscribers.  You can also sign up for all my other social media sites – Facebook, Twitter, Pinterest, and Tumblr, but I do actively use Instagram on a daily basis.
If you happen to try any of my recipes – definitely comment and let me know what you think.  Feel free to take pictures of your dishes and tag me on social media and/or use the #SweetDashofSass.