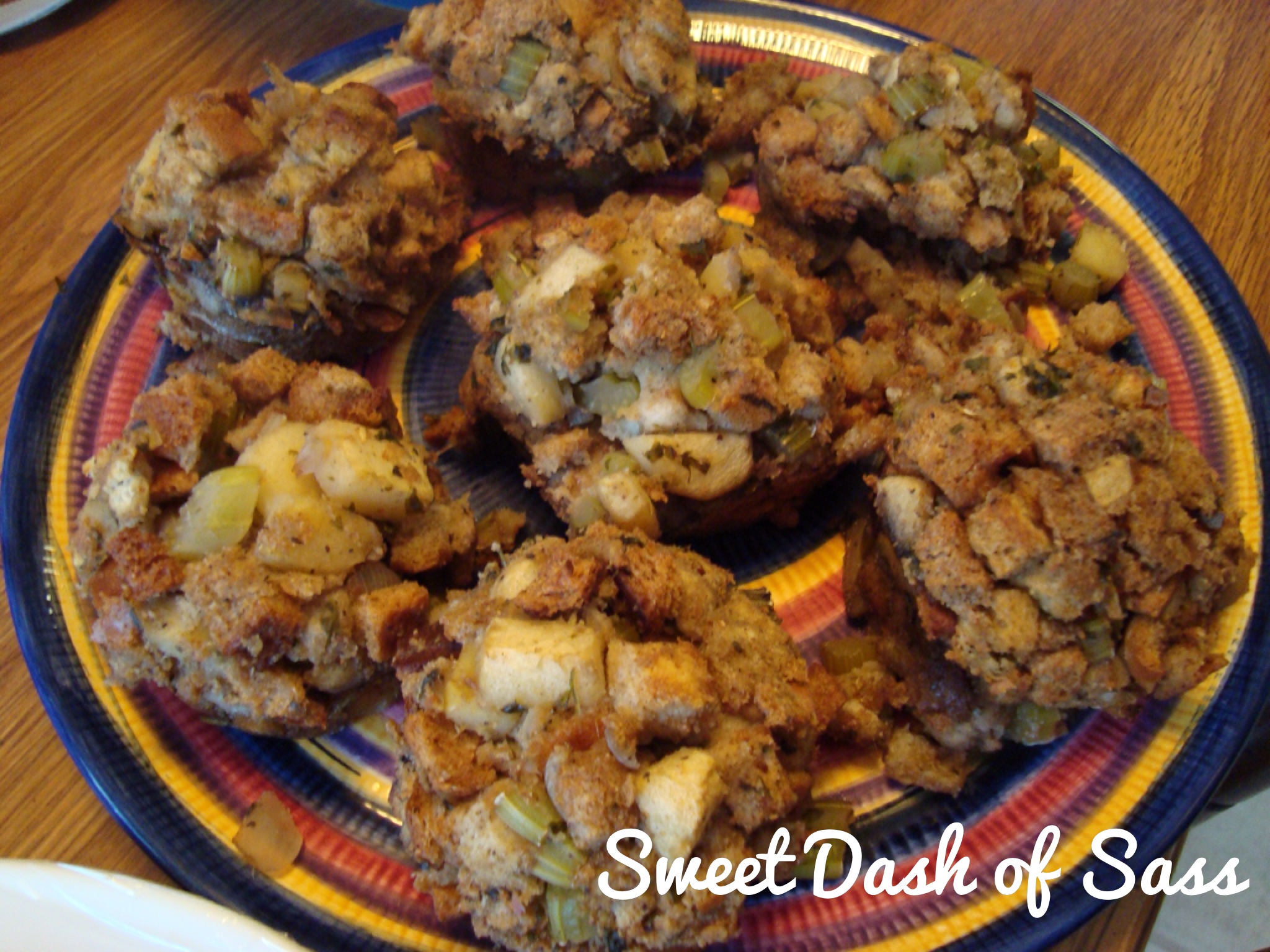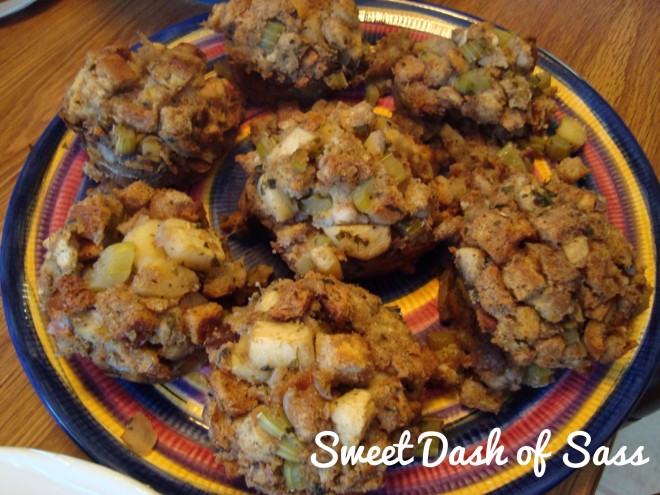 Unfortunately, I can't take credit for this one — This recipe originally came from Rachael Ray.  I made it a few years ago when I hosted my first Thanksgiving.  Everyone raved about these stuffin' muffins!  I think they loved how they were pre-portioned for people to easily grab/serve.  I have made them every year since!  As Rachael Ray would say, DELISH!

Apple & Onion Stuffin' Muffins
Author:
Sweet Dash of Sass
Ingredients
2 tablespoons oil
1 stick softened butter
1 fresh bay leaf
4 celery ribs and greens, chopped
1 yellow onion, chopped (medium or large size would work)
3 McIntosh apples, quartered and chopped (you can leave skins on or off, your preference -- I left mine on)
Salt and Pepper
2 tablespoons poultry seasoning
¼ cup chopped fresh parsley leaves
8 cups cubed stuffing mix (preferred brand - Pepperidge Farm)
2 to 3 cups chicken stock
Instructions
Preheat oven to 375 degrees.
Heat a large skillet over medium high heat.
Add oil to skillet and 4 tablespoons butter.
When butter melts, add bay leaf and add the vegetables as you chop them, celery, onions, and then apples.
Sprinkle the vegetables and apples with salt, pepper, and poultry seasoning.
Cook 5 to 7 minutes, vegetables and apples should just begin to soften.
Then add parsley and stuffing cubes to the pan and combine.
Moisten the stuffin with chicken stock until all the bread cubes are soft, but not wet.
Grease 12 muffin cups liberally with remaining butter.
Use an ice cream scoop to fill and mound the stuffing in muffin tins.
Remove the bay leaf as you scoop the stuffing when you come upon it.
Bake until set and crisp on top, 10-15 minutes.
Remove stuffin' muffins to a platter and serve hot or at room temperature.
Tip #1:
Let muffins cool slightly in pan before removing or else they might fall apart when you attempt to remove from muffin tin.  Best if you slide a fork or spoon into muffin tin to help lift them out of pan. 
Tip #2:  You can prep this dish early in the morning and bake right before you are ready to eat your meal.  Complete all steps, including filling them in the muffin tin.  Then, just let them sit out until you are ready to bake.  One less item to worry about when entertaining family or guests!