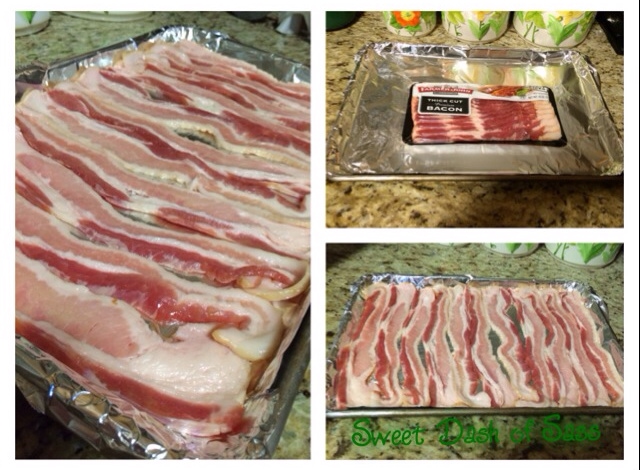 I love Bacon.  Who doesn't?  It's the added touch to so many dishes.  However, I hated the mess I would have to clean up when pan frying on the stove.  I knew there had to be an easy way to get crisp bacon, that wouldn't curl up, and would be mess-free.
Problem solved!  I wish I would have known about this years ago! 

Sass 101: How to Make Perfect Bacon
Author:
Sweet Dash of Sass
Instructions
Line a shallow baking pan with foil. Enough where the foil goes up the edges on all sides. (This will help make the clean up a breeze.)
Lay slices of bacon across pan. Bacon slices can touch, but you do not want them to overlap each other.
Place pan in COLD oven. Yes, that is correct, cold – do not pre-heat.
Turn on oven to 400 degrees.
Bake 18-25 minutes, depending on thickness of bacon.
Recommended to set timer to 18 minutes. After 18 minutes, keep an eye on oven until you reach the desired cookness.
(I love Crispy bacon, so I always cook towards 25 minutes or so.)
Once cooked, pull out of oven.
Using tongs, remove bacon slices onto a plate lined with paper towels.
Place paper towels between all layers of bacon to allow remaining grease to drain.
Let hot pan cool for at least an hour. Once cooled, you can roll up all the oil in the foil and toss. No splatters of oil to clean!
Want to avoid waste and re-use the bacon grease? Place bacon grease in a tightly sealed glass container.  You can easily use bacon grease in recipes that call for oil or even use it to fry other foods to give it that extra bacon flavor!
ENJOY!!