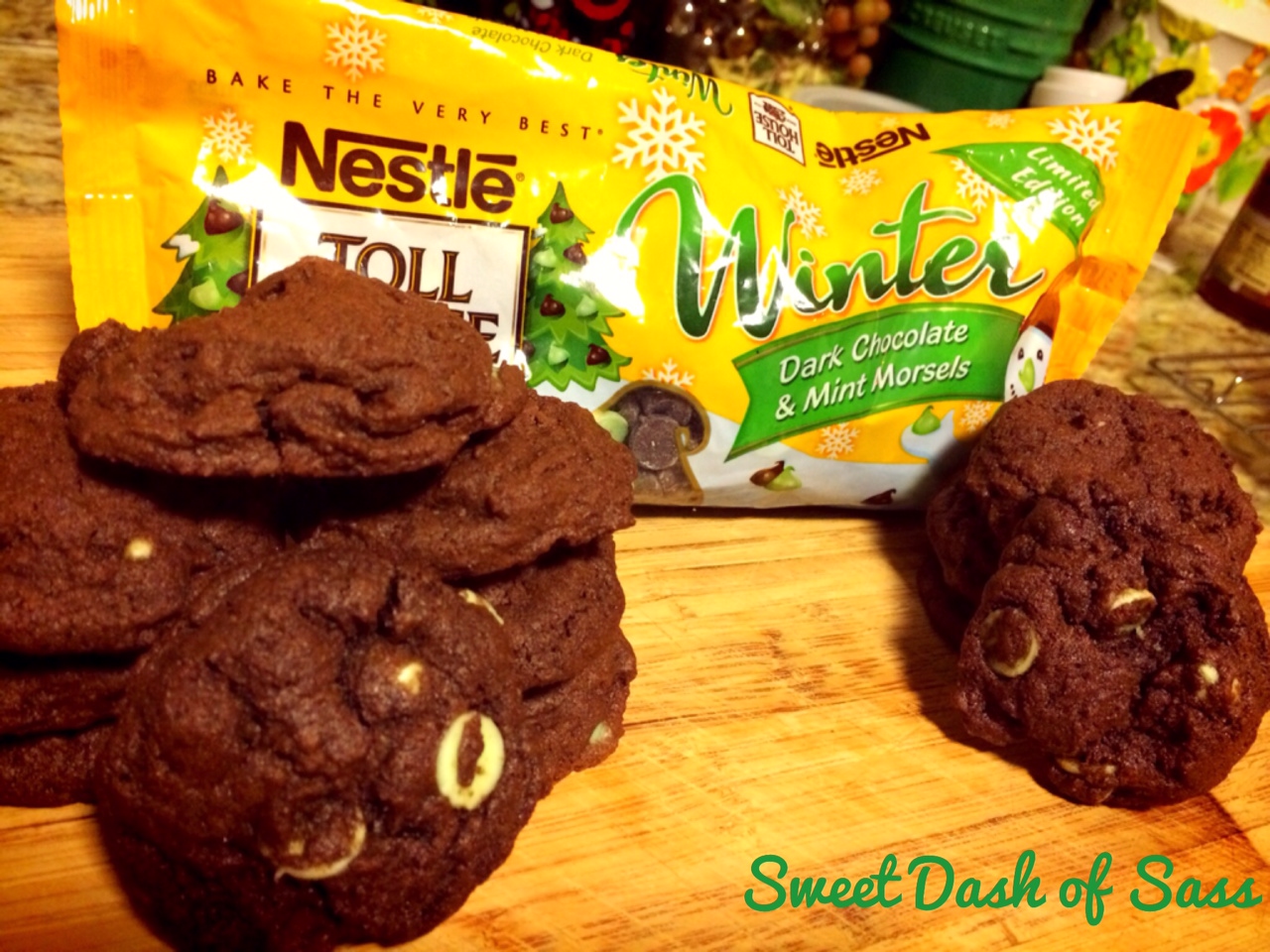 Day 10:  25 Days of Christmas – Cookie Style
 I love Chocolate and I also love mint, but having a dessert with the combination of the two isn't a personal favorite for me.  However, I know there are lots of people who think otherwise.  That is why I still made these cookies.  I actually found this recipe on one of those tear off booklets at my local grocery store in the baking aisle.  These were super easy to make and were soft & chewy!  These were a favorite among many of the taste testers!
Check out and 'LIKE' Sweet Dash of Sass on Facebook!  Click here for direct link! 

Chocolate Mint Cookies
Author:
Sweet Dash of Sass
Ingredients
2 cups flour
⅔ cup baking cocoa
1 teaspoon baking soda
½ teaspoon salt
1 cup (2 sticks) butter, softened
⅔ cup sugar
⅔ cup brown sugar, packed
1 teaspoon vanilla
2 large eggs
1 (10 oz.) package Nestle Toll House Dark Chocolate & Mint Morsels
Instructions
Pre-heat oven to 325 degrees.
Combine flour, cocoa, baking soda and salt in small bowl.
Beat butter, sugars, and vanilla in a large bowl until creamy.
Add eggs, one at a time, beating well after each addition.
Gradually beat in flour mixture. Stir in morsels.
Using a medium cookie scoop, drop by tablespoonful onto a cookie sheet lined with parchment paper (or ungreased baking sheets).
Bake for 11 to 13 minutes, until cookies are puffed in the centers.
Cool on baking sheets for 2 minutes. Remove to wire racks to cool completely.
Tip #1:  Store cookies in an airtight container.  Do not mix these cookies with others in same container as the mint aroma could incorporate into other cookies.
Tip #2:  For an added touch, drizzle cooled cookies with melted white or dark chocolate.
Tip #3:  Did you ever wonder what the purpose of salt is in cookie / cake recipes?  The main reason is to enhance the flavor of the other ingredients.  It will provide a balance to the sweetness of batter.  It also strengthens the dough by tightening the gluten and prolongs shelf life!