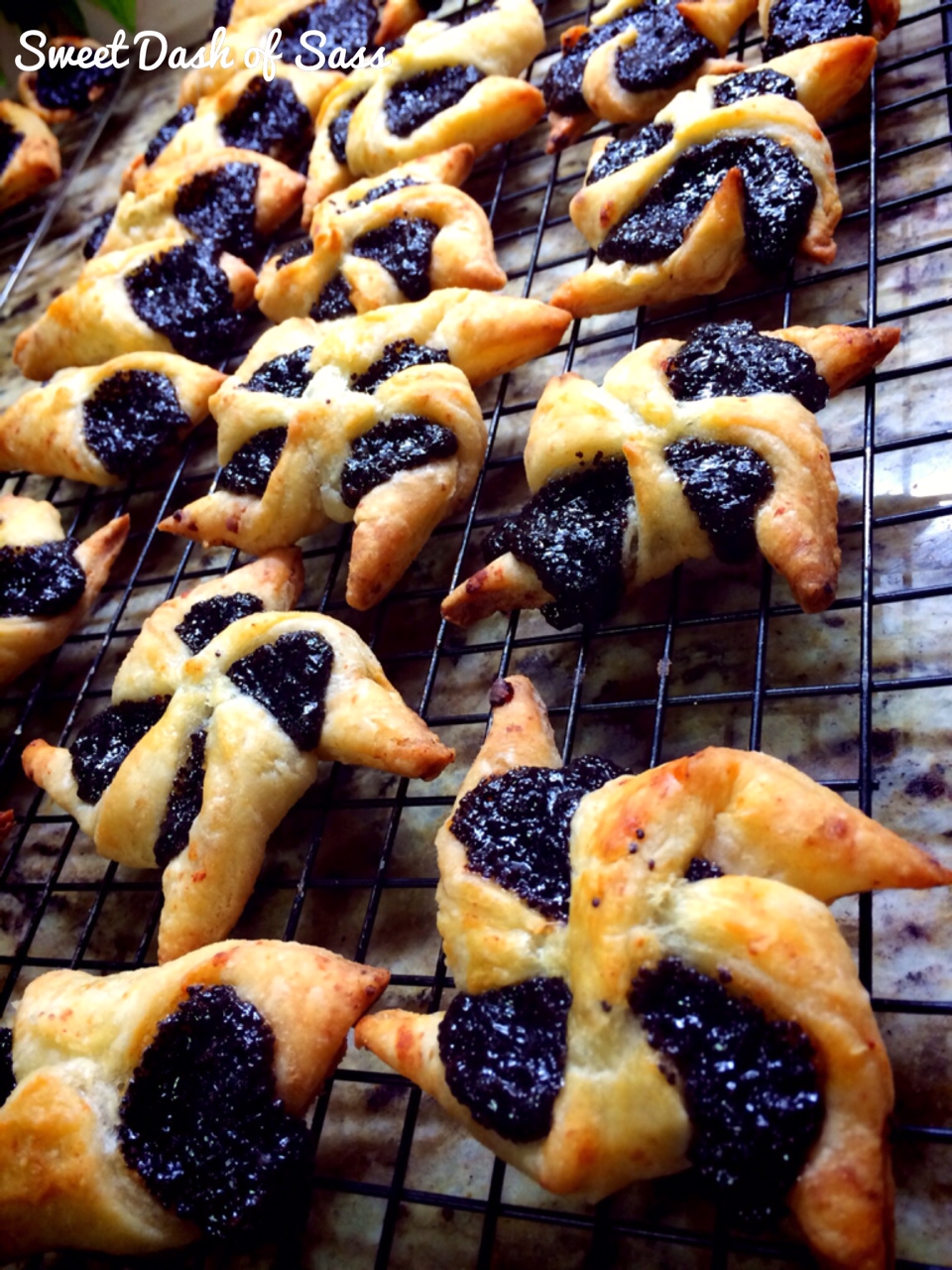 Day 21 : 25 Days of Christmas, Cookie Style
I'm obsessed with Poppyseed Roll, so I was determined to make something Poppyseed related this holiday season.  I have attempted Kolacky's in the past, but haven't had much luck.  This year, I tried a different recipe dough wise.  This one appealed to me since it was very simple ingredient wise.  The dough once baked had an amazing flavor.  It's almost like having a Danish in a sense.  This was the first time I attempted making the pinwheel shapes. Even though it takes a little extra time making, it's totally worth it.  I thought they were almost too pretty to eat!  Of course, I devoured these.  You can make these with any of your favorite fruit filling.  Highly recommend!!

Cottage Cheese Kolacky
Author:
Sweet Dash of Sass
Ingredients
2 cups flour
1 cup butter, chilled and cut up in tablespoon amounts
1 cup (8 oz) cottage cheese, small curd
1 can Fruit Flavor filling (I used Poppyseed – my absolute favorite!)
2 egg whites, beaten
Powdered Sugar
Instructions
In a standup mixer, using your dough hook, mix butter and flour together. If you don't have a standup mixer, you can use a pastry blender and cut butter into flour as you would for a pie crust.
Add cottage cheese, mixing lightly just until dough is combined and holds together.
Divide dough into 2-3 equal portions; wrap in plastic wrap and refrigerate for several hours to overnight.
Pre-heat oven 375 degrees.
On a lightly floured board, roll out one portion of dough to ⅛-inch thickness.
With a pizza cutter, cut dough into 2½ inch squares.
Place 1 teaspoon of fruit filling in the center of each square.
For Pinwheel shape: Cut a ½ inch slit diagonally on each corner of the square. Place 1 teaspoon of fruit filling in the center of each square. Bring every other corner to the center and press together; seal with egg white. Press into filling.
For traditional kolacky shape: Place 1 teaspoon of fruit filling in the center of each square. Bring two opposite corners of dough together, folding one over the other to seal. Pinch and rub a little egg white to help secure the seal.
Bake on an ungreased cookie sheet (or lined with parchment paper) for 17-20 minutes or until lightly browned.
Cool on baking sheet for 5 minutes before cooling completely on a wire rack.
Dust with powdered sugar prior to serving.
Store in an airtight container.
Makes 3 dozen.
 Tip #1:  Instead of rolling dough on a floured surface.  Place parchment paper (or plastic wrap) underneath a portion of the dough on table.  Lay plastic wrap on top of dough as well.  Roll out dough to thickness needed.  The plastic wrap saves the mess from the flour and you don't have to worry about the dough sticking to the rolling pin.  Also, with the dough being rolled out on the parchment paper, makes it super easy to transfer to the baking pan.  All you have to do is lift up the parchment paper and transfer to your baking sheet!