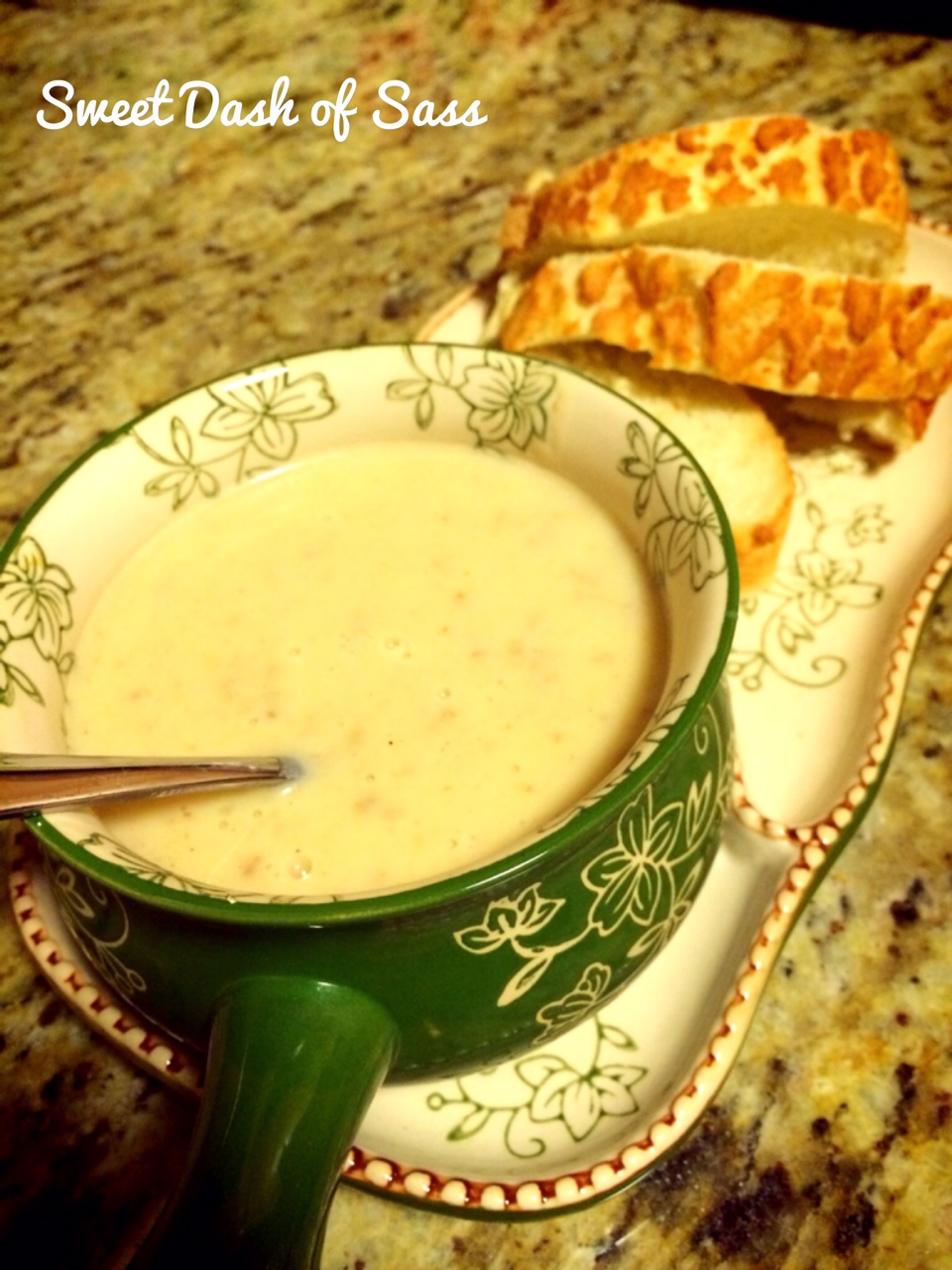 In one of my Farm Fresh to You baskets, I happened to get Leek and White Avalanche Potatoes.  I was so excited about the leek, as this was a new ingredient for me to try cooking on my own with.  The first recipe that came to mind was a Potato Leek Soup.  I searched online to get some potential ideas.  My favorite one was from Emeril Lagasse.  I did, however, tweak his original recipe a bit – my version is below. 
This was seriously one of the best tasting soups I have ever made.  It had so much flavor.  Even my husband agreed.  We ate the soup as our main dish for dinner and served it with some yummy Dutch Crunch bread from the bakery.  We definitely went back for seconds!  I highly recommend making this!  It's a perfect meal on those cold, winter months!
Creamy Potato Leek Soup with Bacon
Author:
Sweet Dash of Sass
Ingredients
2 small leeks, about 1 pound
20 black peppercorns
2 tablespoons butter
3 strips bacon, chopped
5-1/2 cups chicken broth
1 pound potatoes, diced (I used White Avalanche Potatoes, but you can also use Russet Potatoes.)
1-1/2 teaspoons kosher salt
¾ teaspoon white pepper
¾ cup heavy cream
Optional Garnishes: Shredded Cheddar Cheese and/or Chives
Instructions
Trim the green portions off of the leek, save 2 of the leaves.
In a cheesecloth, add 2 leek leaves and peppercorns together to make a "bouquet garni". Set aside.
Using a sharp knife, halve the white part of the leek lengthwise and rinse well under cold running water to rid of any "leek sand". Slice thinly crosswise and set aside.
In a large soup pot over medium heat, melt the butter and add chopped bacon.
Cook for 5 to 6 minutes, stirring occasionally, until the bacon is very soft and has rendered most of its fat.
Add the chopped leeks and cook until wilted, about 5 minutes.
Add ½ cup of chicken broth and bring to a boil.
Add the reserved bouquet garni, chicken stock, potatoes, salt, and white pepper, and bring to a boil. Reduce heat to a simmer and cook for 30 minutes, or until potatoes are falling apart.
Remove the bouquet garni, and working in batches, puree the soup in a food processor, blender, or you can use an immersion blender directly in the pot.
Stir in heavy cream and adjust seasoning, if necessary. Serve immediately. Garnish, if needed.
Serves 4 to 6 people.
Did You Know?
How does Leek get dirt/sand in it?  The reason the leeks get dirt is because in order to get the long white stems, baby leek seedlings are planted several inches underground.  The sweet white part does not get any sun.  Where it starts to get sunlight, the leaves split and turn green, and soil can get between the leaves easily at soil level.
What is the difference between black and white pepper?  Black and white peppercorns are both the fruit of the pepper plant, but they are processed differently.  Black peppercorns are picked when almost rip and sun dried, turning the outer layer black.  To produce white peppercorns, this outer layer is removed before or after drying, leaving only the inner seed.  White pepper is hotter than black pepper.  It's typically used in light-colored dishes for aesthetic reasons.