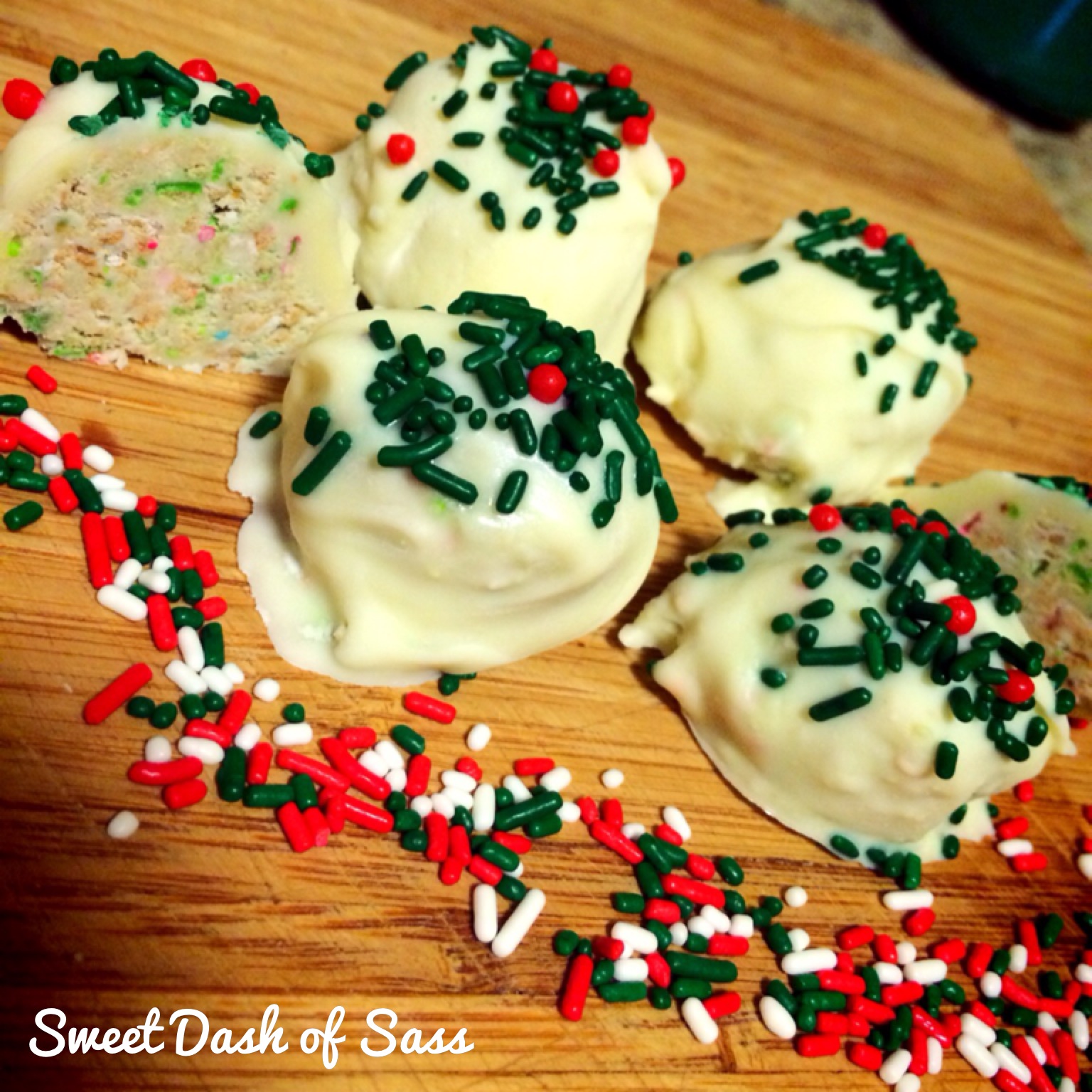 Day 16 : 25 Days of Christmas, Cookie Style
A few years ago, my mom made Oreo Truffles and they were absolutely amazing.  I was debating if I should make those or something different.  When I was shopping in the store, I noticed these frosted animal crackers (in Christmas colors) and thought this would be a perfect alternative to try.  When I came home, I went to Pinterest and found a few others that attempted the same recipe using the regular pink / white frosted animal crackers.  Once I saw that, I knew this would not be a fail!  The toughest part of this cookie is melting the chocolate.  I always have a hard time melting chocolate to the perfect consistency.  Of course, I don't have an official double boiler, so I attempted to create my own as you can see in the pics.  (Don't laugh!)  The good news is, it did its job.  Plus, my husband even helped me roll some of the cookies in chocolate and even put the sprinkles on.  Probably because he knew I was starting to get impatient with the chocolate consistency after doing a few of them.  However, flavor wise — these are amazing.  Love them and highly recommend!

Holiday Truffles
Author:
Sweet Dash of Sass
Ingredients
1 pkg. (12 oz) Frosted Animal Cookies (I chose the new Jungle Animals kind since they were green/white – perfect for the holidays!)
½ container (8 oz.) Cream Cheese Frosting
1 pkg. (12 oz) White Chocolate Melting Chips
Christmas Color Sprinkles/Jimmies
2-4 tablespoons of oil/butter (optional, to help thin out chocolate)
Instructions
In a food processor, pulse animal cookies until finely ground.
Depending on the size of your food processor, you might need to do this step in two batches.
Empty crushed cookies into a large mixing bowl.
Add frosting to crushed up cookies and mix well. You may need to mix with your hands to fully blend the frosting evenly with the cookies.
Using a small cookie scoop, scoop out teaspoonfuls of dough onto a parchment lined cookie sheet.
Place in refrigerator for at least an hour to harden back up.
Melt white chocolate using a double boiler.
Roll each cookie ball in melted white chocolate and place on a parchment paper.
Immediately sprinkle the cookies while chocolate is still wet.
Let cool completely till chocolate hardens. You can even place them in refrigerator for 20-30 minutes to help them harden faster.
Store in a cool, airtight container.
MAKES 2 DOZEN.