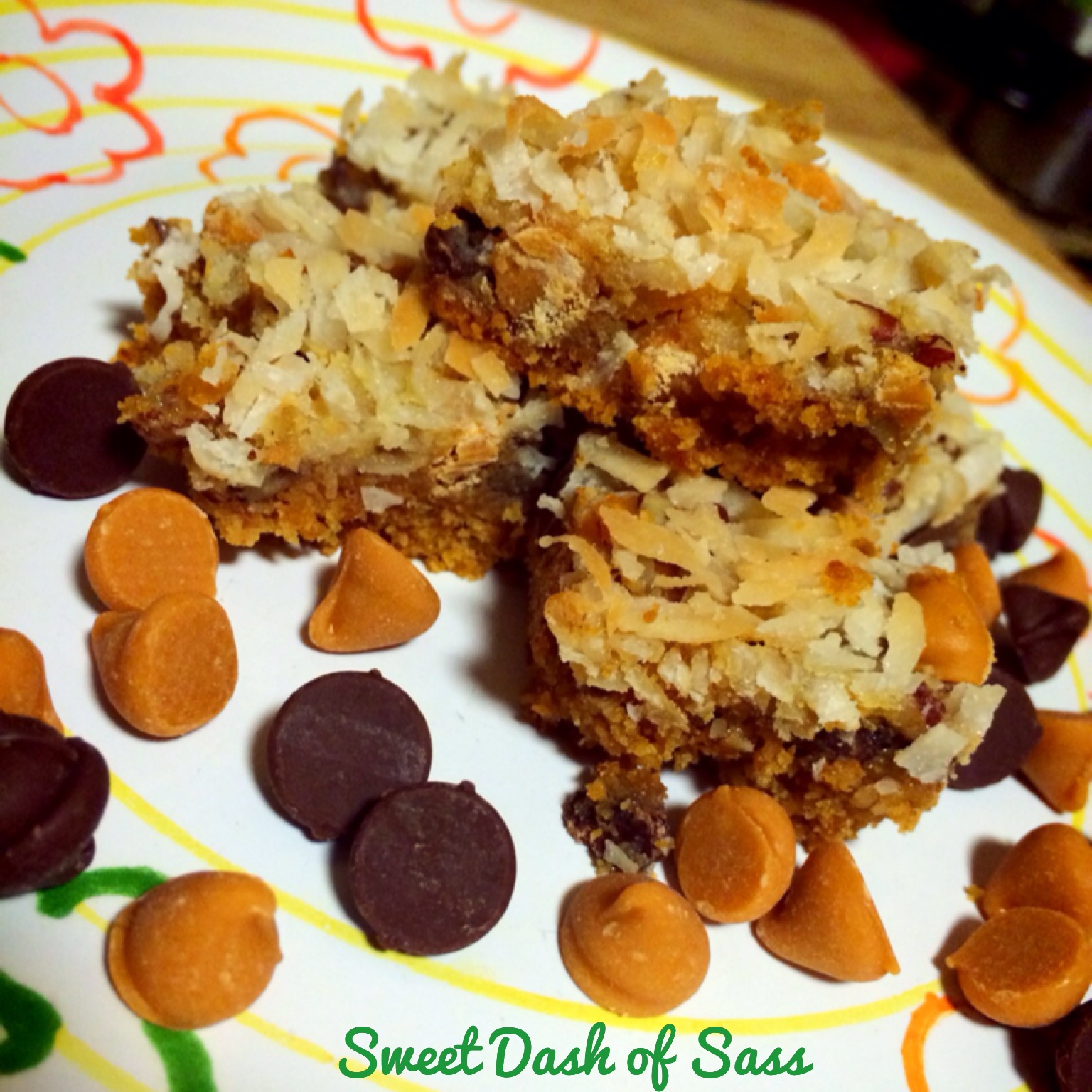 Day 13:  25 Days of Christmas – Cookie Style
Even though this recipe is pretty standard and can be found from various places.  I remember this bar from my younger years when my Grandma would make around the holidays.  The only difference between hers and this one is hers didn't have butterscotch chips.  I really like the addition of butterscotch chips to the recipe.  My husband isn't even a fan of coconut, but loves these bars!  These are super easy, and a perfect addition to any cookie platter!

Magic Layer Bars
Author:
Sweet Dash of Sass
Ingredients
1½ cups graham cracker crumbs
½ cup butter, melted
1 (14oz) can Sweetened Condensed Milk
1 cup (6oz) butterscotch flavored chips
1 cup (6oz) milk chocolate chips
1⅓ cups flaked coconut
1 cup chopped nuts
Instructions
Pre-heat oven to 350 degrees. Spray 13×9 baking pan with no-stick cooking spray. (other alternatives: line with aluminum foil sprayed with no-stick spray or parchment paper)
Combine graham crack crumbs and butter; mix well. Press crumb mixture firmly onto the bottom of a prepared pan.
Pour sweetened condensed milk on top of crumbs.
Evenly layer butterscotch and chocolate chips. Sprinkle with nuts; and top with coconut. Press firmly with a fork.
Bake 25 to 30 minutes or until lightly golden brown. Loosen the sides of bars from the pan by running a knife along the edges while still warm. Cool in pan on wire rack. Cut into bars.
Makes 30 bars.