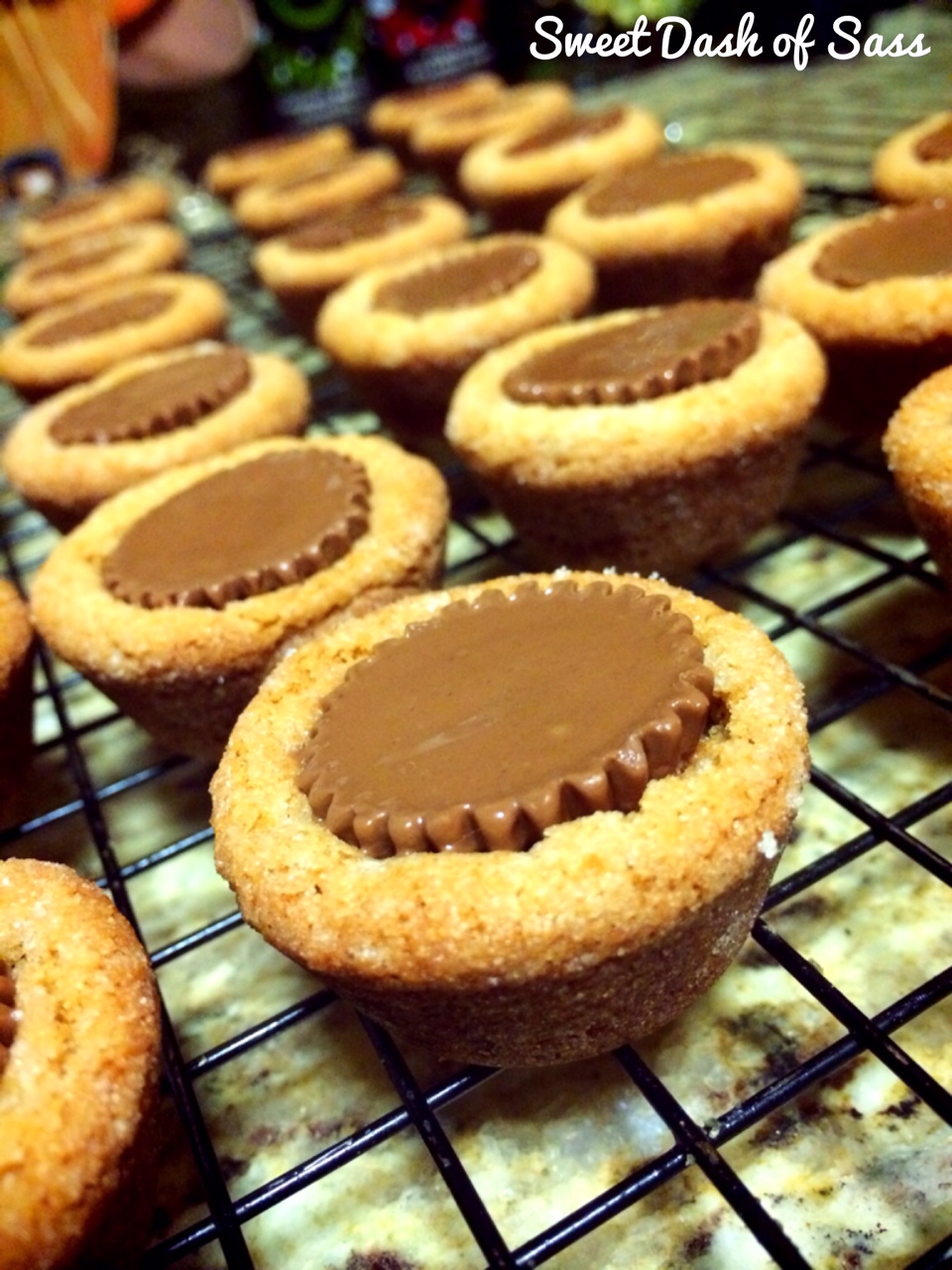 Day 12:  25 Days of Christmas – Cookie Style
Who doesn't love the combination of peanut butter and chocolate?  I have made this recipe for several years now and not just during the holiday time.  I can't take credit for this recipe though.  I originally got this from a package of Reese's Peanut Butter Cups a few years ago.  I tweaked it slightly from the original.  So if you are looking for an easy cookie recipe – this one is for you.  Even if you don't feel like making the dough strictly from scratch, see tips below for an alternative way to simplify even further!   The hardest part will be unwrapping all the Reese's cups!  :)
Check out and 'LIKE' Sweet Dash of Sass on Facebook!  Click here for direct link! 

Reese's Peanut Butter Cup Cookies
Author:
Sweet Dash of Sass
Ingredients
About 40 Mini Reese's Peanut Butter Cups
Dough:
½ cup (1 stick) butter, softened
½ cup sugar
½ cup brown sugar, packed
½ cup Creamy Peanut Butter
1 egg
½ teaspoon vanilla
1½ cups flour
¾ teaspoon baking soda
½ teaspoon salt
For Rolling:
⅓ cup sugar for rolling
Instructions
Pre-heat oven to 375 degrees.
Unwrap wrappers off all Reese's cups.
Beat butter, both sugars, peanut butter, egg and vanilla until fluffy in a large bowl. Add salt and baking soda and mix well. Slowly add flour and beat until fully incorporated.
With a small cookie scoop, scoop out ball of dough and roll ball in the sugar. Note: If you don't have a cookie scoop, shape dough into 1-inch portions.
Place balls into an ungreased mini muffin pan. Do not flatten.
Bake or 10-12 minutes until puffed and lightly golden brown. As soon as you pull out cookies from oven, press 1 Reese's Cup into the center of each cookie. Cool completely in muffin pan before removing.
Makes 36-40 cookies.
Tip #1:  Simplify the recipe even further…..Don't want to make your own peanut butter dough from scratch? Use Betty Crocker Cookie Mix (17.5 oz) — just follow the steps on package for making the dough.  Then, roll in sugar and follow remaining steps above.
Tip #2:  Definitely invest in a cookie scoop!  Saves you from rolling out cookies to a particular size!  The cookie scoop definitely comes in handy since some doughs can be sticky to work with.
Related articles