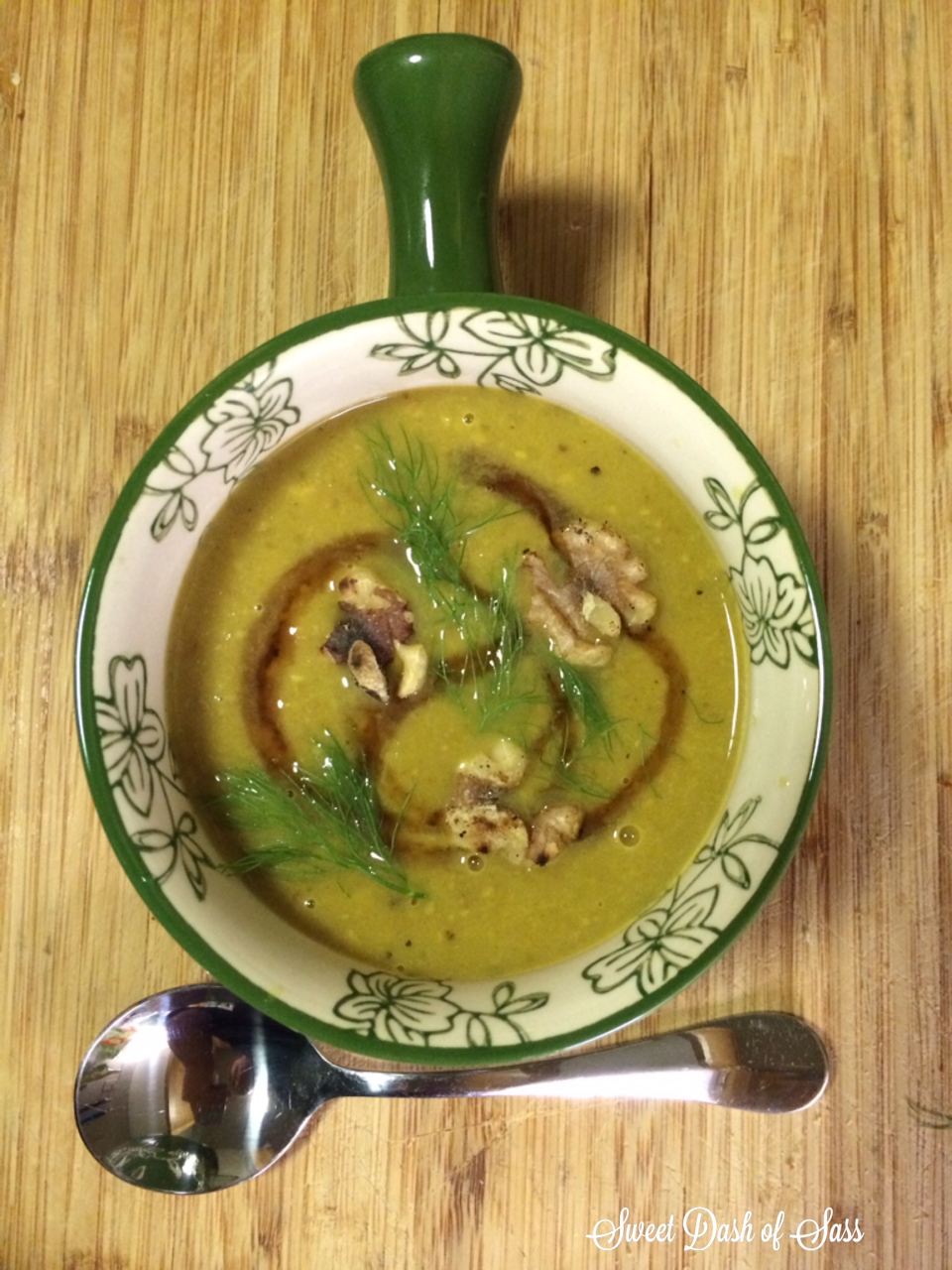 A few weeks ago in one of my 'Farm Fresh to You' boxes, I received fennel, apples, and leeks.  I was excited to receive the fennel as this was the first time cooking and/or trying it.  After looking online at some recipe inspirations, I happened to come across this recipe on another bloggers site The First Mess.  I thought this would be the perfect recipe to try with having all the ingredients in house!  This was definitely an interesting soup and had so much flavor.  The maple syrup goes perfectly too!  However, I definitely learned that turmeric can literally dye anything.  I happened to leave my soup ladle in the pot while I ate.   When I went to clean up the leftovers, I noticed my utensil was dyed yellow.  I figured it wouldn't be a problem after it ran through the dish washer.  Well, even after going through a few cycles in the dishwasher, it still has a hint of yellow. 
Apple, Leek, Fennel and Walnut Soup
Author:
Sweet Dash of Sass
Ingredients
2 tablespoons olive oil
3 leeks, white & light green parts chopped (discard the darker green tops or use them for the stock)
1 fennel bulb, cored and chopped (reserve the fronds on top for garnish)
1 medium apple, peeled, cored and chopped
1-2 teaspoons ground turmeric
½ cup walnut halves, toasted / coarsely chopped
salt & pepper
4 cups vegetable (or chicken) stock
Garnishes: Maple Syrup, Fresh Black Pepper, Reserved Fronds, Additional Toasted Walnuts
Instructions
Heat olive oil in a large soup pot over medium heat.
Add chopped leeks. Saute the leeks until they are soft, for about 4-5 minutes.
Add chopped fennel and apples; stir.
Add turmeric and stir to evenly coat all the vegetables.
Saute the vegetables until the fennel starts to soften, roughly another 4-5 minutes.
Add walnuts; stir. Season with salt and pepper. Add vegetable stock.
Bring pot to a boil and simmer until all vegetables, including apples are very soft – about 15 minutes.
Remove soup from heat and carefully blend mixture in food processor (or hand emulsion). Blend until totally smooth. Maybe take a few minutes.
Check soup for seasoning and adjust accordingly to taste. Bring pureed soup to a boil and serve with drizzles of maple syrup, fresh black pepper, fennel fronds, and more toasted walnuts.
Serves 4-6
Tip #1:
How to Toast Walnuts In the Oven
Preheat oven to 375°F. Lay walnuts on a baking sheet (you can line it with foil or parchment paper for easy clean-up). Roast walnuts until they start to brown and smell toasted, 5 to 10 minutes.
How to Toast Walnuts On the Stove
Heat a large frying pan over medium high heat. Add walnuts to the hot, dry pan and cook, watching constantly and stirring frequently, until walnuts starts to brown and they smell toasted, about 5 minutes.
________________________________________________________________________________
Like me on Facebook: Sweet Dash of Sass  CLICK LINK —>    Sweet Dash of Sass
Follow me on Instagram @SweetDashofSass
Follow me on Twitter @SweetDashofSass
________________________________________________________________________________