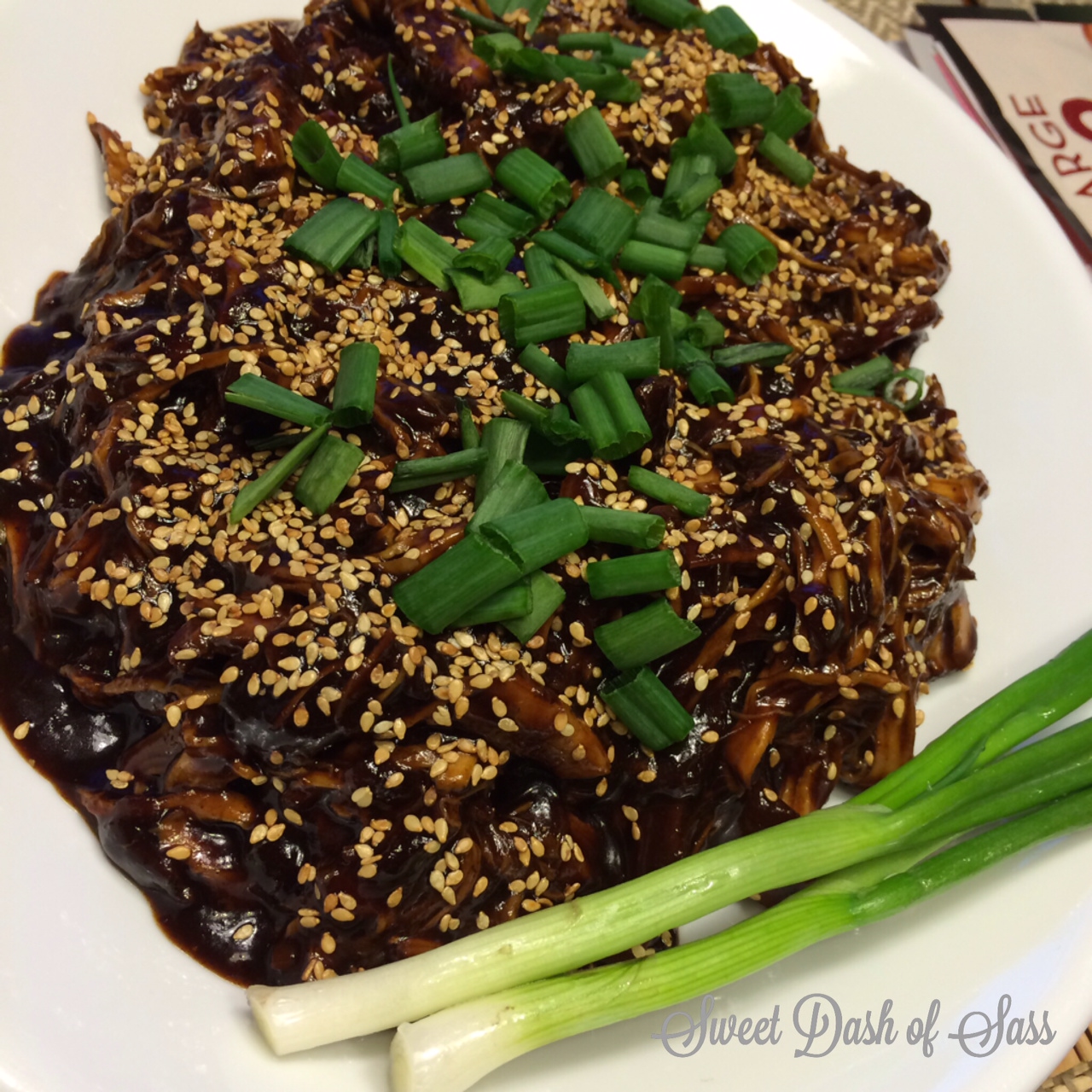 I cannot take credit for this recipe.  I got this recipe inspiration from Just a Taste.  A few weeks ago, I went back to my hometown to help out my parents as my mom had knee surgery.  I thought this would be the perfect opportunity to make and try some new recipes.  For my mom's birthday, I got her a Slow Cooker, so I thought I definitely had to make a dish from it.  I happened to see this recipe on another foodie's page and it sounded so delicious.  It's so easy to make and was soooo tasty.  Everyone absolutely LOVED!!  I served it with Basmati Rice.  Definitely going in my recipe book to make again.  I think my husband will definitely love to try this one.
Slow Cooker Honey Garlic Chicken
Author:
Sweet Dash of Sass
Ingredients
3 large boneless skinless chicken breasts (2½ to 3 pounds total)
½ cup honey
½ cup soy sauce
¼ cup blackberry jam
¼ cup hoisin sauce
2 tablespoons olive oil
3 cloves garlic, minced
½ cup diced onion
½ teaspoon crushed red pepper flakes (optional)
1 tablespoon cornstarch
Sliced scallions, for garnish
Sesame seeds, for garnish
Instructions
Arrange the chicken breasts in the slow cooker so that they are not overlapping.
In a medium bowl, whisk together the honey, soy sauce, blackberry jam, hoisin, olive oil, garlic, onion and crushed red pepper flakes, and then pour the sauce over the chicken. Cover the slow cooker and cook the chicken on LOW for 4 to 5 hours until the chicken is fully cooked.
Using tongs, remove the chicken from the slow cooker (reserving the liquids) and place it on a cutting board. Use two forks to shred the chicken into smaller pieces. Place the shredded chicken in a large bowl.
In a small bowl, whisk together the cornstarch with 3 tablespoons of cold water to make a slurry.
Transfer the liquids from the slow cooker into a small saucepan set over medium-high heat and whisk in the slurry. Bring the sauce to a boil and cook it until it reduces and has thickened slightly, about 3 minutes. Pour the sauce over the chicken, tossing to combine. Serve the chicken topped with sliced scallions and sesame seeds.
Serve with Rice.
Tip #1:  Not a fan of spicy?  Leave out crushed red pepper flakes.
Tip #2:  Add some veggies!  Fresh, steamed broccoli is a perfect complement to this dish!
————————————————————————————————————-
LIKE me on Facebook: Sweet Dash of Sass CLICK LINK —> Sweet Dash of Sass
Follow me on Instagram @SweetDashofSass
Follow me on Twitter @SweetDashofSass
————————————————————————————————————-