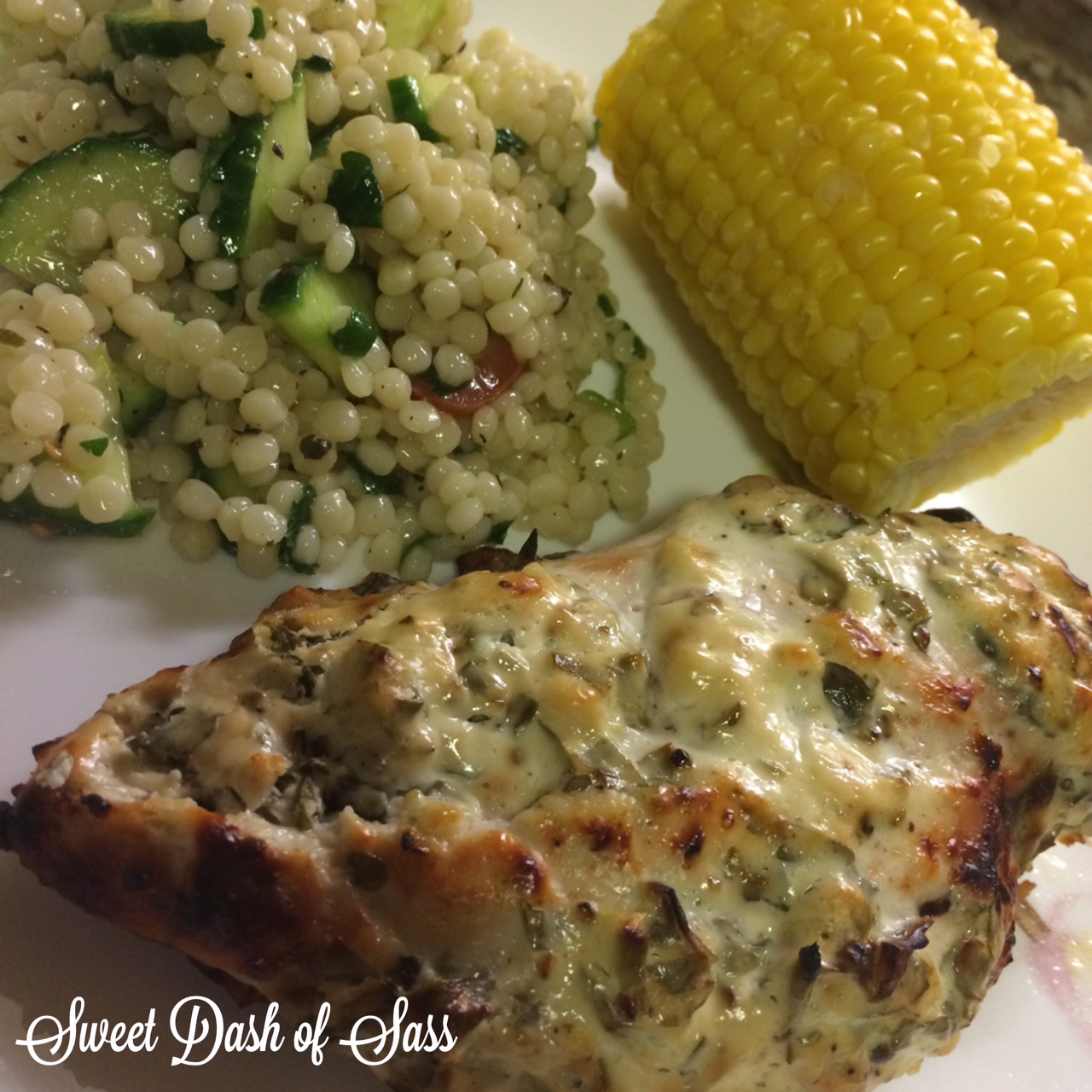 I know everyone has one of those moments where they are standing in the kitchen with the refrigerator door wide open, waiting for dinner to be handed to them.  That's me most work nights.  This is when I wish I could turn into Mary Poppins and snap my fingers and suddenly dinner would magically appear ready on the table.  This is one of those dishes you can prep and let marinate while you are at work.  Then, pop into the oven as soon as you get home.  By the time you change, wash up, and set the table, dinner will be ready. 
Since I have been traveling a lot, my fridge didn't have much.   I happened to have some chicken breasts, a half-opened container of greek yogurt, and some Meyer Lemons (courtesy of my neighbor — Thanks Steve!).  I figured I would try to make a marinade — let the marinade do the work – then all I had to do is bake once I get the phone call that Bob is on his way home from work.
Outcome:  Turned out great!  Chicken was moist and had so much flavor.  I happened to make a Tomato Cucumber Cous Cous Salad with a lemon vinaigrette as a side dish.  It complemented the dish perfectly. 
HIGHLY RECOMMEND!

Baked Greek Chicken
Author:
Sweet Dash of Sass
Ingredients
1 cup plain Greek Yogurt (you can also use Sour Cream if you don't have any Greek Yogurt on hand)
2 tablespoons oil
3 cloves garlic, minced
1-1/2 Tablespoons fresh oregano, chopped (or ½ TBSP dried)
1 medium/large lemon (I used a Meyer Lemon)
1 teaspoon kosher salt
¼ teaspoon fresh ground pepper
½ cup fresh parsley, chopped
2 – 3 chicken breasts (about 1 to 1-1/2 lbs)
Instructions
In a medium size bowl, combine the following to make a marinade: Greek Yogurt, oil, garlic, oregano, salt, and black pepper. Zest entire lemon into the marinade. Cut lemon in half and juice entire lemon into bowl (be sure to remove any seeds). Stir until well combined. Add parsley and combine.
Add chicken and marinade to a large zip lock baggie or a glass pyrex dish. Remove as much air as possible from the ziplock bag. Massage the bag to ensure all chicken is well coated with the marinade. If using a glass pyrex dish, flip chicken around to ensure all chicken is fully coated.
Refrigerate for at least 30 minutes, up to 3 hours (or even overnight).
Remove chicken from marinate. You can either grill the chicken or bake in oven. (I baked mine.)
Preheat oven 375 degrees.
Place chicken in a large 13×9 baking dish.
Bake chicken for 45 -50 minutes, or until golden brown on top. (I baked mine for 45 minutes and then turned on broiler for a few minutes on HIGH to get top golden brown).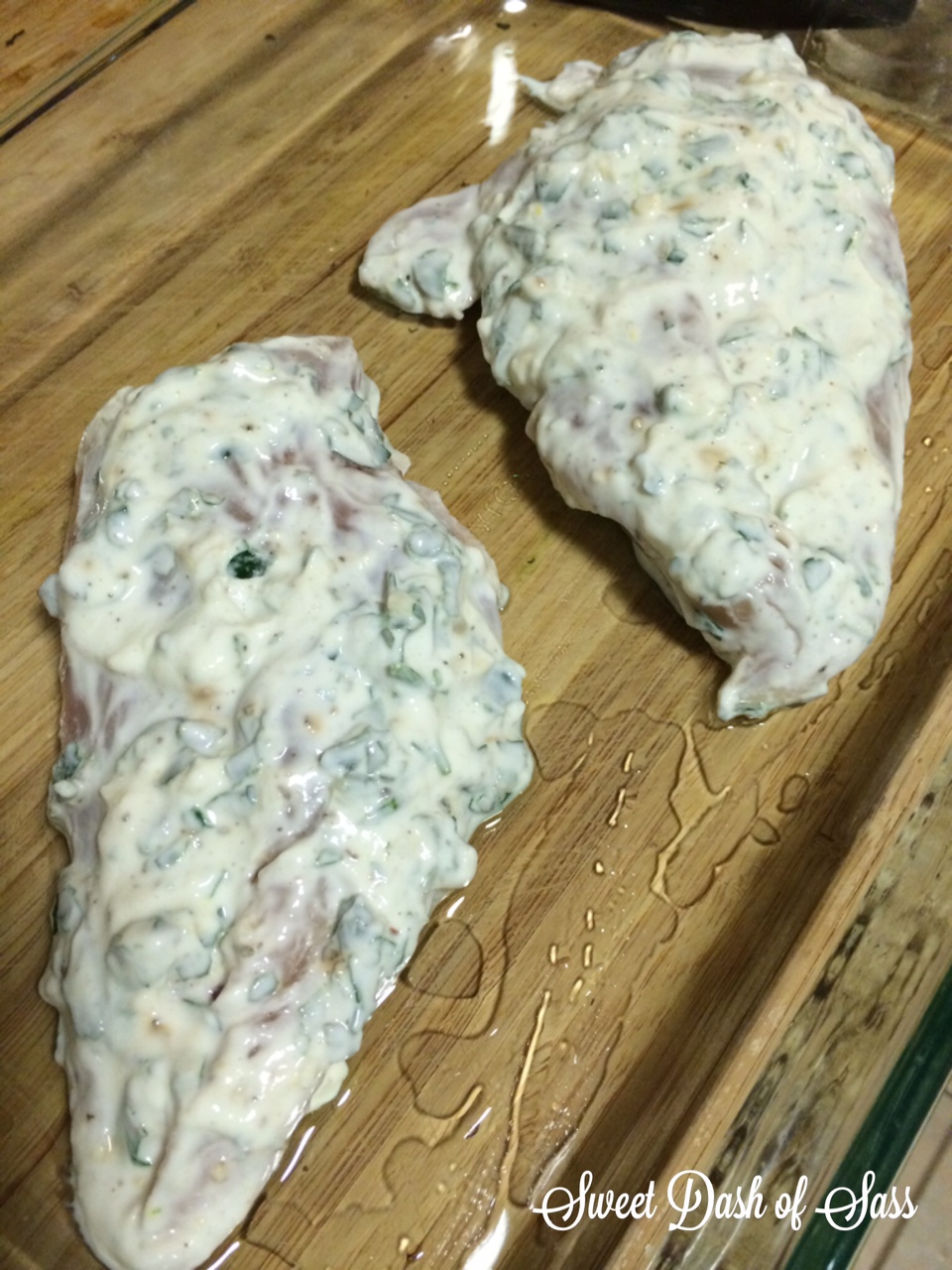 —————————————————————————
Like me on Facebook: Sweet Dash of Sass  CLICK LINK —>    Sweet Dash of Sass
Follow me on Instagram @SweetDashofSass
Follow me on Twitter @SweetDashofSass
—————————————————————————