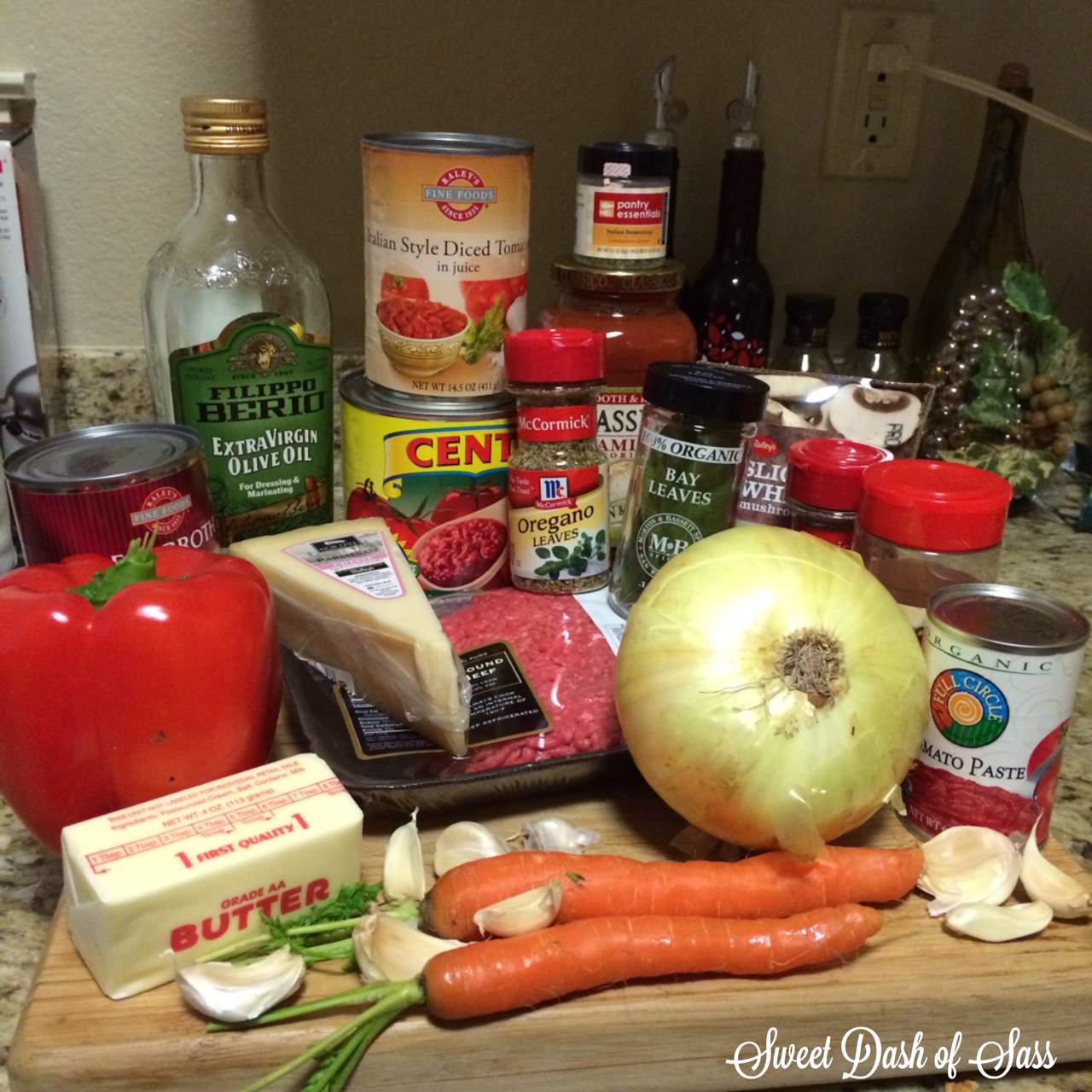 Homemade Spaghetti Sauce has always been a challenge for me in the kitchen.   Nothing has stacked up to my favorite jarred version.  I never could figure out what that the missing ingredient was.  This time, I combined a few different recipes, with the addition of some new ingredients =  Perfection!
Seriously.  I remember doing like 2-3 taste tests from the pot thinking, this is delicious.   Who even needs pasta noodles?  I wanted to just slice up my freshly baked Dutch Crunch bread and dunk in a bowl of sauce.
I know everyone will have their own personal preference for pasta sauce, but for me, this happened to be my personal favorite and I'll definitely be making again.  However, I encourage everyone to play around when cooking.  Eventually, you will come up with a flavor combination that you love.  And the best part…I knew every single ingredient that went into it vs. the jarred stuff.

Homemade Spaghetti Sauce
Author:
Sweet Dash of Sass
Ingredients
3 tablespoons olive oil
2 medium onions, chopped/divided (roughly 2 cups)
1 red pepper, coarsely chopped
2 large or 3 medium sized carrots, peeled, coarsely chopped
1 lb. to 1-1/2 lb. ground beef
6 cloves of garlic, minced
½ teaspoon crushed red pepper (optional, if you like spicy)
1 (12 oz) can tomato paste
1 teaspoon kosher salt
1 teaspoon black pepper
3 teaspoons dried oregano
5 teaspoons dried basil
2 (14 oz each) cans Italian Style diced tomatoes (do not drain)
1 (28 oz) cans crushed tomatoes
1 (8 oz) container fresh mushrooms (optional)
1-1/2 cups beef stock/broth
3 tablespoons brown sugar
2 bay leaves
A rind of a Parmesan Wedge
2 tablespoons balsamic vinegar
Instructions
Heat olive oil over medium high heat. Add half of the onions and sauté until translucent and slightly browned. Add garlic and crushed red pepper, stir continuously for 1-2 minutes. Add ground beef and cook until no longer red. Drain grease slightly.
In a food processor, add remaining onions, carrots, and red pepper and process until smooth. Add mixture to the meat pan. Stir to combine. Cook for another 1-2 minutes.
Add tomato paste and spices and cook and stir for 2 minutes. Add tomatoes, beef broth, sugar, and mushrooms (see tip below on how I pre-cook my mushrooms – optional). Stir until combined. Add bay leaves.
Bring to a boil and then reduce heat to low and simmer for 2-3 hours, stir occasionally. After an hour cooking, add rind from wedge of Parmesan (or grated Parmesan or even both!) 30 Minutes before serving, stir in balsamic vinegar.
Discard bay leaves and parmesan rind before serving.
Makes: Forgot to measure out, but my husband and I love extra sauce on our pasta. I would say it made a good amount for 8 people.
Feel free to adjust seasonings, for your own personal preference.
ENJOY!!
Tip #1:  Make and Freeze!  Or store in refrigerator up to three days in advance.
Tip #2:  Before throwing in mushrooms into the sauce, sauté them in 3-4 TBSP butter.  Be sure not to overcrowd the pan!  Otherwise, it will create steam and make your mushrooms squishy.  As you are sautéing, sprinkle with a little garlic powder, onion powder, salt, and pepper.  When they have a nice golden sauté color, turn off heat.  Set aside until you are ready to put them within your sauce.

————————————————————————————————————
LIKE me on Facebook: Sweet Dash of Sass CLICK LINK —> Sweet Dash of Sass
Follow me on Instagram @SweetDashofSass
Follow me on Twitter @SweetDashofSass
————————————————————————————————————