Poor Bob, he definitely got too much sun yesterday and got sunburned. (He's definitely a "white" boy.) He woke up a few times in the middle of the night for me to put aloe lotion on for him. It definitely helped and reduced the redness greatly just after a few coats.
So, when thinking about what we would do on our adventure today, I knew it should not involve a lot of sun. I figured today would be a great day to drive around and venture.
First stop, breakfast! But first, "let me take a selfie!"
While waiting for our car, we decided to take some photos with the Macaw's in the lobby.


Now, breakfast time : Island Lava Java in Waikoloa Village.
I chose this place for two reasons: 1) it was on our way towards our main destination and 2) high reviews.

So glad we went here! You wouldn't know this restaurant was in this plaza just from driving past on the road. Cute little restaurant that had several tables outside. There even was a guy playing a guitar and singing as our entertainment.
[wpvideo WPvT59yU]
I decided to order the "Island Style" Waffles.
Sliced bananas & macadamia nuts on a buttermilk Belgian waffle. Served with applewood-smoked bacon or Portuguese sausage; a cup of fruit & coconut syrup. I also ordered a side of Papaya – since yesterday's was amazing!
Plus, they juice their own fruit/vegetables to make whatever juice you want! I tried orange/pineapple juice!
VERDICT: Amazing! Two thumbs up! Highly recommend. Everything about the entire meal was fabulous.
Plus, we had some friends join us for breakfast. Friends, which I mean, small cute birds. They would fly right up to our table and almost give you this cute look like "feed me." Bob took some of his scrambled egg and placed it on a fork, the bird walked right up and ate the scrambled egg. I thought that was hilarious. Then, two birds sat in the bush right next to us just staring – probably waiting for some food to drop.
Next stop: Mauna Kea Summit.
Mauna Kea is actually a dormant volcano on the island. It's over 13,000 ft above sea level, which is the highest point on the island. Let alone the tallest mountain volcano in the world! With its high altitude, dry environment, and stable airflow, it's said to be one of the best sites in the world for astronomical observation.
We wanted to attempt going up to the top. There are a lot of warnings in advance regarding car requirements (4wd) and health should be in fairly good condition since there is roughly 40% less oxygen up there vs. at sea level.
As we started our attempt, we noticed a few things.
1) weather temp was dropping
2) clouds rolling in / sun hidden
3) steep curves, which was killing our rental car
With that said, we finally reached the Visitor Center, which was located around 9,000 ft evaluation. We stopped to check out the center, take some photos, grab a hot chocolate, restroom break, and to get used to the elevation change. However, after what we went thru to get to that point, we knew our rental car wouldn't make it to the top. We had requested 4wd SUV when booking, but ended up with a 2wd SUV, as that is all they had available.

I saw one type of flower on our way up the summit that caught my eye. I had never seen this before. We even stopped to take pics at one point and I touched the leaves of the plant. They were soft and fuzzy. I ended up texting my aunt to see if she knew what type of plant it was. She said it was called a Mullein.

Mullein is actually a biennial herb. It grows well in the porous cinder soils on the slopes of Mauna Kea. It was originally brought to America from Europe/Asia by settlers who used the plant medicinally to treat coughs and diarrhea and as a respiratory stimulant for the lungs when smoked. A methanol extract from common mullein has been used as an insecticide for mosquito larvae.
Throughout our drive today, we saw so many different climates and looks of the island. Near our resort, lots of the land is made up of black lava rocks. As we approached the summit, we saw portions of the road that had much greener vegetation. We stopped on one part of the road that was all lava rock to take some pictures.
Another item that cracked us up was all the animal crossing signs.  Nene, Sheep, and even Donkey!
I have never seen a donkey crossing sign. After cracking up so many times, I decided to look up to see the story about why there could be roaming donkeys around. Here's the short story scoop:
They actually are referenced as Nightingales here. Basically, donkeys were used to transport the coffee beans down the mountainside for harvest until after World War 2. At that time, jeeps pretty much took over that job. Some of the donkeys were turned lose to fend for themselves and others escaped and became wild roaming the area. In 2010, they developed the Donkey Rescue and Rehoming Project to help find new homes for these animals.
Unfortunately, we did not encounter a donkey, but we did run into Sheep!  Look closely!
Next stop: Tex Drive In
Prior to stopping at Tex Drive In, I wanted to stop at a Vanilla Farm that was just a few miles away. Unfortunately, our GPS was not giving us accurate directions and phone signal was going in and out and could not find it. I knew we were close as we saw 1 sign pointing to the general direction. However, after not having any luck, Bob flagged a local to ask for directions and they couldn't give us any additional information either. Said he knew it was somewhere there, but didn't know how to tell us. On that note, we (or I) sadly decided to cross it off our agenda. That little detour made us even more hungry for our next stop: Tex Drive In.
I heard about this place from one of the food shows on TV, but my aunt also told me about this place as they are known for their Malasadas.
What's a Malasada you ask?
It's a Portuguese confection, made of egg-sized balls of yeast dough that are deep fried in oil and coated with granulated sugar. They can be filled with multiple fillings such as: Balvarian Cream, Chocolate, Apple, Strawberry, Apricot, and Guava.
My favorite was the Balvarian Cream! They are best when they are hot and fresh!

We did eat some lunch here, but we weren't fans of our meal choices. So I would definitely recommend coming here for a Malasada, well maybe even 2-3 of them haha!
Oh, I forgot one stop on our way to Tex Drive In. We happened to drive through a town Waimea. Very cute little town. I happened to see a sign of a family selling fresh kettle corn in one of the shopping plazas near Ace Hardware. I immediately told Bob to pull over. I LOVE kettle corn (as does my mom). The smell was amazing and they even had the cast iron kettle. Of course, I bought a large bag. I restrained myself to not open up and eat the entire bag during our trip. I wanted to save it for a snack back at the resort. Of course, I had to text my mom a few pics of it though.
During our drive back toward the resort, we made a pit stop at Hapuna Beach State. Park. Normally there is a $5 charge to get in, but the lady at the gate let us in at no charge, which was really nice. We walked down to the beach area to take some photos.
Another thing you will notice on the drive is Lava Graffiti. No paint is involved. Instead, people gather white coral stones on the beach and take them to roadside lava deposits where they spell out words or draw pics. The white stands out well against the dark black lava.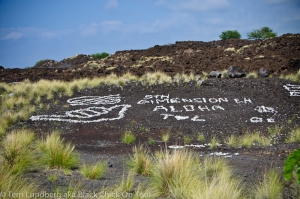 We both were exhausted from our day. We ended up just relaxing for an hour before deciding to go to the Boat Landing Cantina restaurant outside our room for a little snack. Not impressed. Overpriced. We both agreed we would have been better off venturing off the resort for a bite to eat. I could have went for more of that fish from yesterday!
We were going to rent a DVD from the rental boxes outside the elevators, but we were both exhausted that we decided to just call it a night.
Where will Day 3 lead us?
*Note:  Sorry for any grammar errors, I didn't have a chance to spellcheck prior to posting.

—————————————————————————
Like me on Facebook: Sweet Dash of Sass  CLICK LINK —>    Sweet Dash of Sass
Follow me on Instagram @SweetDashofSass
Follow me on Twitter @SweetDashofSass
—————————————————————————