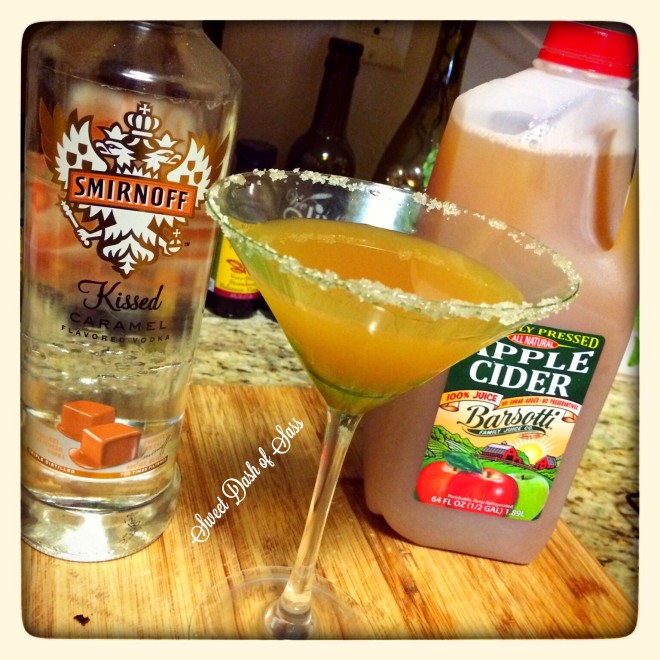 Fall is by far my favorite holiday.   The weather, leaves changing colors, apple anything, pumpkin anything…the list goes on.
I absolutely LOVE apple cider.   I have an excellent Mulled Cider recipe that I will post in the next few weeks.
With that said, as soon as I saw Apple Cider in the stores, I immediately purchased myself a bottle.  Of course, Apple Cider alone is tasty, but if you feel like kicking it up a notch – Here is an easy (and super delicious) recipe for you!
BTW — you won't even taste the alcohol.  It's one of those type of drinks!

Carm-Apple Martini
Author:
Sweet Dash of Sass
Ingredients
2 oz. Caramel flavored Vodka (I used Smirnoff brand)
5 oz. Apple Cider
Lemon slice
Sugar in the Raw or Regular Sugar
Instructions
Rub lemon slice on top of martini rim. Dip rim of martini glass in sugar. Combine ingredients with ice in a shaker. Pour contents into prepared glasses. Garnish with apple slices and / or cinnamon sticks!
—————————————————————————
Like me on Facebook: Sweet Dash of Sass  CLICK LINK —>    Sweet Dash of Sass
Follow me on Instagram @SweetDashofSass
Follow me on Twitter @SweetDashofSass
—————————————————————————