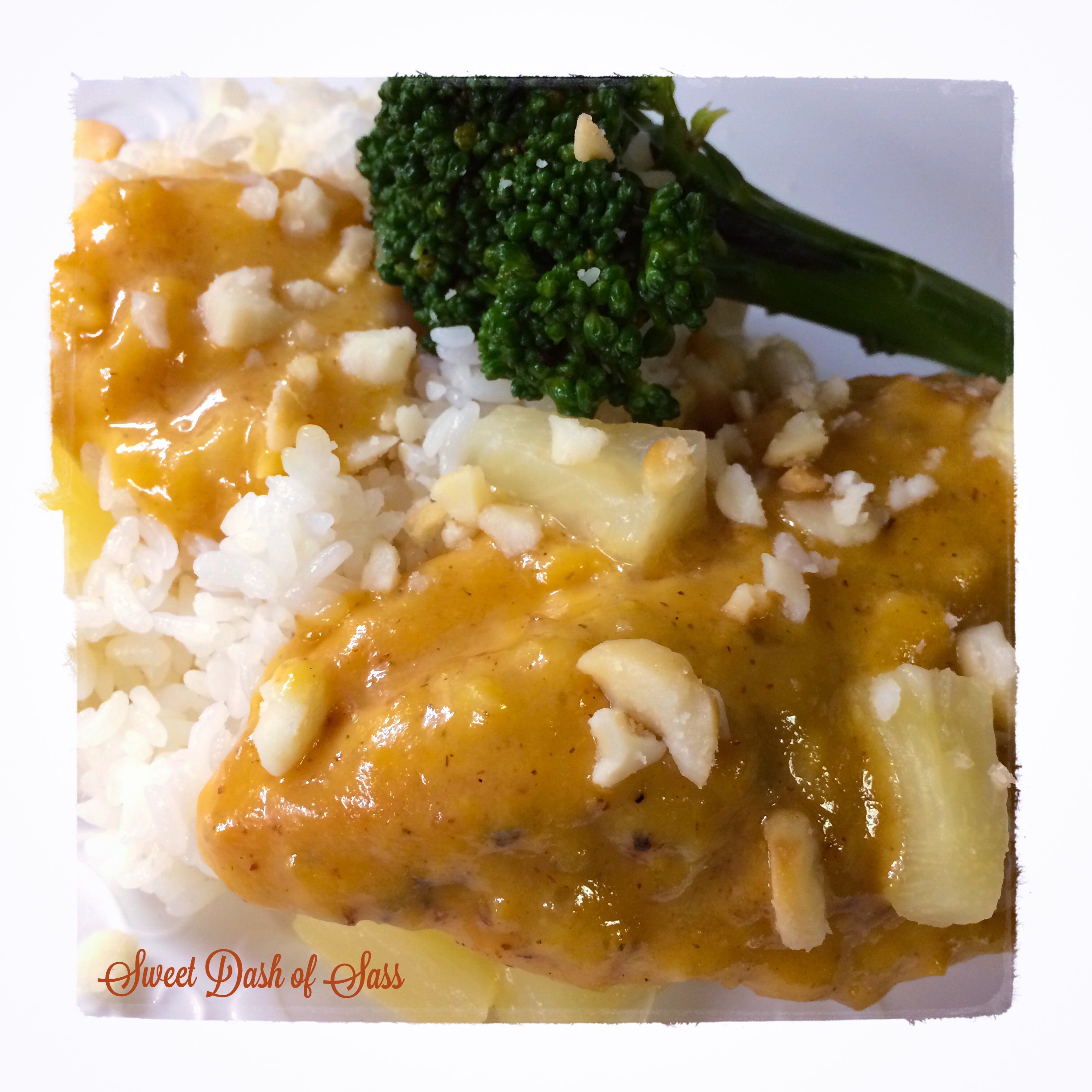 Just from the title of this dish, I'm sure you can tell we are missing Hawaii (The Big Island).  This was one of the first dinner dishes I made since coming back home.  I used Honey Mustard that I purchased from Big Island Bees and  Macadamia Nuts from Hamakua Macadamia Nut Company.  Unfortunately, I didn't bring home pineapple direct from Hawaii, but used canned (packed in its own juice).  Not the same as Hawaii pineapple, but it was a good substitute.
This dish was so easy to put together and had so much flavor.  I absolutely LOVED the Honey Mustard from Big Island Bees.  I am thinking I should have bought more than one jar while I was there.  This was seriously one of the best chicken dishes I made in a LONG time.  Glad I can order more online!!
This will definitely be a dish I make again!  Highly recommend.
If you missed my blog post about my trip to Big Island Bees – check out my previous post HERE or my visit to Hamakua Macadamia Nut Company HERE.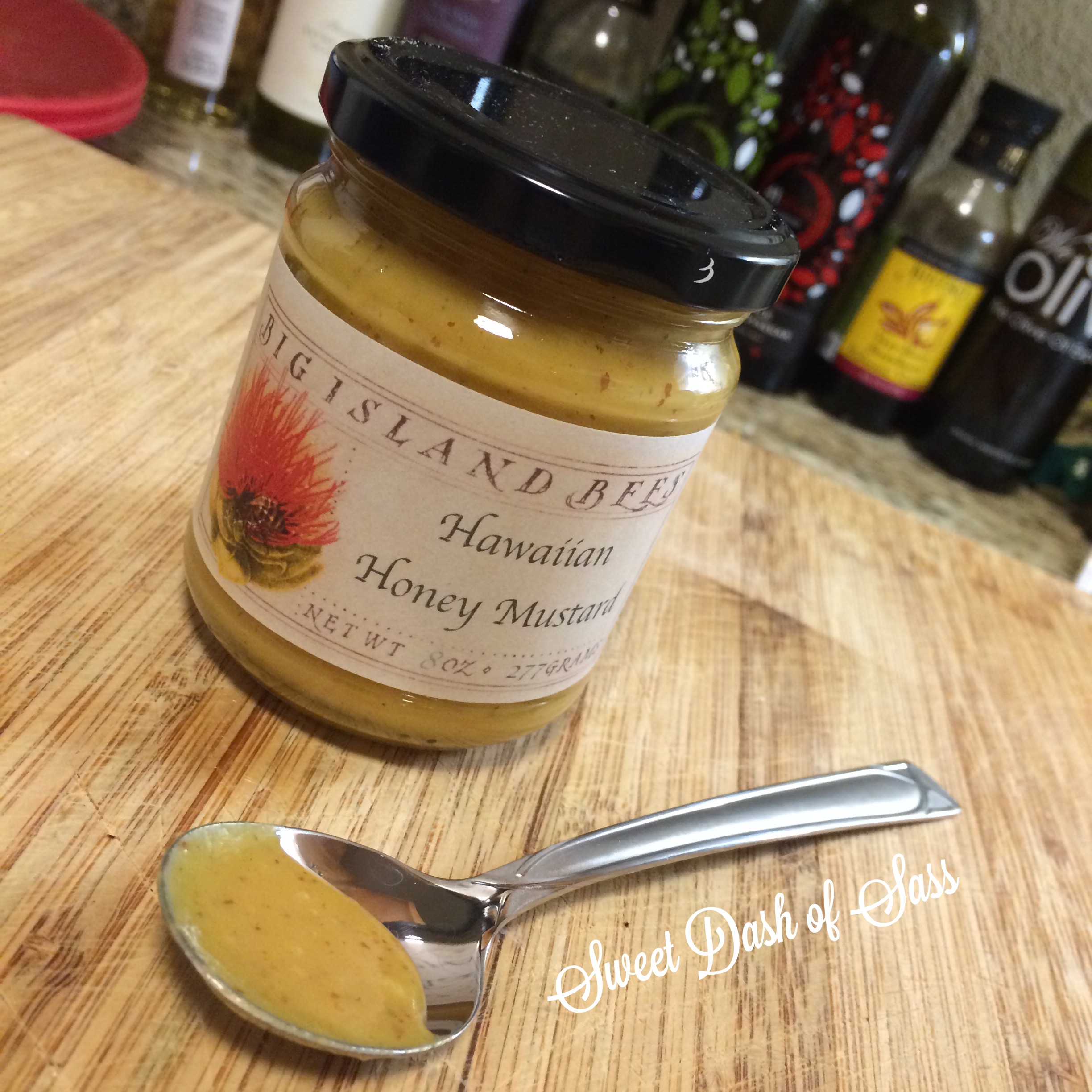 Hawaiian Honey Mustard Chicken
Author:
Sweet Dash of Sass
Ingredients
3-4 boneless skinless chicken breasts
½ teaspoon kosher salt
¼ teaspoon fresh ground pepper
2 tablespoons olive oil
1 can (20 oz) unsweetened pineapple, packed in its own juice – sliced or tidbits
1 tablespoon cornstarch
1 (8 oz) jar of Hawaiian Honey Mustard (Big Island Bees) –or– ⅓ cup your favorite Dijon mustard + ⅓ cup honey
3 cloves garlic, minced
⅛ cup (Handful) of crushed Macadamia Nuts (optional)
Hot Cooked Rice
Instructions
Sprinkle chicken with salt / pepper.
In a large skillet, heat olive oil over medium high heat. Brown both sides of chicken in oil. (Don't worry about cooking chicken all the way through in this step, as the chicken will cook more in the sauce later on in the recipe.)
Meanwhile, drain pineapple and reserve juice. Combine cornstarch and 2-3 tablespoons of the pineapple juice until smooth. Set aside.
In a separate bowl combine, honey mustard (or honey/mustard), garlic and remaining pineapple juice. Add to browned chicken. Bring to a boil. Reduce heat; cover and simmer for 15-20 minutes.
Remove chicken and keep warm. Stir cornstarch mixture and gradually add to the pan; bring to a boil. Cook and stir for 2-4 minutes or until thickened. Return chicken back to pan. Add pineapple and stir to heat through.
Serve with rice. Garnish with macadamia nuts.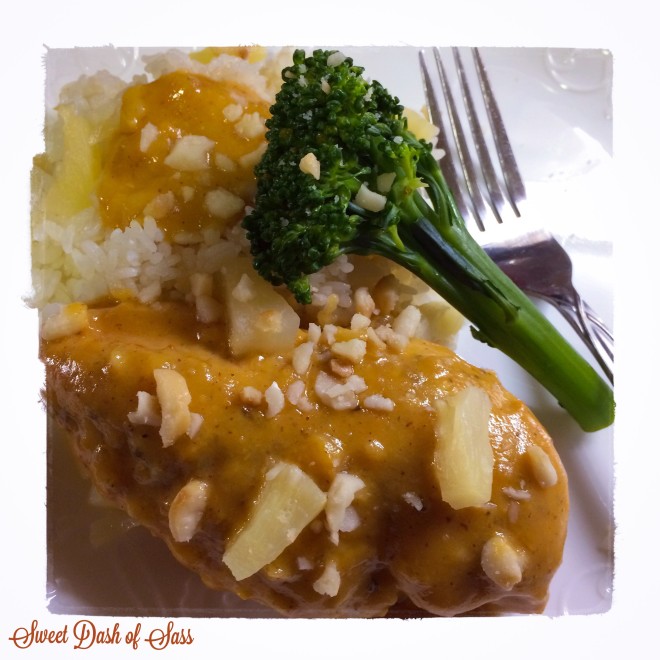 —————————————————————————
Like me on Facebook: Sweet Dash of Sass  CLICK LINK —>    Sweet Dash of Sass
Follow me on Instagram @SweetDashofSass
Follow me on Twitter @SweetDashofSass
—————————————————————————
In case you missed my other posts — Check out my other Day Adventures while in Hawaii (click on links below):
Day 1:  The Big Island Adventure
Day 2:  The Big Island Adventure
Day 3:  The Big Island Adventure
Day 4: The Big Island Adventure
Day 5:  The Big Island Adventure