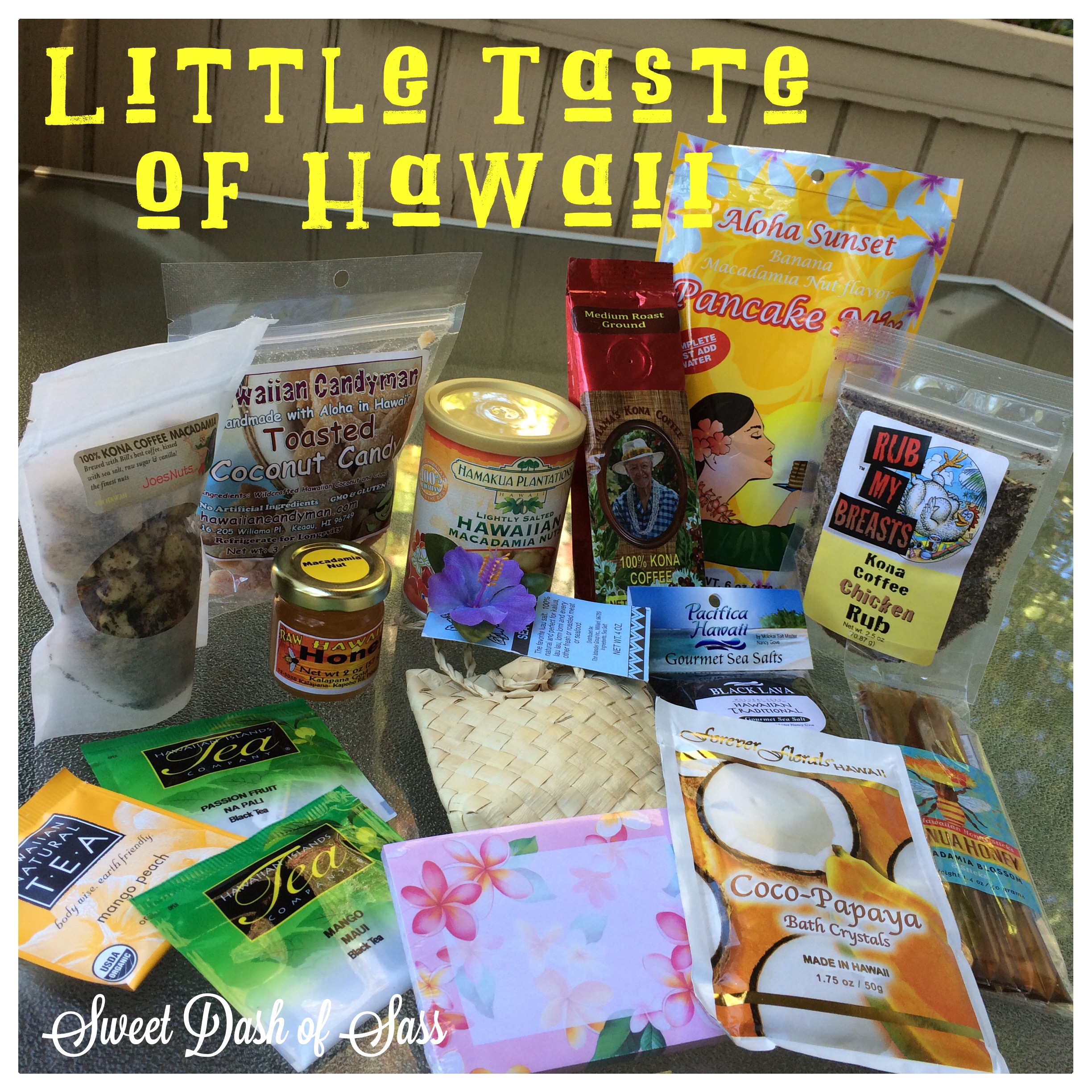 Thank you to everyone that followed along during our Hawaiian Adventure.  If you missed any of my previous blog posts, check out links below!   We had a blast.  Unfortunately,  the time went by way too quick.   We already said we will have to go back to check out some other places that we weren't able to see during our trip.
As mentioned in my blog, I have a giveaway to share with all of you called:   "Little Taste of Hawaii".
Features: 
(1) Ahola Sunset Banana Macadamia Nut Pancake Mix
(1) 2 oz–  Kalapana Gold Macadamia Nut  Raw Hawaiian Honey
(1) 2 oz — Mama's Kona Coffee, Medium Roast (Ground)
(1) 1.4 oz (8 sticks) Macadamia Blossom Honey Sticks from Big Island Bees
(1) Toasted Coconut Candy from Hawaiian Candyman
(1) Kona Coffee Chicken Rub
(1) 100% Kona Coffee Macadamia Nuts from Joe's Nuts
(1) 4 oz – Black Lava Hawaiian Sea Salt
(1) 4 oz – Hawaiian Sea Salt
(1) 4.5 oz can Lightly Salted Hawaiian Macadamia Nuts from Hamakua Plantation
(1) 1.75 oz. Coco-Papaya Bath Crystals
(3) Hawaiian Flavored Tea Bags: (1) Passion Island, (1) Mango Maui, (1) Mango Peach
(1) Hawaiian Post-it Notes
HOW TO ENTER:
Head over to my Sweet Dash of Sass Facebook page:  CLICK HERE!(Make sure you 'LIKE' my page!!)
—LIKE the giveaway post (+1 entry)
—LEAVE A COMMENT letting me know which item you are looking forward to trying the most (+1 entry)
Help spread the word by Sharing or tagging your friends! Maybe we can double our following and have another #giveaway! 
**This giveaway is sponsored by Sweet Dash of Sass and in no way sponsored, endorsed, or administered by, or associated with Facebook. Giveaway will end on Sunday, October 12th at 3pm PST. One winner will be selected at RANDOM and will be announced (and tagged) within the Facebook post. Winner must respond within 24 hours or another winner (at random) will be chosen.  **
In case you missed my Hawaiian trip:  previous links to blog posts are listed below:
Day 1:  The Big Island Adventure
Day 2:  The Big Island Adventure
Day 3:  The Big Island Adventure
Day 4: The Big Island Adventure
Day 5:  The Big Island Adventure
Day 6: The Big Island Adventure
—————————————————————————
Like me on Facebook: Sweet Dash of Sass  CLICK LINK —>    Sweet Dash of Sass
Follow me on Instagram @SweetDashofSass
Follow me on Twitter @SweetDashofSass
—————————————————————————