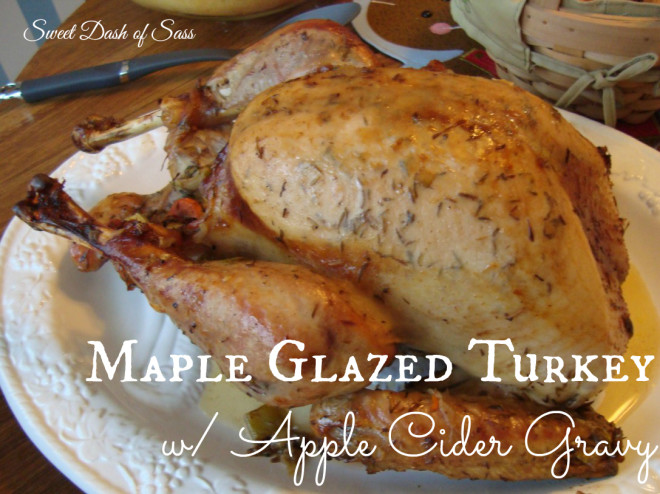 Looking for a delicious Turkey Recipe this Thanksgiving?  I have been making this recipe for 6 years.  I actually got the recipe from a Rachael Ray magazine back in 2007.
Wow, 2007 doesn't seem that long ago, but that was the year I purchased my first home in Ohio.  That was also the first year that I started hosting Thanksgiving dinners at my house.
It became a tradition.  I did all the cooking.  From the turkey, to all the side dishes, including dessert for at least 10 people and 2 dogs.  (Yes, I even made a doggie friendly turkey dinner for my little Daisy (Yorkie)  and my cousins dog Pinot (Yorkie-Poo).    My cousin would be my sous-chef.  He would help me prep all the items the day before, so it made the day of a breeze.  My mom always was amazed how I completed everything the day of without being stressed.
I wanted all my family to come together and not have to stress about the holiday.  Just sit back, have a cocktail, look at Black Friday ads, play Scrabble, and watch National Lampoon's Christmas Vacation.  Just enjoy the day.
We did this tradition until 2010.  That's when I relocated to California for my job.   Thankfully, my cousin and his (now) fiancée came to visit Bob and I for our my first Thanksgiving away from family.  It definitely meant a lot to me since I was kinda stressed from the move and feeling homesick.   The last 3 years, it's been just my husband and I.  It's definitely hard to cook the same type of dinner for 2 people, but that's okay – leftovers are always great.
I definitely miss those days of cooking and seeing family.  I look forward to one day getting back to Cleveland to begin this tradition again.
To all my followers:  Hope you have a wonderful Thanksgiving with your family and friends.

Maple Glazed Turkey with Apple Cider Gravy
Adapted from Rachael Ray
Author:
Sweet Dash of Sass
Ingredients
½ c. maple syrup
1½ sticks butter, 1 stick cut into chunks / softened, ½ stick softened
2 TBSP chopped fresh thyme, plus 6 sprigs
One 14-lb turkey
Salt/Pepper
2 onions, chopped
2 ribs celery, chopped
2½ c. apple cider
One (14.5 oz) can chicken broth
¼ c. flour
Instructions
In a saucepan, bring the maple syrup to a boil. Lower the heat and simmer for about 3 minutes. Pour into a bowl, then stir in 1 stick of butter and chopped thyme. Freeze for at least 30 minutes.
Position rack in lower ⅓ of the oven and preheat 400 degrees. Place turkey on large roasting pan. Season with salt / pepper. Using your fingers, gently loosen the skin from the breast and spread half of the maple butter under the skin. Rub the remaining maple butter outside.
In a large bowl, combine onions, celery, and thyme sprigs, season with salt/pepper. Fill turkey cavity with 2 handfuls of onion mixture. Tie the drumsticks together, tuck wings under body. Scatter the remaining onion mixture around the turkey and pour 1 cup of water into the pan.
Place turkey in the oven and lower the temperature to 350 degrees. Roast, basting with pan juices and 1 cup cider (covering foil to pre-vent overbrowning) until instant thermometer inserted into the thickest part of the thigh without touching bone registers 165 degrees, about 2 hours and 40 minutes. Transfer the turkey to a platter; let rest. Strain the pan drippings into a glass measuring cup, discard the solids and skim the fat. Add enough chicken broth to make 3½ cups.
Combine the flour and remaining ½ stick of butter. Place the roasting pan over 2 burners, add the remaining 1½ cups cider and cook over medium heat, scraping up the browned bits. Simmer for 4 minutes. Whisk in the butter-flour paste and the reserved pan juices for 10 minutes, until thickened. Season with salt / pepper. Serve the gravy with the turkey.
Notes
*Tip: After the turkey has thawed, the packaging is removed. The neck and the giblets are usually found inside the body cavity so these can be removed and discarded, or if they are to be used, they should be washed with cold water and patted dry with paper towels. Also, the turkey should be washed inside and out with cold water and then patted dry.
—————————————————————————
Like me on Facebook: Sweet Dash of Sass  CLICK LINK —>    Sweet Dash of Sass
Follow me on Instagram @SweetDashofSass
Follow me on Twitter @SweetDashofSass
—————————————————————————