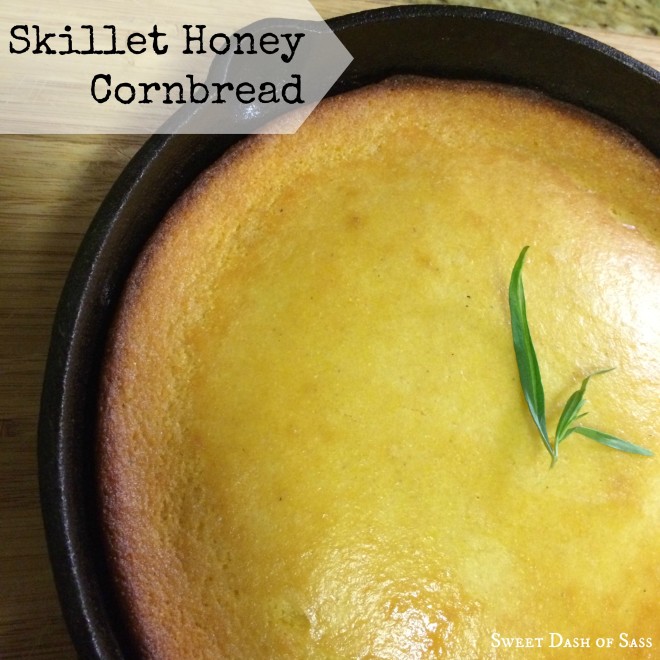 Did You Know?
Cornbread originated in the South and is considered America's food.
But did you also know that there are two types of cornbread:  Northern and Southern.  Northern cornbread is sweeter, tends to be a little more cake-like, and generally uses yellow cornmeal.  Southern cornbread is more savory and saltier and typically uses white cornmeal.
I actually was born and raised in the South till I was 7 years old.  At that time, my Dad relocated for his job to Iowa.  You would think I would be a fan of Southern Cornbread, but actually, I'm a huge fan of Northern Cornbread.  I like my cornbread on the sweeter side.  Let alone with some butter and a drizzle of honey on top!
I have made cornbread over the years, but typically in muffin form.  I'm not sure why on New Year's Day, I decided to try making the cornbread in my cast iron skillet.  Oh my goodness… loved it!  The cast-iron skillet gets really hot and retains its heat throughout cooking, therefore you get a wonderful crust on the bottom of the cornbread.
After it bakes, you can easily cut into slices and slide right out of the pan — This cornbread did not fall apart or crumble into pieces either.
I do want to note that there are SOOO many different ways to make cornbread.  No single way is the right way.  Everyone has different preferences to sweet or savory.
If you are a fan of a sweeter cornbread and looking for another way to use that cast-iron skillet in your cabinet, this recipe is for you!

Loading ...
Skillet Honey Cornbread
Author:
Sweet Dash of Sass
Ingredients
2 Tablespoons butter
1 cup all-purpose flour
1 cup yellow cornmeal
1 teaspoon baking powder
1 teaspoon kosher salt
1 cup milk
2 large eggs
⅓ cup honey
⅓ cup canola, vegetable, or corn oil
Instructions
Pre-heat oven to 400 degrees.
Place butter into a 9-inch cast iron pan. Place pan in oven while pre-heating to allow butter to melt.
In a mixing bowl, whisk together milk, eggs, honey, and oil.
Add baking powder, salt, and corn meal to wet ingredients.
Slowly whisk in flour and mix just until combined.
Once butter is melted, swirl butter in pan to coat the sides and bottom of the skillet.
Pour batter into skillet. Bake in oven 22-24 minutes or until golden brown.
Notes
Serve with butter and extra honey!
Tip #1:
If you don't have a cast iron skillet, you can use a round or square metal cake pan.  Do not use glass – as it will get too hot and make your crust tough and overdone.
Tip #2:  Do not overmix.  The more you stir, the tougher your cornbread will be.  As soon as you are done stirring, place batter into your skillet or baking dish.  The baking powder starts acting as soon as it touches liquid.
Tip #3:  Leftovers?  Keep fresh by tightly wrapping in plastic wrap.