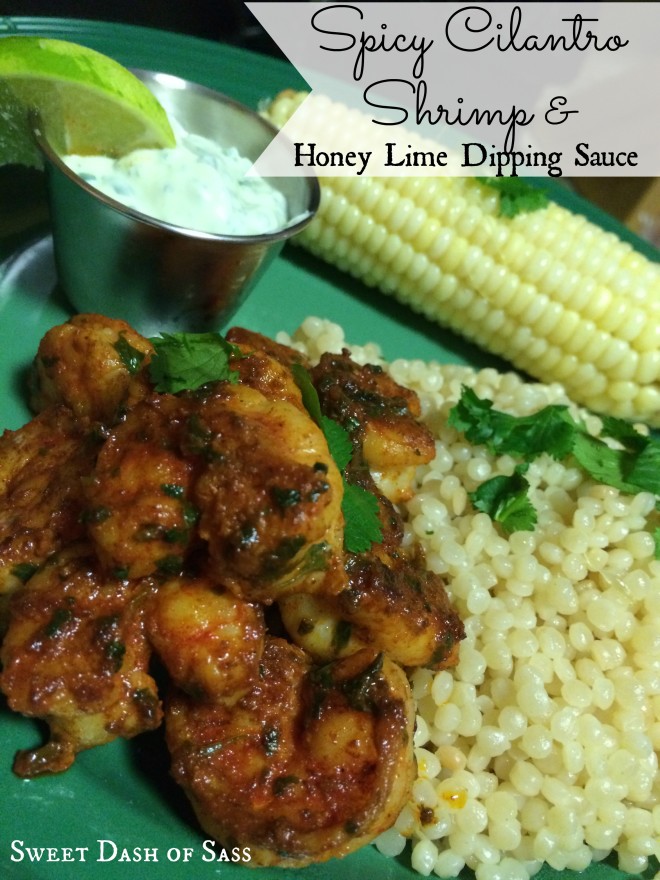 I'm a huge fan of seafood.  White fish especially, but I also love shrimp – even more so if it's encrusted in coconut! :)  I typically only order fish when we are out at a nice restaurant, unless of course, we are in Hawaii and I'm eating it everyday for dinner!  Boy, do I miss Hawaii….
If you want to read about my last Hawaiian Adventure – CLICK HERE!
One of the reasons I don't make fish at home very often is due to my hubby not being a fan of seafood.  While I was walking in the store one day thinking of recipe ideas, I remembered there was a recipe that I came across on Pinterest that I really wanted to try.  I was initially going to make this dish with chicken.  But I thought, what the heck, I'm going to make it with shrimp.  Hopefully, he will still enjoy.
This was super easy to make – under 10 minutes!!  The cous cous I made on the side took longer to cook than the main meal!  If you are a fan of spicy (and shrimp) – this dish is for you!  The Honey Lime Dipping Sauce goes PERFECTLY with the spiciness from the shrimp.
We both devoured this!  I was so happy Bob enjoyed it.  He still talks about how good this dish was.  I'm definitely going to try making this as a chicken version next.
I served this with Pearled Cous Cous (that I mixed with a little lime juice/cilantro) and corn on the cob.
Enjoy!

Spicy Cilantro Shrimp with Honey Lime Dipping Sauce
Author:
Sweet Dash of Sass
Ingredients
1¼ teaspoon paprika
¾ teaspoon kosher salt
½ teaspoon cayenne pepper
⅛ teaspoon cinnamon
1 pound large shrimp, peeled and devined
1½ tablespoons butter
3 tablespoons fresh lime juice (juice of 1 small lime)
2 tablespoons fresh cilantro, chopped
Instructions
Combine the paprika, salt, cayenne, and cinnamon in a large bowl.
Add shrimp to bowl of seasonings and toss to fully coat.
In a large pan, melt butter over medium-high heat.
Add shrimp to pan and cook 2-3 minutes on each side.
Once shrimp is fully cooked, add fresh lime juice and cilantro and toss.
Serve with Honey Lime Dipping Sauce
Notes
Tip #1: Shrimp is fully cooked when they turn pink and curl into a "C" shape.

For the Dipping Sauce:
1 cup sour cream
1/3 cup cilantro, chopped
2 tablespoon fresh lime juice (1/2 of a lime)
1 tablespoon honey
Grated lime zest from 1 small lime (about 1½ teaspoons)
1/4 teaspoon kosher salt

Mix all ingredients and chill until ready to serve.