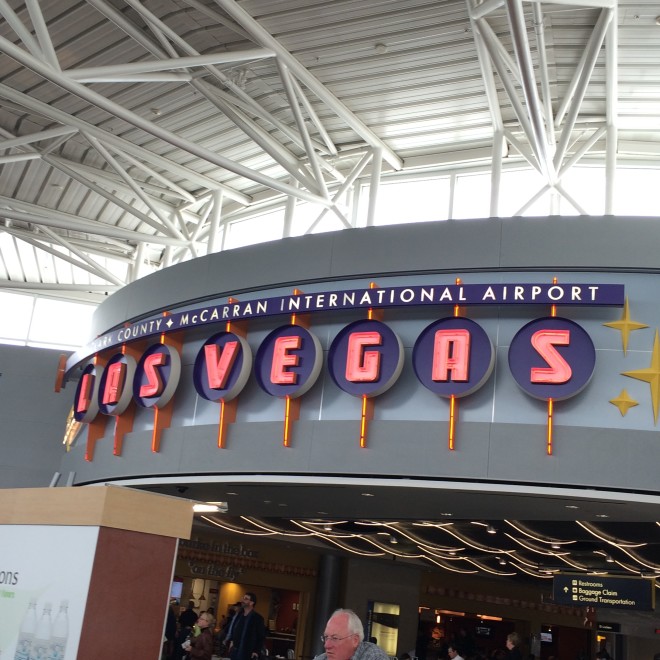 March Madness!
I have always been a fan of March Madness season. Even if you don't watch college basketball during the year, there's something about filling out brackets and watching how close & exciting some of these games are to watch.
Fast forward to meeting Bob, he mentioned to me how he used to go to Vegas with the guys every year around this time.  I have enjoyed Vegas several other times of the year, but Bob swore "You haven't experienced March Madness until you have experienced March Madness in Vegas ." When he said this, it really peaked my curiosities.
When we relocated out to California four plus years ago, he wanted to take me to Vegas during March Madness. I was beyond excited to experience this.   It was soooo much fun. Even if you aren't into gambling – there is so much to see, watch and do! Needless to say, we have kept this tradition and have gone the last four years during the first week of the games.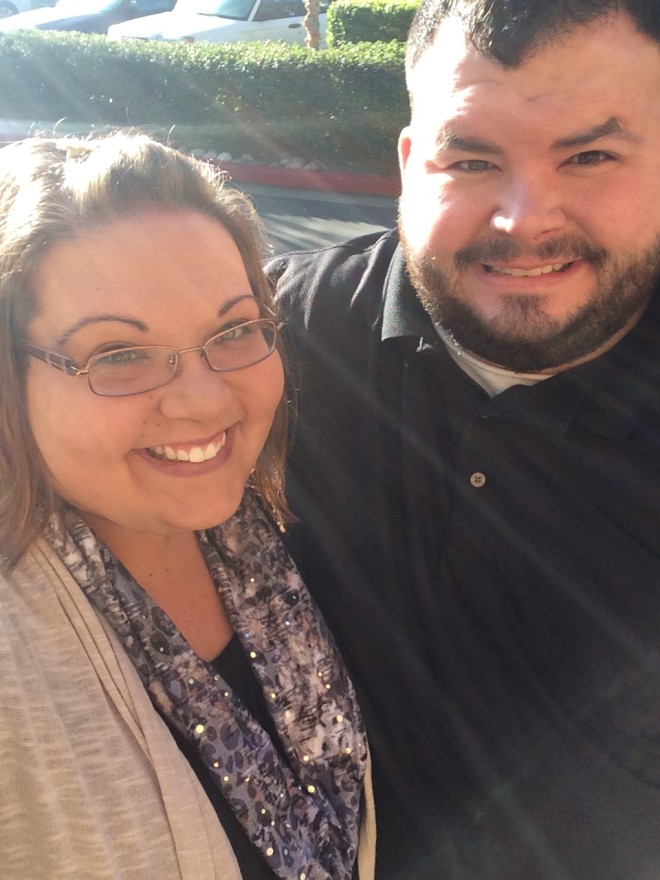 We have a particular "routine" that we have done over the years. We changed it up slightly this year, but thought I would blog about our time over the next few days.
First, you know it's going to be a good trip when you are upgraded to first class! After landing and grabbing our luggage, we ventured over to the rental car place to pick up our rental for the next few days. We ended up getting a Mercedes ML350! Nice!!! I think we will be enjoying this ride.
Normally after getting our rental, we typically stop at the Outlets to walk around. However, we didn't swing by there for two reasons. First, while we were still at the airport, Bob stopped in the Pandora shop and purchased 2 new charms for my bracelet as an anniversary present. I absolutely love the charms – (green clover and the white flower one).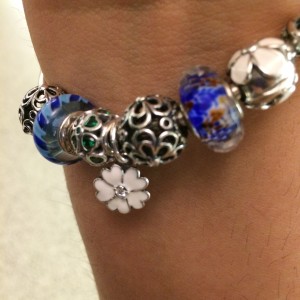 The second reason, we needed to head over to New York New York Casino to pick up our Zumanity show tickets before 4pm.
If you haven't heard of myVegas – I highly recommend checking out the game on Facebook or even thru the App. Basically it's a free game that involves playing slots and you earn "gold" coins. You can redeem those gold coins for items in Las Vegas – free show tickets, free meals, drinks, etc. It's so easy to redeem the coins too. If you do a little each week, it adds up. Last year, Bob and I saw Cirque de Soleil KA at MGM, free dinner buffet and tickets to Shark Reef at Mandalay Bay.
This year, I redeemed the coins to see 2 different Cirque de Soleil shows – one at New York New York Casino, Zumanity & the other at Aria, Zarkana, which we will see tomorrow.
After picking up our show tickets, we swung by the SportsBook to pick up our Parlay Betting Cards for tomorrow's games. Before placing our bets, we stopped at a new restaurant called Tom's Urban, which took over for The Sporting House.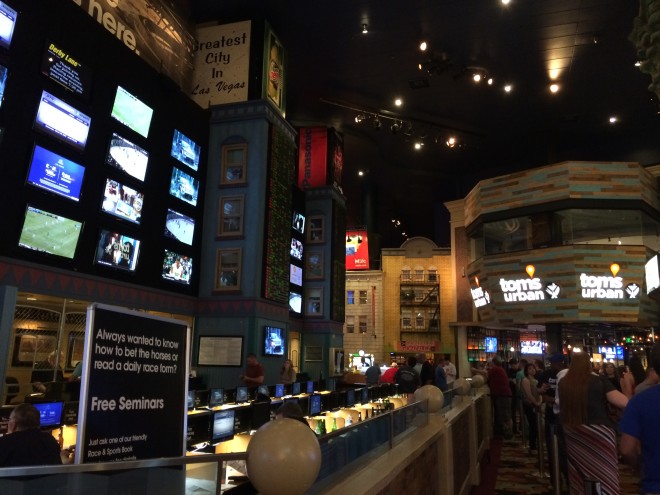 I love the atmosphere of the restaurant. The man behind Tom's Urban, Tom Ryan, is big into sustainability. Throughout the restaurant you will see wood décor, which I am sure is reclaimed. FUN FACT: Apparently, Tom Ryan also is the founder of Smashburger, created stuffed-crust pizza for Pizza Hut, and the McGriddle for McDonald's. It has a fun and modern menu.
I ordered the Steak "Al Carbon" Tacos – 3 corn tortilla tacos filled with Skirt steak, chipotle aioli, cilantro, and queso fresco. They were delicious. Also, I had to try some of their Sweet Potato fries (not shown) and they were amazing! Crispy, not greasy!
Bob got the Prime Rib Philly Cheesesteak Sandwich – ¾ lb of prime rib sliced with Havarti cheese on a brioche bun.
Overall, I highly recommend! I didn't enjoy any cocktails during lunch, but they had a really nice cocktail menu. Plus, they are open late hours – so if you are looking for a late night place…here you go!
After enjoying our lunch, we sat and made all of our bets for tomorrow's games. Since we were seeing the late night show for Zumanity, we decided to head over to Tropicana to check-in and relax for a few before we head back out.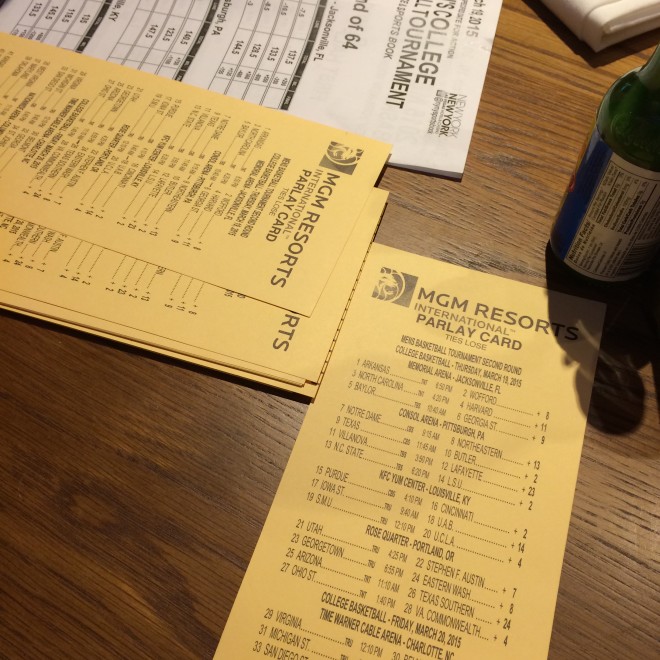 The reason we chose Tropicana this time was the fact they are affiliated with Hilton. Since I am a gold member for HHonors with all my travel at work, I redeemed some of my points for a free stay. (Which means more money to do activities, restaurants, or even gamble!) Just so happened they had an upgrade available, so we ended up getting a corner suite! Love the view from our room of the strip – faces out to New York New York, MGM Grand, and Excalibur.
It was nice to mentally relax before a fun-filled long weekend.
After relaxing, we got ready and walked back over to New York New York. Since we had a little time to kill before the show, we decided to check out the new Hershey's Chocolate World. (Which was perfect because I was in the mood for a sweet treat!)
Two story – over 13,000 square feet – packed with more than 800 types of Hershey's brand products from chocolate bars, chocolate, jumbo syrup bottles, Reese's peanut butter cups, Ice Breakers, and Twizzlers. They even had 2 different colorful walls of Hershey's Kisses dispensers or different flavors of Jolly Ranchers for your bag-filling pleasure.
You can also design your own candy bar wrapper or see an 800-lb replica of the Statue of Liberty carved from Hershey's Milk Chocolate.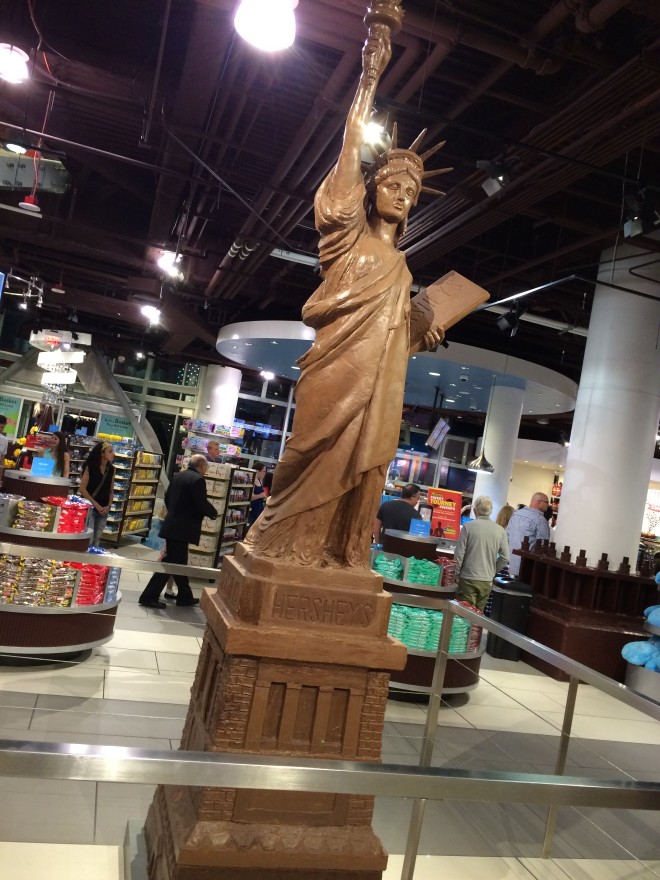 They even have a bakery counter offering all different types of treats from Fudge to Brownies to Cupcakes and more.As soon as I saw this counter, I knew this is where I could settle my sweet tooth for the evening. I chose the Cookies and Crème Brownie, which was a chocolate brownie with what appeared to be chocolate chip cookies baked in spots within the brownie, drizzled with white chocolate and crushed Oreo cookies. Looked delicious.
Since they didn't have a spot to sit and enjoy the treat inside, we found an empty spot within the casino to sit and enjoy. Unfortunately, the brownie wasn't that tasty. I actually didn't finish it.   Bob said my brownies are million times better. That made me happy.
Now it's Showtime!
We actually had really good seats. 2nd row in the center. If you haven't heard or seen Zumanity, beware: it was created for adults 18 and over. Part burlesque, part cabaret, with all the sensational acrobatics. We both LOVED the show. This is my 2nd Cirque de Soleil show and the acrobatics they do are simply amazing. Also, the comedy elements to this show were hilarious, it had B and I in tears!
After the show, I was exhausted – it was already after midnight and I was ready for bed. Rest up for a fun-filled and exciting day with the games tomorrow.
Click HERE to read about DAY 2 of our adventure!