Day 2 – Vegas Vacation
It was so nice to sleep in this morning! No need to rush out since we already made our Basketball picks the night before. We took our time getting ready and watched the start of some of the games from our room.
One of Bob's friends lives in Vegas, so we planned on meeting up with him in the afternoon and grab some lunch. We chose a place near the University of Las Vegas called Crown & Anchor British Pub. From the outside, I was a little hesitant from my choice. Plus, I was afraid that it would be super crowded with the games going on and being near campus. However, it wasn't crowded at all.  Hmmm…. Now I really wondered if my choice was a good one.
You walk inside and it has an English-y feel to it (in an American way). Lots of wood, very little outside light, decorations, flags, soccer jerseys, a bar long chalkboard listing the soccer schedules, and waitresses in black tank tops and kilts. The bar is filled with video poker machines and a few large screen TV's that were playing soccer and basketball. We definitely wanted a table near the TV's since we wanted to watch the games.
The menu was comprised of traditional English Fare from Fish & Chips to Bangers & Mash to British Pies. They even had Yorkshire Pudding as an appetizer!! They are open 24/7 and even offer breakfast food! They had over 30 beers on tap (English/Irish/British).
For a starter, we decided to try their freshly made crispy potato chips and the Stilton Cheese and Crackers platter. I personally wasn't a fan of the Stilton cheese, but Bob and his friend absolutely loved it. The chips on the other hand were amazing. The only thing missing was a yummy chip dip to go with it.
For my meal, I decided to try the Fish Sandwich, which was a large beer battered Icelandic cod on a homemade bun with homemade tarter sauce. You can totally tell they freshly batter the fish here. Oh my, so good!!! It wasn't greasy either! Bob got the New York Steak Sandwich with Stilton Cheese. He definitely liked it better than yesterday's Prime Rib Sandwich from Tom's Urban.
I really wish I had room for dessert because all their desserts on the menu sounded delicious. They had a Hot Apple Crumble (hot apple cobbler with crumb topping served with hot English birds custard), English Trifle (moist sponge cake with raspberries & English custard laced with sherry and whipped cream), and the one that I would have ordered Sticky Toffee Pudding (freshly baked caramel colored sponge cake with raisins, generously ladled with warm toffee sauce and a touch of whipped cream on the side).
We hung out with Bob's friend for a bit after lunch and then decided to head back towards the hotel to freshen up for the evening. But first, I was ready for a sweet treat. We stopped at Swirly Q Frozen Yogurt shop across from UNLV campus. It's your standard yogurt shop. Several different frozen yogurt machines to the generic toppings to add. You can sample any of the yogurts, just ask for a sample cup!
I decided to try Sweet Coconut and a touch of Dutch Chocolate. I added sliced coconut and a little strawberry sauce over my coconut flavor and caramel and Twix bits to the chocolate. The Sweet Coconut was amazing. Had really good flavor. Plus the spoon they give you is super cute. However, the yogurt was so cold to eat, it actually was hurting my teeth. I even let the yogurt sit there for several minutes and would barely melt. Even though it tasted amazing, I couldn't finish it.
Next: back to the hotel to relax, finish up watching a few games and get ready for tonight's show.
Aria's entrance was decorated very colorful – perfect for Spring.   We stopped and took a few photos before starting our excitement for the evening.
We even made a pit spot to watch the Harvard and Purdue games since only a few minutes remained of both games.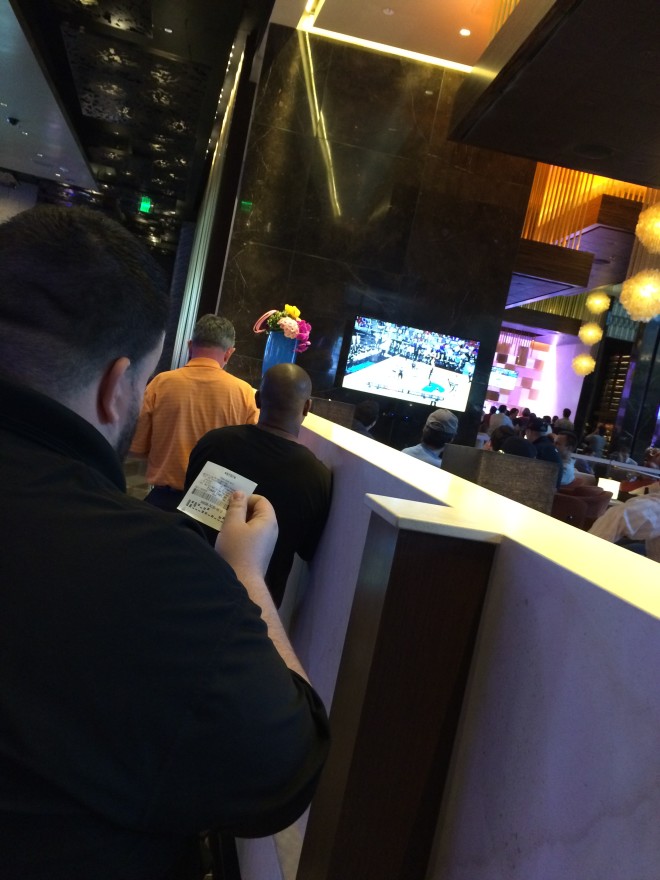 As I mentioned in yesterday's post, if you haven't checked out myVegas and you plan on traveling to Vegas sometime, I highly recommend taking a few minutes each day to play this free game. You earn gold coins, which in turn you can redeem for free show tickets, dinner, and even cocktails. There is no gimmick, so easy to redeem. I'm not getting paid to say this, totally my honest opinion.
With that said, I redeemed some of our coins for us to see the Cirque du Soleil at Aria Zarkana. The definition of Zarkana is actually the fusion of two words "bizarre" and "arcana", which refers to the strange aura and atmosphere of this place and its inhabitants. The show actually features a 70-member cast of world class acrobats, aerialists, jugglers, and high wire and trapeze artists.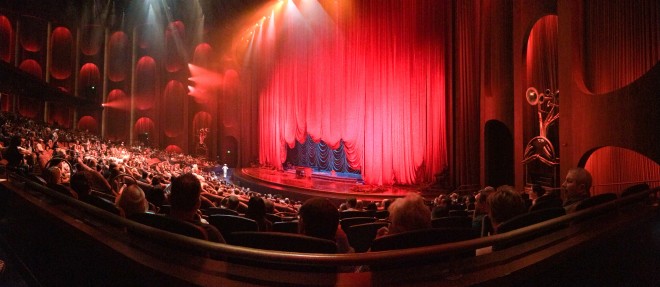 The Aria theater seats 1,800 people – very comfortable seats. We were in section 105, row K – Loved ours seats (thanks again myVegas). There are comic interjections by the show's two clowns and they do mingle with the audience throughout the production (so beware if you are seated close to the stage). There were several parts of the show where I was turning and looking at B in disbelief. The amount of talent these performers have is insane. Highly recommend.
After the show, we headed over to the Zarkana gift shop to pick up our souvenir magnet that we collect from all the places we go. Plus, we also tried on some of the costumes that were from the show.
Now time for dinner! We ended up choosing a Thai restaurant called Lemongrass at Aria. Fun Fact: it was the first Thai restaurant to open up on the Strip. This restaurant is set back from the main hustle and bustle of the casino floor and slot machines. Loved the atmosphere and decoration at Lemongrass – the decor inspiration was a Thai Silk Factory. From the woven decor draped overhead to the thousands of feet of rope strung to the thread spindles. Very modern contemporary.
Even if you have never tried Thai food or maybe not a fan of Thai, they also have some Chinese and Singapore dishes throughout the menu. The prices vary as well from $15 to $100. As I open up the menu, I see several appetizers that catch my eye. When our waiter comes by, I tell him I have a hard time choosing between three different appetizers. As soon as I mention Prawn Wraps, he immediately said "Yes, you have to get those." Sold!
These came beautifully plated – crispy whole prawns with plum sauce. Hands down – the best shrimp I have had in my life. No joke! The plum sauce was amazing too! Totally made from fresh ingredients.
Bob got Beef/Chicken Satay as his appetizer which came with a peanut sauce and a refreshing cucumber relish with red hot pepper slices. I enjoyed the cucumber relish which was delicious as well. I don't know what ingredients were in that dressing, but I was taking a piece of bread to soak up any leftover dressing to enjoy every last drop.
Now for our entree: I was debating between two items. I asked the waiter again for his suggestion between my two chosen, and before I even said my second option, he said "Go with the Chilean Sea Bass, You will not be disappointed." I smiled, Sold!
The plates arrive at our table. Not only do they look amazing, but the smell….well, I can't even describe! The sea bass was deep fried with shallots and scallions in a Yu-Hoi sauce. I also got some Jasmine Rice on the side. One bite, and I just look up at Bob and say "OMG, this might be the best fish I have had in my life!" (even over some of the fish I had in Hawaii). Seriously, every bite I think I was saying Mmm…. I ate every last bite.
Bob got the Rib-Eyed Steak with Tamarind Sauce. Basically, it was a grilled rib-eye steak (med), tamarind dipping sauce, sautéed shiitake mushrooms, carrots, asparagus, and coconut rice. I have to laugh because he was taking his first bite when I was saying OMG, and at the same moment, he gives me that same look and rolled his eyes. I knew right then, he was loving his dish as much as I loved mine. He was digging the tamarind sauce.
I was not expected this meal to be this insanely good. I was already getting full, but after the waiter suggesting we get Fried Bananas as a dessert, how could we decline when the rest of his recommendations were spot on.
Fried Bananas with a scoop of Vanilla ice cream – beautifully plated. One bite with a little dip in the ice cream? Yep, slam dunk. Entire meal. Start to finish. Service, decor, atmosphere, and food. Bob and I said we would definitely go here again. That's all I can think about this morning.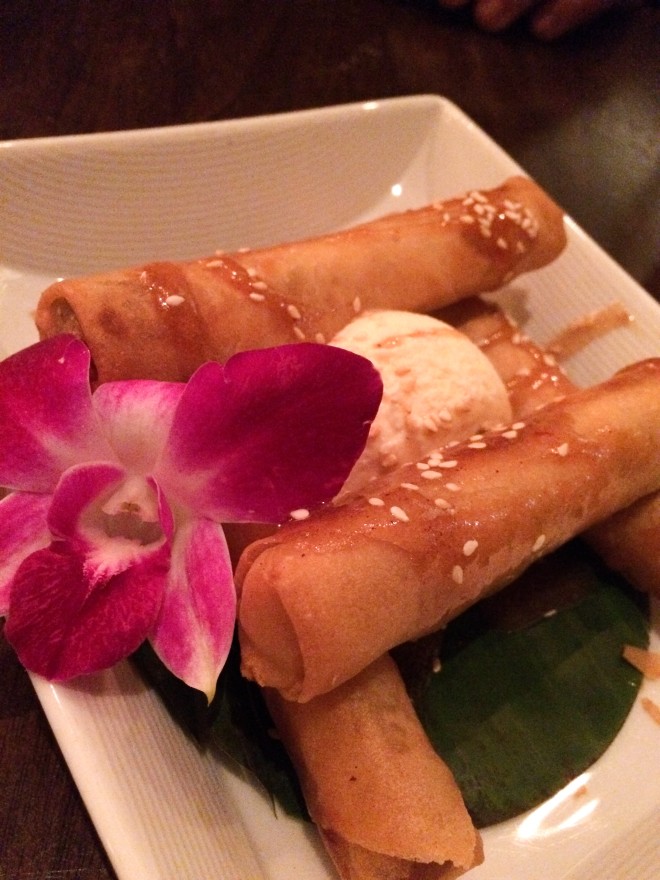 Afterwards, we headed over to the SportsBook at Aria to place our picks for today. As far as our bets we made yesterday, I came out winning what I gambled. I was close to coming out ahead on a few tickets, but with Iowa State and Purdue losing and with Ohio State not winning by enough (needed to win by 5), I lost the big buck potential. Sigh.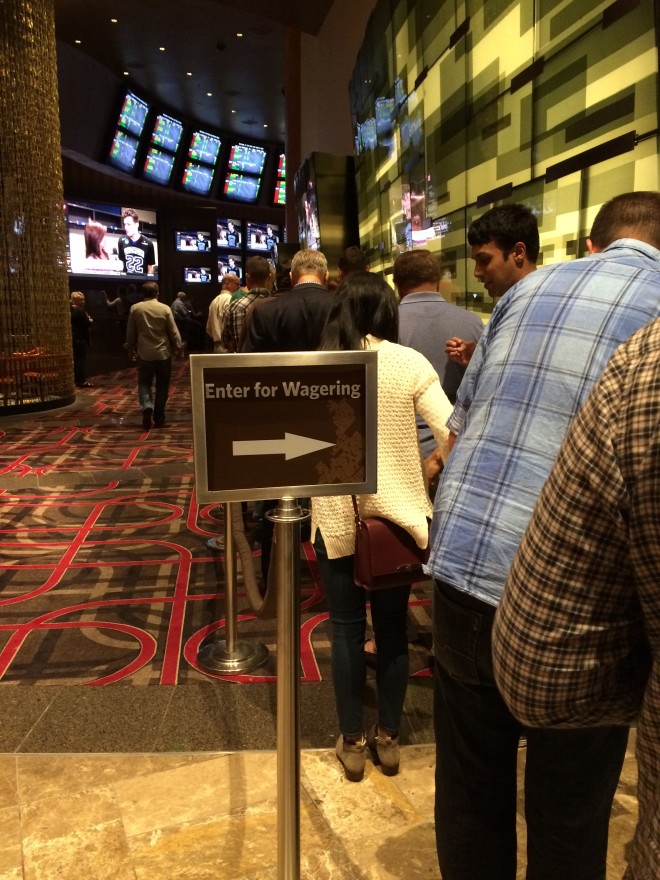 Overall, an amazing day! Looking forward to what today will bring.
In case you missed yesterday's post – Click HERE! to read about our adventure from Day 1!
See Day 3's adventure HERE!