Day 3
Good News!  The Basketball games from the night before were in my favor!  Won off one of my bets – still ahead!  That's exciting.  Today we decided to check out the Las Vegas North Premium Outlets, but first we had to grab a bite to eat.
We chose The Goodwich.  Don't be fooled from the outside.  I was when we initially drove past.  It's downtown, in the Dino's Lounge parking lot on Las Vegas Blvd.  It's in a not so great area, it's definitely great for people watching.  I would definitely recommend going during daylight hours.
They have a few tables outside that you can sit at or you can eat in your car.  Many people drove up and ordered to take their order to-go!  Their philosophy is perfect proportions, scratch made ingredients (like their corned beef and handmade pickles) and meticulous construction.
They had two people cooking inside and one guy standing outside taking orders.  Super friendly!  Explained the whole concept and recommended special items to order.  Two things caught my attention.  The first was the fact they make their own corned beef.  I knew I was definitely going to get that as my sandwich.  However, the Fluff & Nut Sandwich just sounded insanely good.  I knew we had to get one of those to at least share so I could say I tried it.
The sandwich was amazing!!!  So much flavor!  Not overly huge, just the right portion.  Plus, I highly recommend getting a side of their made in-house pickles!  Amazing.  Now I want to attempt making pickles on my own as well.  Theirs were spicy and sweet, with a slight crunch and paired perfectly with my Reuben Sandwich!
The Fluff & Nut – Nutella + Toasted Marshmallow + Crunch.  Oh-em-Gee!!!!!!  Amazing!  I'm craving one this evening.  The perfect sweet treat.  It's ooey, gooey, messy – but worth every bite!!!!
Now time to walk off that goodness at the Outlets!  This was our first time going to the North end outlets.  I definitely recommend checking out this one if you are looking for high-end retailers like Michael Kors, Tory Burch, Coach, Burberry, and many more! Over 150+ stores.  Very nice shopping plaza.  We spent several hours just walking around and enjoying the weather!  I found some great deals too!  We definitely were thirsty and stopped for an afternoon drink at Starbucks!
After a long afternoon, we were exhausted.  We decided to head back to the hotel to relax and watch some games before heading back out for the evening.
Games were not going in our favor too much today.
Afterwards, we decided to head back over to New York New York Casino to grab a bite to eat at the NEW! Shake Shack.  The entrance is outside near the Brooklyn Bridge area, if you are in the casino (exit door closest to the Sports Book).
Shake Shake started from a hot dog cart in Madison Square Park in Manhattan.  It was very successful and they had customers lined up for 3 summers in a row.  They are very big on sustainability (like Tom's Urban) – both in design and how they operate!  Our table we sat at was made from wood that used to be from a bowling lane in Brooklyn, NY!  They strive to lessen footprint and support the community through donations (5% of sales are donated to a local charitable organization).  They hand pick the music played in each of their stores.  All ingredients are locally sourced – all burger and hot dog buns are non-GMO!  All meat is 100% all natural Angus beef, vegetarian fed, humanely raised and source verified.  No hormones or antibiotics – ever! All bottles, cardboard, and plastic is recycled and their cooking oil is reused to produce clean energy and kitchen food is composted!
If that wasn't amazing enough, now onto the food!  As you walk in they have a large menu board for you to determine your order before going to the register.  From burgers to hot dogs to frozen custard!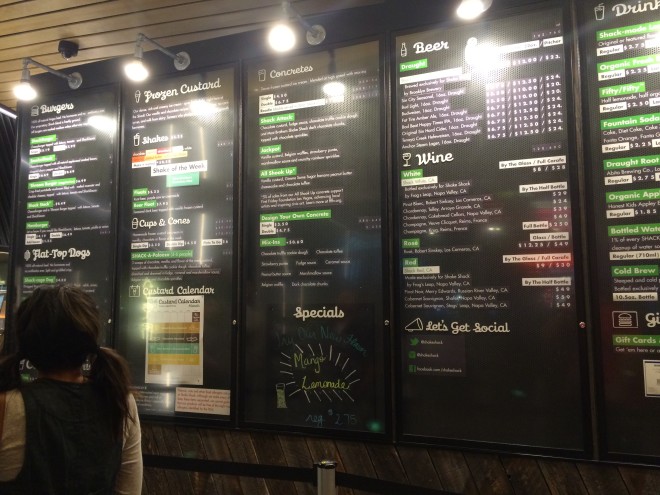 I decided to try a regular cheeseburger and a half vanilla/half chocolate Frozen Custard Shake.  The cheeseburger was amazing. Loved the freshness on the burger with the lettuce/tomato/onion.  Bob got some fries (which I did sneak one to taste) and thought they were okay, nothing fancy.  The shake was tasty too!  They also have featured new flavors each week!  This week is was chocolate mint.  Their hot dogs are sliced and pan fried – which is my favorite way to enjoy them.
If you are looking for a cheaper (and NEW!) place to check out on the strip, this is for you!!  Plus, LOTS of TV's to watch the games!
I absolutely love all the new changes they have made to New York New York casino recently.  All the new restaurants have very high rankings in the reviews, lots of social activity outside and within casino, Hershey's World, and not to mention the new Arena they are building between New York-New York and Monte Carlo.  It will seat 20,000 people!!  They started construction on it in 2014 – it's amazing how much has been built so far!  402 days remaining as of today!
Afterwards, we gambled a bit at the slot machines at New York – New York.  I found my favorite slot game – Willy Wonka penny machine!  Put in $20 and won $50!
Cashed out and headed back over to Tropicana.  We decided to grab a drink at the bar and play some Video Poker.  You get 1 free drink if you put $20 into the machine to play.  Score!  Plus, after playing – Bob still had $20 left, so we cashed out and decided to walk around their casino a bit.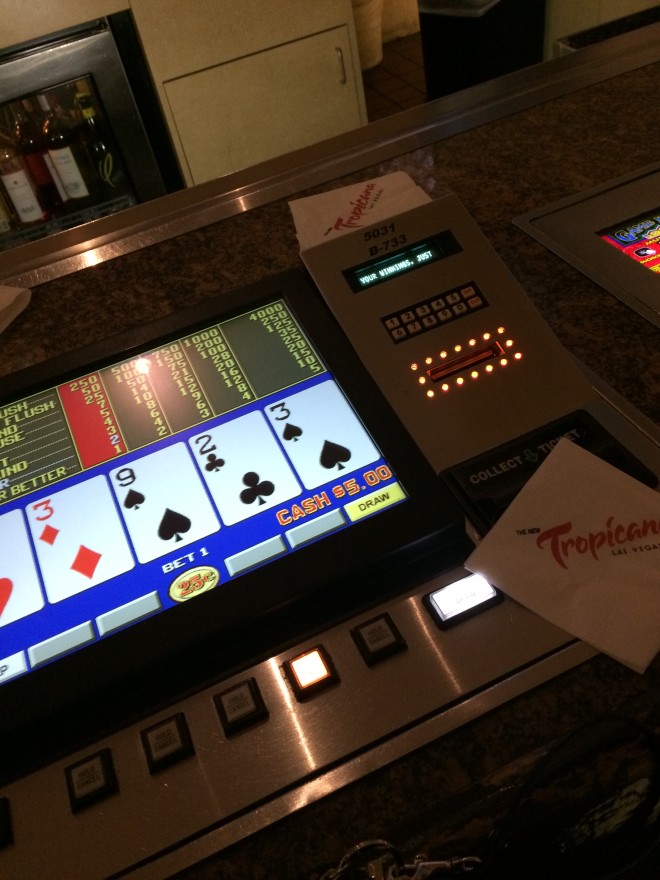 We both hopped from watching the tables to playing some slots.  I even found my favorite Willy Wonka machine there.  Put in $10 and walked away with $60!  Good thing there was a cash machine right by the machine to not tempt me to keep playing.
Willy Wonka and the Chocolate Factory is one of my favorite movies.  The fact that the machine was interactive and played video clips and music from the movie, I was a huge fan.
After this, I think it was time to call it a night!
CLICK for Day 4 Adventure.
In case you Missed my other posts, check them out below: