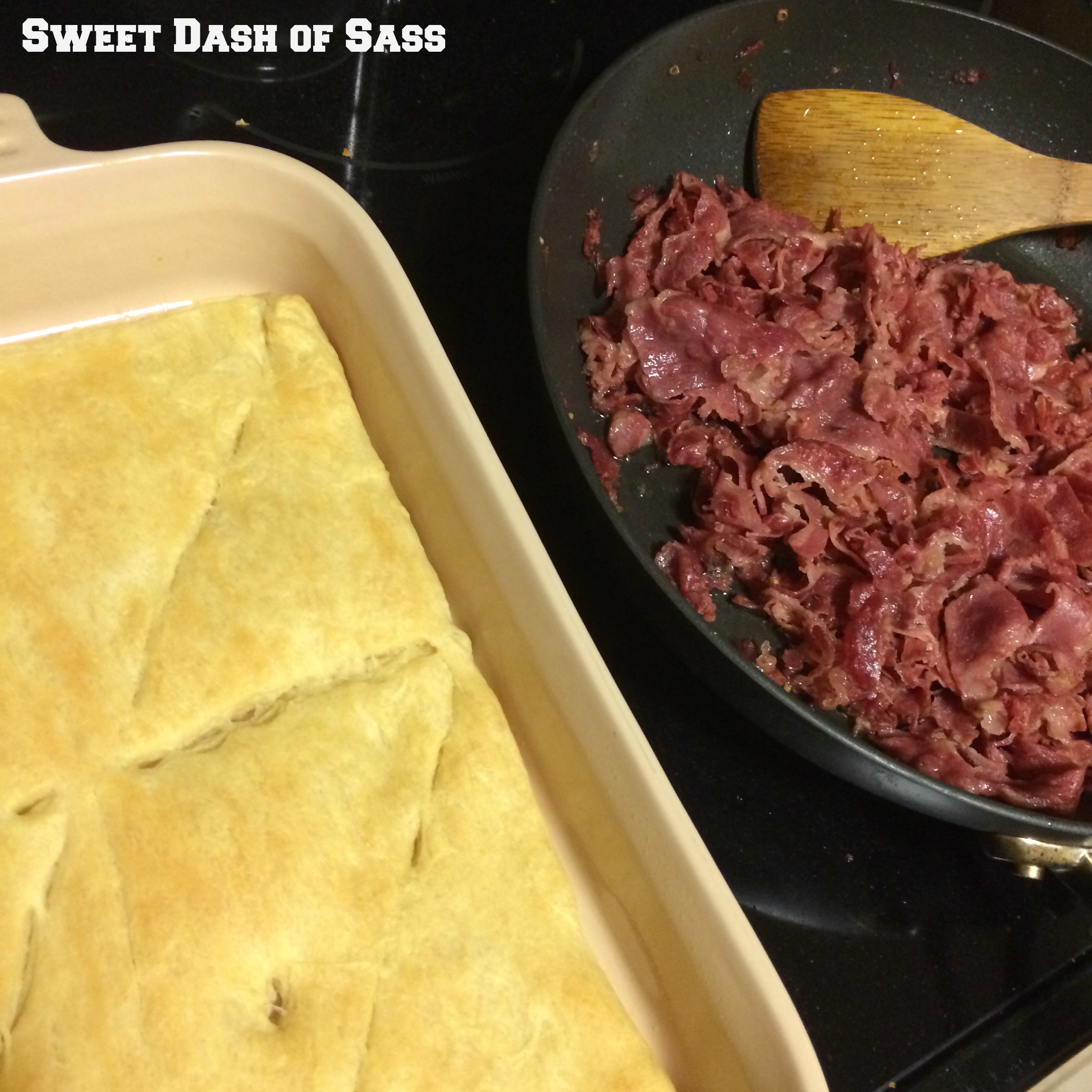 If you love Reuben's as much as I do, you will absolutely love this Reuben bake!  The only thing I don't care for in a typical Reuben sandwich is how greasy the bread can be (at least when you order it from a restaurant).  However, with this, no oily, greasy mess.  Just the delicious taste of a crescent roll —
Before I jump into the recipe, I want to first apologize that I haven't been able to post any new recipes the last few weeks.  I actually have been traveling quite a bit  for my job. Even though I love trying new restaurants in the different cities I travel to,  I definitely miss being in the kitchen.   I think my husband is missing me in the kitchen even more.  When I am gone, his dinners typically consist of pizza, sandwiches, or even a bowl of cereal.   Often on work days, I am always looking for quick and easy recipes.  This is why this dish was one of my favs!
Now back to the recipe details….
You can easily use leftover sliced corned beef or even deli corned beef for this recipe.  At my local grocery store, they carry a fully cooked and sliced container of corned beef.  They also have pastrami in a similar package too (which I have tried and is pretty tasty as well).
The brand is:  Stoneridge Ranch Corned Beef.  See photo. Full Retail:  $8.99 for 16 oz.  (Of course, I waited till it went on sale to get it even cheaper!)
You can make this dish in under 30 minutes!
Tastes great as leftovers!  Highly recommend!!!

Reuben Crescent Sandwich Bake
Author:
Sweet Dash of Sass
Ingredients
2 tubes refrigerated crescent rolls
1 lb. sliced Swiss Cheese, divided
1-1/4 pounds sliced deli corned beef
1 can (14 oz) sauerkraut, rinsed & well drained
1 cup Thousand Island Salad dressing
1 egg white, lightly beaten
3 teaspoons caraway seeds
Instructions
Pre-heat oven to 375 degrees. Unroll one tube of crescent rolls into one long rectangle, seal seams an perforations. Press onto the bottom of a greased 13×9 baking dish. Bake 9-11 minutes or until golden brown.
Meanwhile, in a pan over medium heat, sauté corned beef with a little butter. Saute and stir meat for 7-10 minutes. Set aside.
In a separate bowl, combine rinsed and drained sauerkraut and salad dressing. Set aside.
Next Layer: ½ of the cheese on top of the crescent rolls.
Next Layer: All Corned Beef
Next Layer: Sauerkraut Mixture
Next Layer: Top with remaining cheese
Next Layer: Unroll 2nd tube of crescent rolls on top of cheese.
Brush with egg white, sprinkle with caraway seeds.
Bake 12-16 minutes or until crescent rolls are golden brown. Let stand for 5 minutes before cutting.
Serves 6-8
Tip #1:  Instead of all Corned Beef — try using 1/2 pastrami and 1/2 corned beef!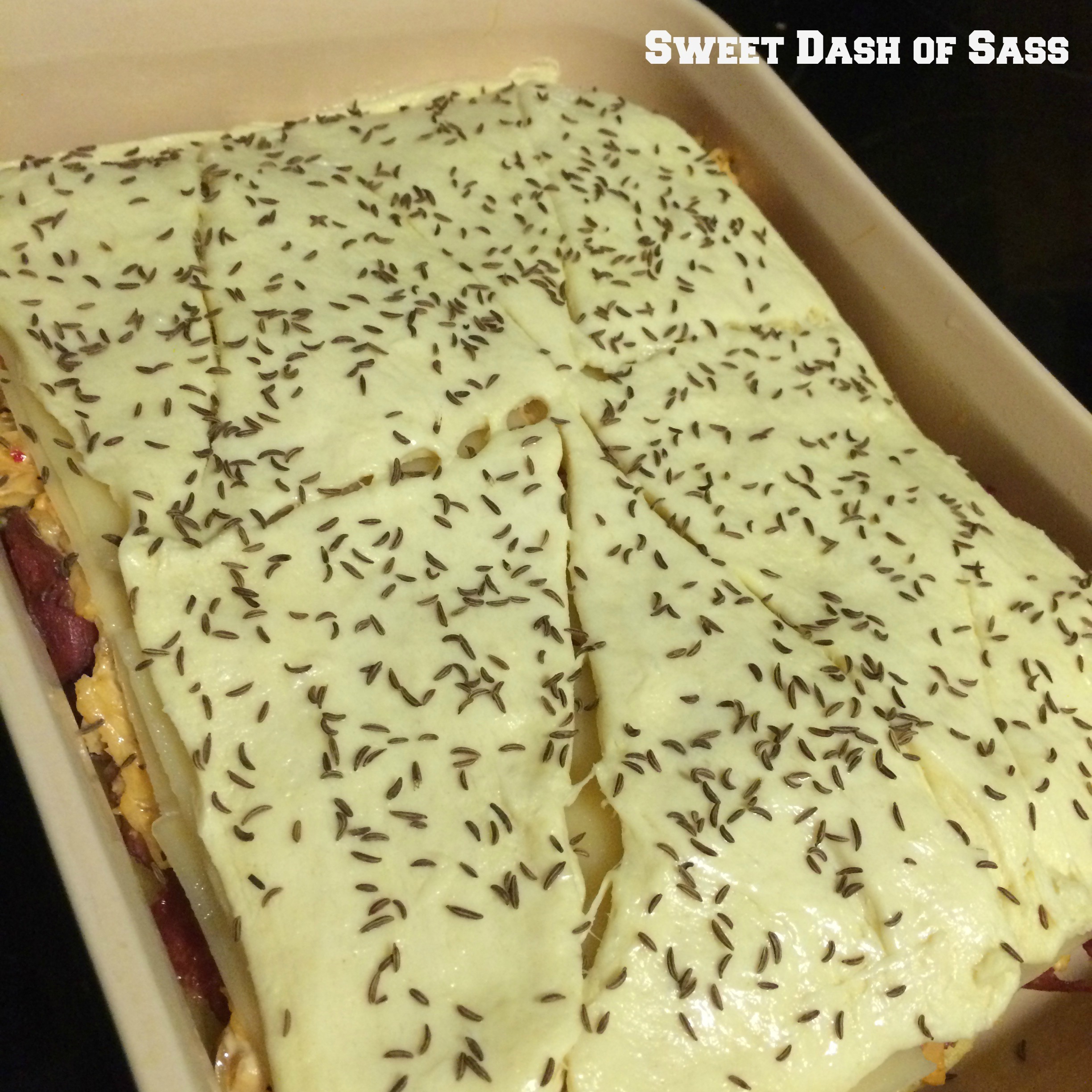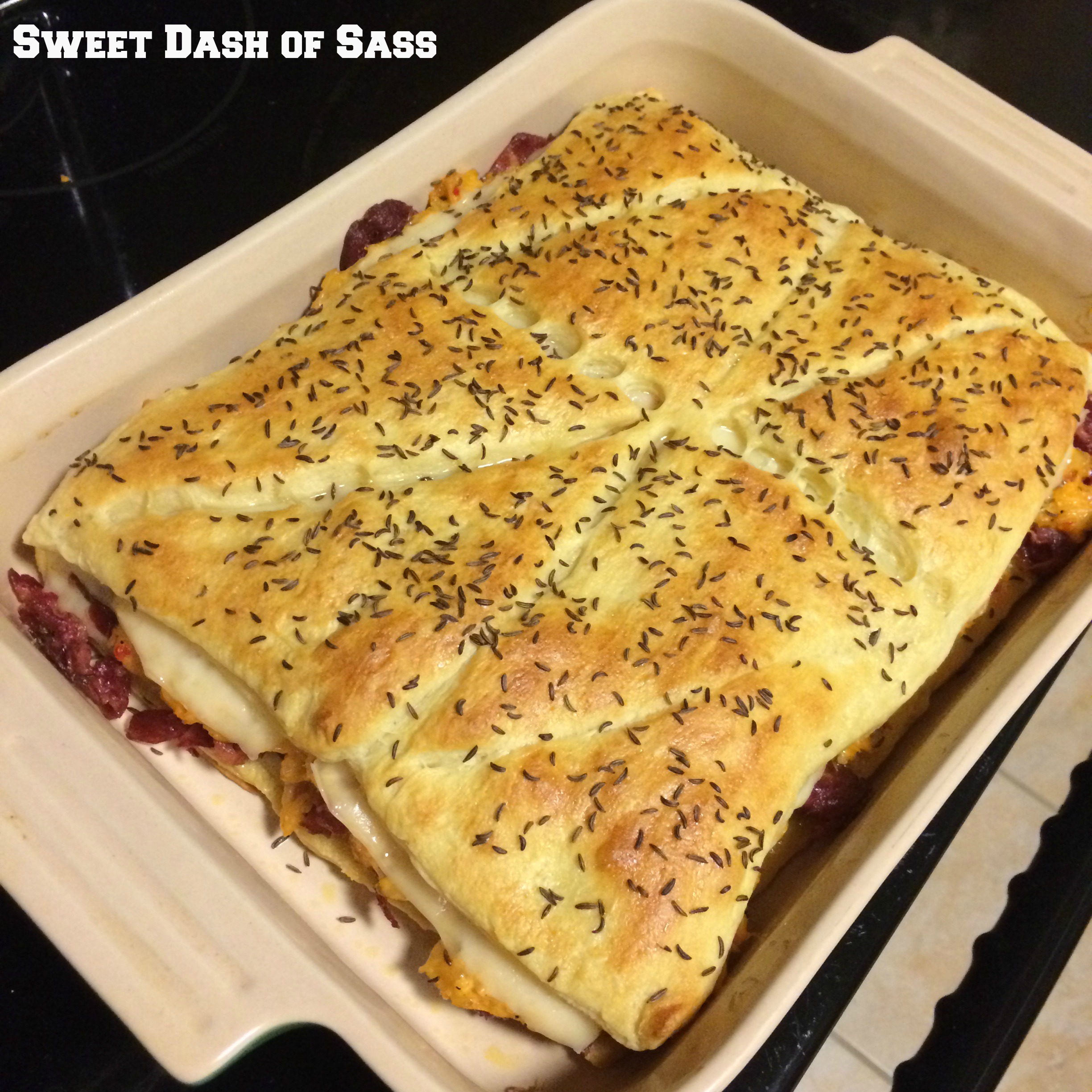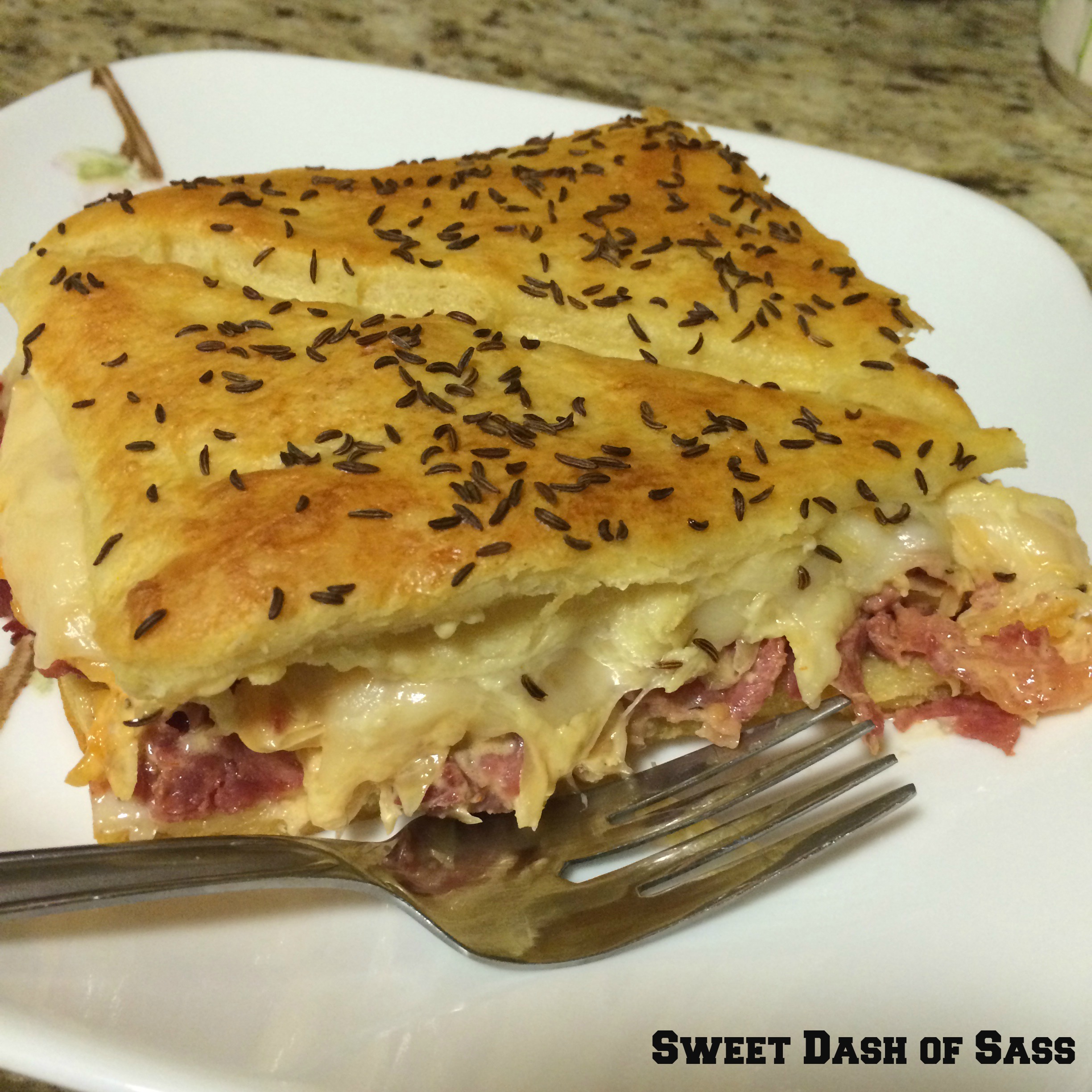 —————————————————————————
Like me on Facebook: Sweet Dash of Sass  CLICK LINK —>    Sweet Dash of Sass
Follow me on Instagram @SweetDashofSass
Follow me on Twitter @SweetDashofSass
—————————————————————————