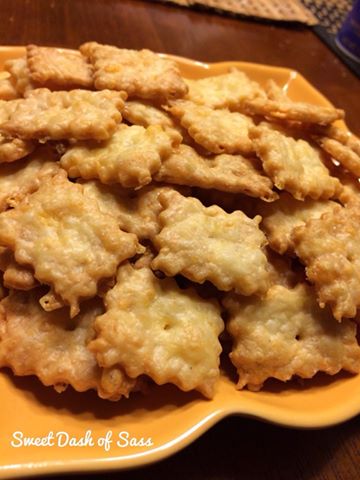 Whenever possible, I have been trying to avoid foods with all the preservatives or unknown ingredients on the label.  My mom had a bowl of crackers on the table and I couldn't stop munching on them.  They were so tasty.  When she told me she made them from scratch, I was so impressed that I had to attempt to make another batch with her.  The best part: most of the ingredients I always have on hand in my kitchen.  Highly recommend these!!  Much healthier without all the preservatives.

Homemade Cheese Crackers
Author:
Sweet Dash of Sass
Ingredients
1½ cups finely grated sharp cheddar cheese (6 oz)
4 tablespoons unsalted butter
1 teaspoon salt, plus ½ teaspoon
½ teaspoon white pepper
½ cup plus 2 tablespoons all-purpose flour
2 tablespoons cornstarch
2-3 tablespoons water
Instructions
Adjust oven racks to upper-middle and lower middle positions.
Pre-heat oven to 375 degrees.
Using a stand mixer, combine cheese, butter, 1 teaspoon of salt, and pepper until it starts to stick to the sides of the bowl: 30 seconds to a minute.
Add flour and cornstarch, mix until combined, about 1 minute.
Add 2 tablespoons of water and mix briefly until dough ball forms. Add another tablespoon of water, if needed.
Transfer dough to floured counter and flatten into a disk.
Wrap in plastic and refrigerate until chilled, about 30 minutes.
Line 2 rimmed baking sheets with parchment paper.
Unwrap the dough and place on a floured surface. Roll to 1/16 inch thickness.
Cut into 1-inch squares using a pastry cutter with a beveled-edge.
Using the blunt-end of a skewer, poke a hole in the center of each square.
Transfer to baking sheets. Sprinkle with remaining salt.
Place baking dish on lower-middle position and bake for 5-6 minutes.
Then, rotate baking pan to the upper-middle position and bake for another 5-6 minutes until light golden around the edges.
Let cool on baking sheets.
Store in an airtight container at room temperature for up to 3 days.
Tip #1:  Don't have white pepper on hand?  You can swap with ground black pepper.
Tip #2:  Do not use the pre-shredded cheese in the stores.  Buy a block of cheese and grate at home!  Not only is it cheaper, but Packaged Pre-Shredded cheese contains preservatives to prevent it from clumping together. 
Tip #3:  Want to make other flavors of cheese crackers?  Just swap out the cheese in the recipe with another flavor like Pepper Jack, Asiago, and White Cheddar!
Tip #4:  Highly recommend using a pastry cutter with a beveled-edge when cutting your crackers.  It gives it a fancier look and mirrors the boxed version!  Both my mom and I got our Pastry Cutter from Pampered Chef. 
WHAT IS A PASTRY CUTTER (Pampered Chef's version)?
Three tools in one!  The straight wheel makes perfect pies and lattices; the fluted adds decorative edges, and the crimper seals dough for filled pastries and ravioli.  Wheels change with a quick turn of the knob.  The ergonomic handle fits comfortably in your hand.  Includes protective storage cover.  Dishwasher safe.  Cost:  $12.50.
Tip #5:  Instead of rolling dough on a floured surface.  Place parchment paper (or plastic wrap) underneath a portion of the dough on table.  Lay plastic wrap on top of dough as well.  Roll out dough to the 1/16 inch thickness (Almost paper thin, as the cracker with "puff" up while baking.)  The plastic wrap saves the mess from the flour and you don't have to worry about the dough sticking to the rolling pin.  Also, with the dough being rolled out on the parchment paper, makes it super easy to transfer to the baking pan.  All you have to do is lift up the parchment paper and transfer to your baking pan!  Totally doing this tip on other recipes as well!  THANKS MOM FOR THE TIP!