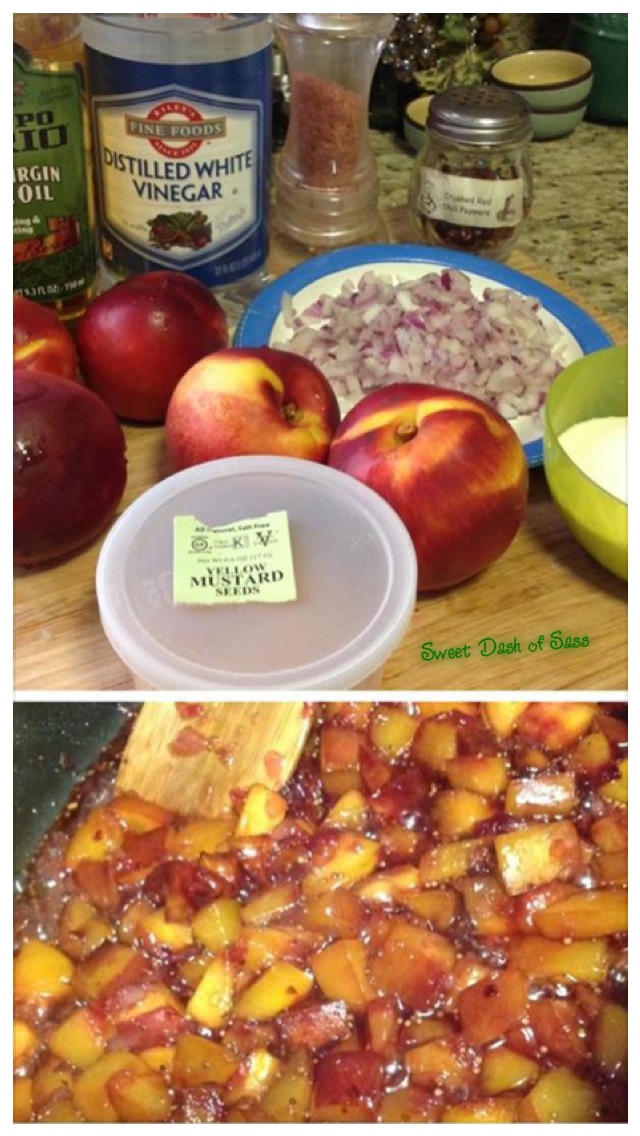 Nectarine Chutney
Author:
Sweet Dash of Sass
Ingredients
2 teaspoons oil
1 teaspoon yellow mustard seeds
1 small white onion, diced
⅔ cup sugar
⅓ cup white wine vinegar
¼ teaspoon crushed red pepper flakes
4 firm, but ripe nectarines (about 1½ lbs total), pitted, but into 1-inch pieces
½ teaspoon salt
Instructions
Heat oil in a large saucepan over medium heat.
Add mustard sheets and saute until they begin to pop, about 30 seconds.
Add onion and saute until tender and translucent, about 4 minutes.
Stir in sugar, vinegar, and pepper flakes. Simmer until the sugar dissolves.
Add nectarines and cook until nectarines are tender, stirring occasionally for about 10 minutes). They should still hold their shape – syrup will slightly thicken. Stir in salt.
Makes 3 cups
FUN MEMORY:  This was the first time I attempted to make a chutney from scratch.  Super easy and great flavor. Definitely recommend when nectarines are in season (June-September). My inital recipe that I tried with it was on a grilled cheese sandwich.  It was so good.  If you are going to go this route, I highly recommend using a ciabatta roll instead of regular sandwich bread.  I also poured some over chicken breasts, but it would also be good over pork chops or even fish!
Tip #1:  Chutney will last about a week in the refrigerator in the covered container.
Tip #2:  Don't have nectarines?  You can easily substitute with peaches!
Recipe Idea #1:  Blend one 8-ounce package of softened cream cheese in a mixing bowl until smooth.  Stir in 1/2 cup of Nectarine Chutney.  Serve with snack crackers or tortilla chips for a great appetizer dip!
Recipe Idea #2: Blend 1 1/2 cups of chutney with 1 package (1oz) dry onion soup mix.  Pour chutney over 1 lb. seasoned chicken breasts in a 13 x 9 baking dish.  Bake in oven at 375, for 30-45 minutes, or until chicken is fully cooked.
Recipe Idea #3:  Combine a tablespoon of nectaraine chutney with 1 teaspoon soy sauce, 1 tablespoon sweet white wine, and 1/4 cup chicken/vegetable stock.  Serve hot with tempura.  You can either mix the ingredients for a slightly chunky sauce or blend/puree ingredients first before heating in a small saucepan.
Recipe Idea #4:  Step up your grilled cheese sandwich.  Slice and toast cut side of a ciabatta roll.  (Brush cut side a little olive oil prior to toasting.)  Once toasted, rub 1 peeled garlic over the cut side of the roll to get a slight garlic flavor infused in the bread.  Spread chutney on each of the cut sides of the roll.  Place a few slices of thin cut cheese over the chutney (a tangy cheese such as sharp cheddar, St. Andre, Gruyere).  Grill as you would a grilled cheese until cheese is melted.  Before serving, open up sandwich and put a small handful of argula inside prior to enjoying!