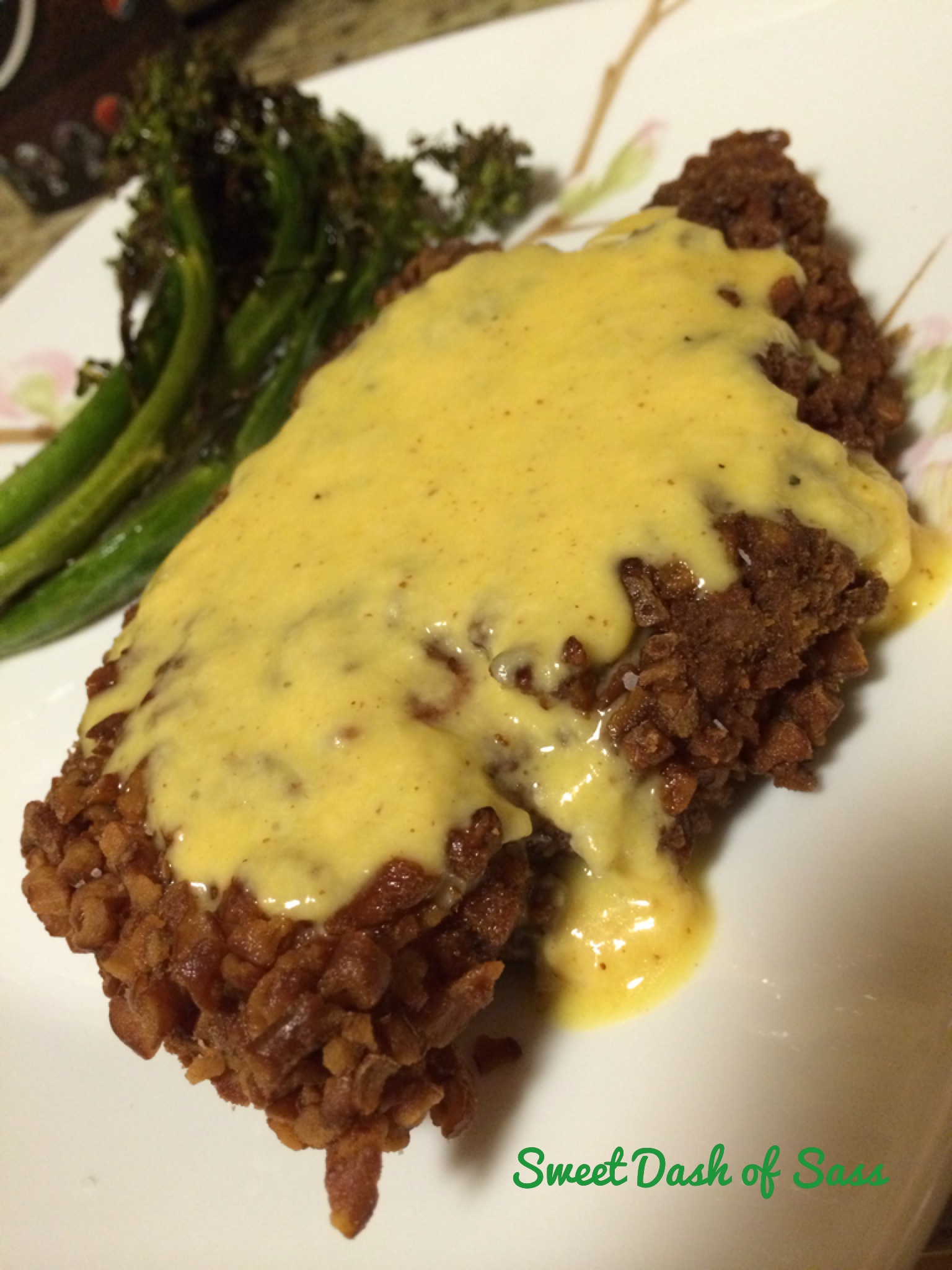 If you love fried chicken or chicken fingers, this is a must try recipe!  The chicken alone, without the sauce, is amazing on its own.  Even though the cheesy sauce was great, I probably enjoyed the sauce over my broccoli even more.  The next time I make this, I'll probably pass on the cheese sauce and just dunk my chicken in some of my favorite BBQ sauce!

Pretzel-Crusted Chicken Breasts with a Cheesy-Mustard Sauce
Author:
Sweet Dash of Sass
Ingredients
Chicken
4 thinly sliced chicken breasts
6 cups (6-7 oz) salted pretzels
Ground black pepper
Kosher Salt
3 eggs
3 tablespoons milk
Vegetable oil, for frying
Cheese (if desired)
2 tablespoons butter
2 tablespoons flour
2 cups milk
2 cups sharp yellow cheddar cheese, shredded
1 cup white american cheese, shredded
3 tablespoons spicy brown mustard
Kosher Salt
Optional Garnish – Chopped Parsley leaves
Instructions
Place pretzels in a food processor or blender and grind until fine. (It's ok for the pretzel mixture not to be completely a fine powder.)
Pour into a shallow dish. Add ¼ teaspoon of ground pepper to pretzel mixture.
In separate shallow dish, whisk milk and eggs together.
Take 1 chicken breast and coat in pretzels. , then fully dunk chicken in egg mixture on both sides, then dunk a 2nd time in the pretzel coating.
When finished, place on dish and repeat with remaining chicken breasts.
Pre-heat a large skillet with ¼″ to ⅓″ inch of oil. .
Add pretzel-coated chicken breasts to the hot oil. Do not overcrowd, if you need to do in separate batches, that is fine.
Cook about 3 to 4 minutes on each side, until pretzel coating is golden brown and chicken juices are running clear.
Once chicken is complete, pull out of oil and let them rest on a paper towel lined plate to drain excess oil. Sprinkle with a pinch of salt.
While the chicken is frying, you can start working on the cheese sauce (if desired). In a medium sauce pot over medium heat, melt butter and add flour.
Whisk mixture together and cook for 1 minute. Whisk in milk to flour/butter mixture. When milk starts to bubble, add shredded cheeses and mustard.
Continue to mix with a whisk till cheese is fully melted. Add a pinch or two of salt and pepper. Remove sauce from the heat.
Transfer chicken to serving dishes and drizzle with cheese sauce. Garnish with chopped parsley (if desired).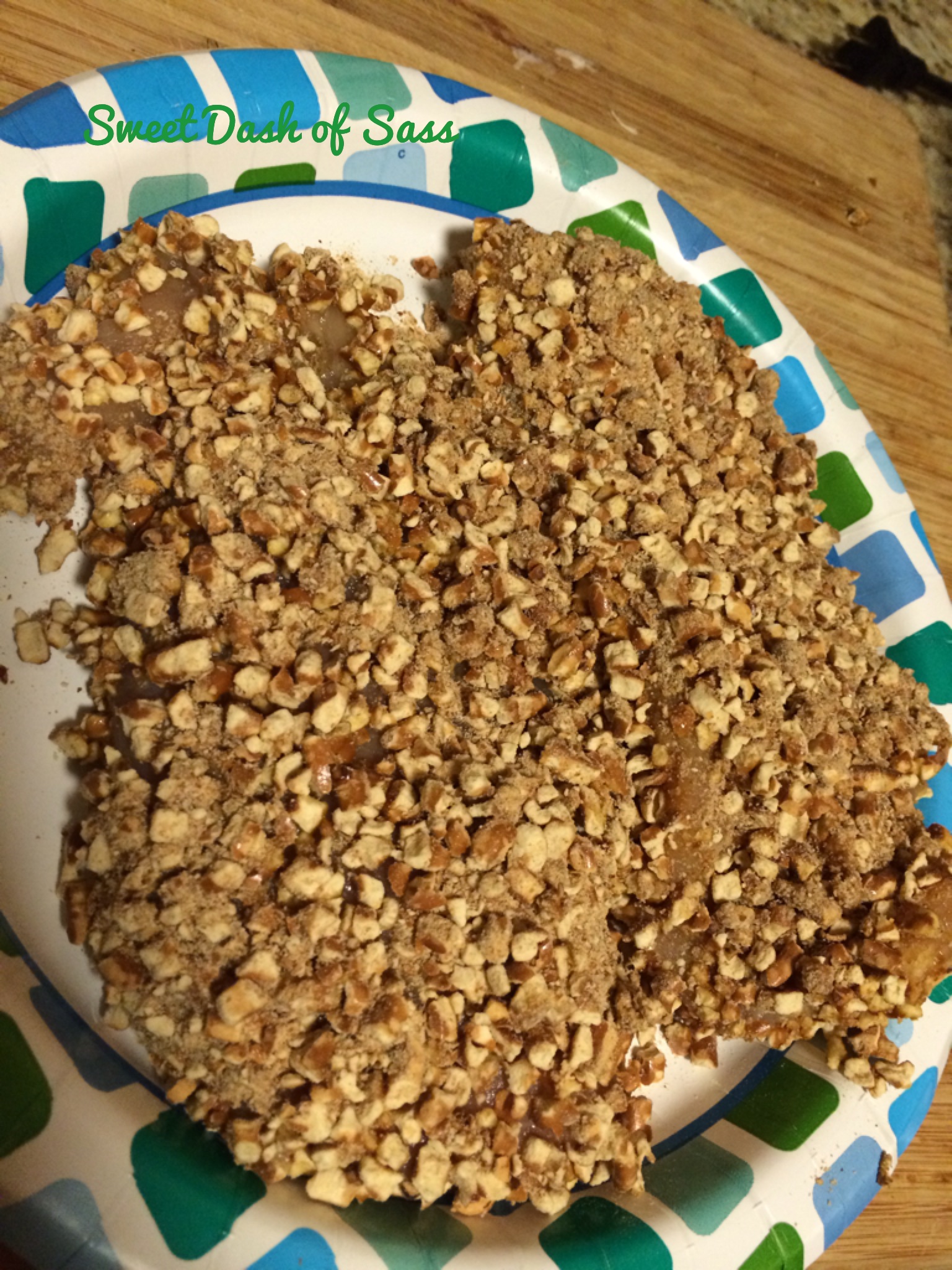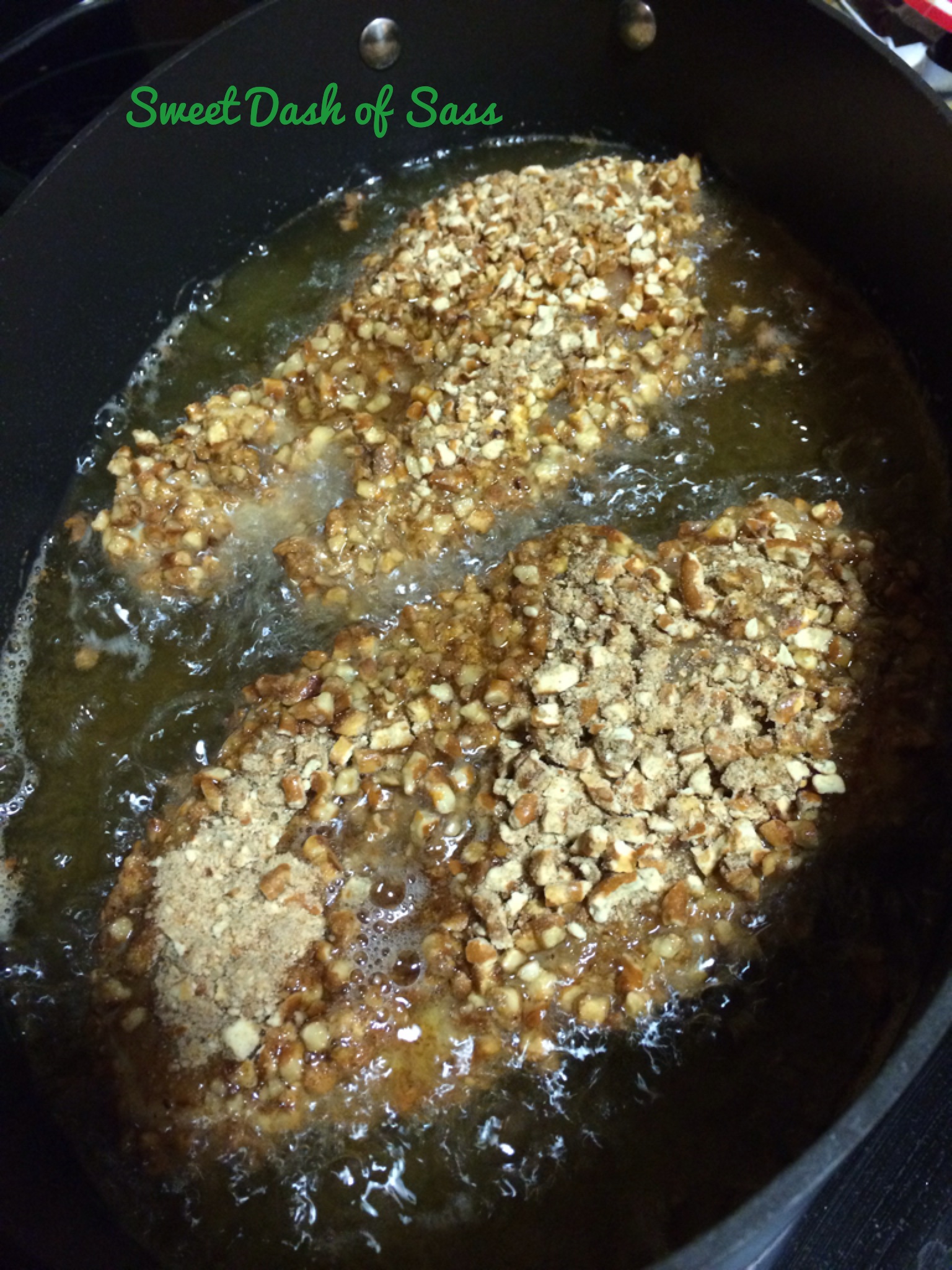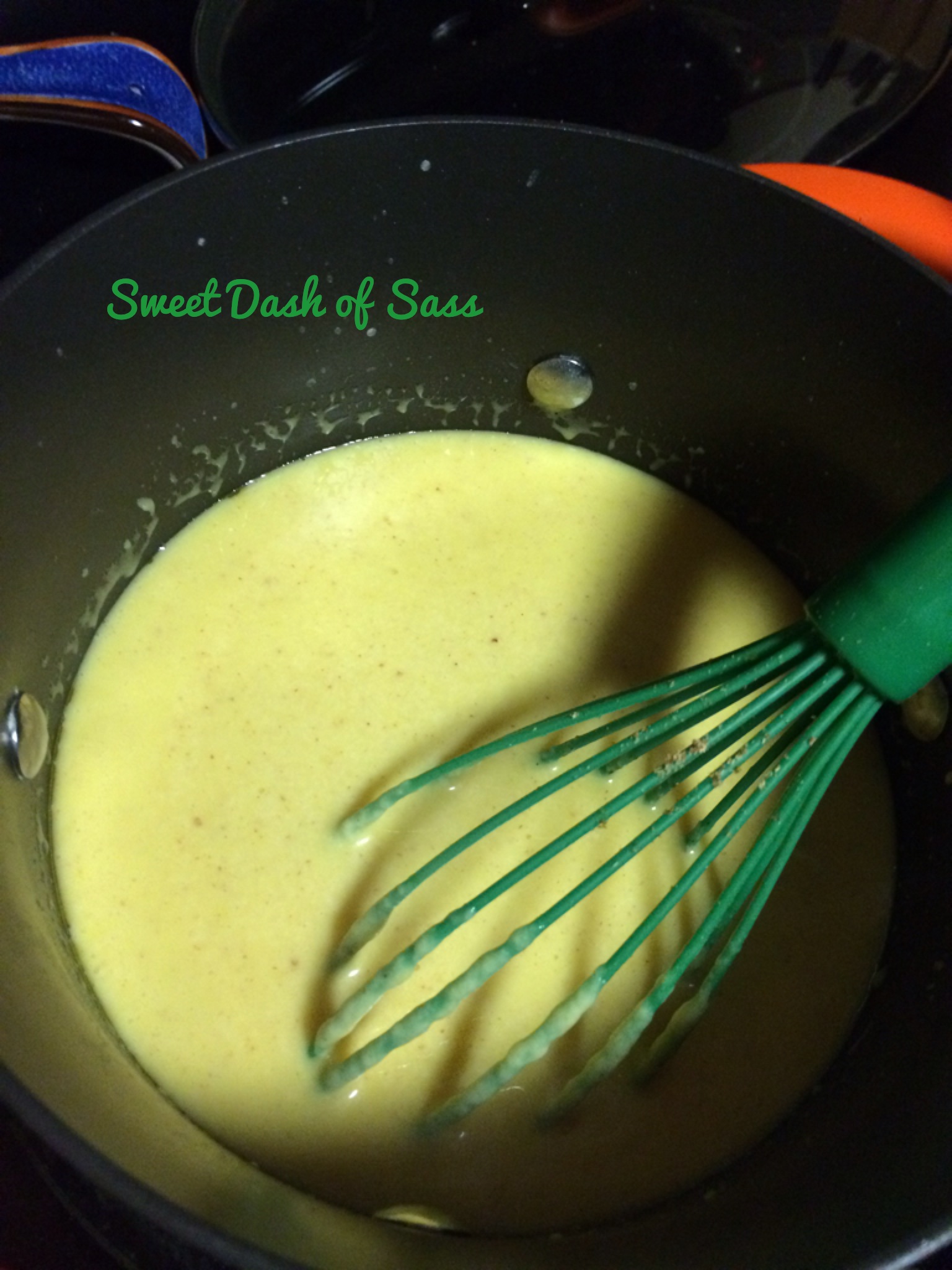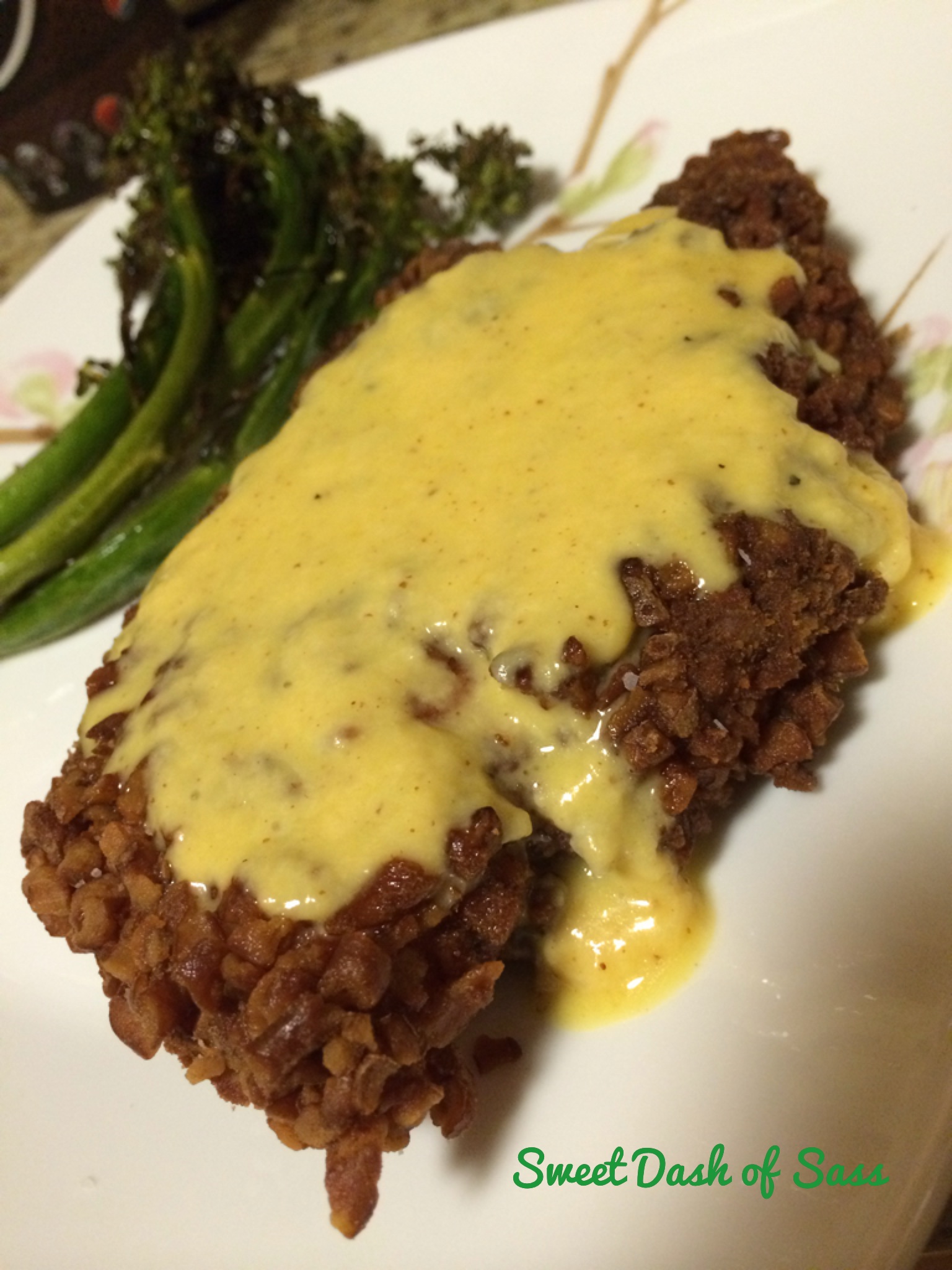 Tip #1:  Not sure how to gauge when your oil is hot enough?  Take a wooden spoon and place the top end in the oil.  If you notice little bubbles forming around the spoon, your oil is ready!
Tip #2:  Can't find thinly sliced chicken breasts?  You can use regular chicken breasts and pound out to make them thinner.  You can also ask your local grocery store (butcher) to slice a chicken breast for you prior to purchasing!  If you prefer, you can even swap with chicken tenderloins.
Tip #3:  Not a fan of cheese sauce, no worries!  You can easily make just the chicken and serve with your favorite sauces such as BBQ or ranch!