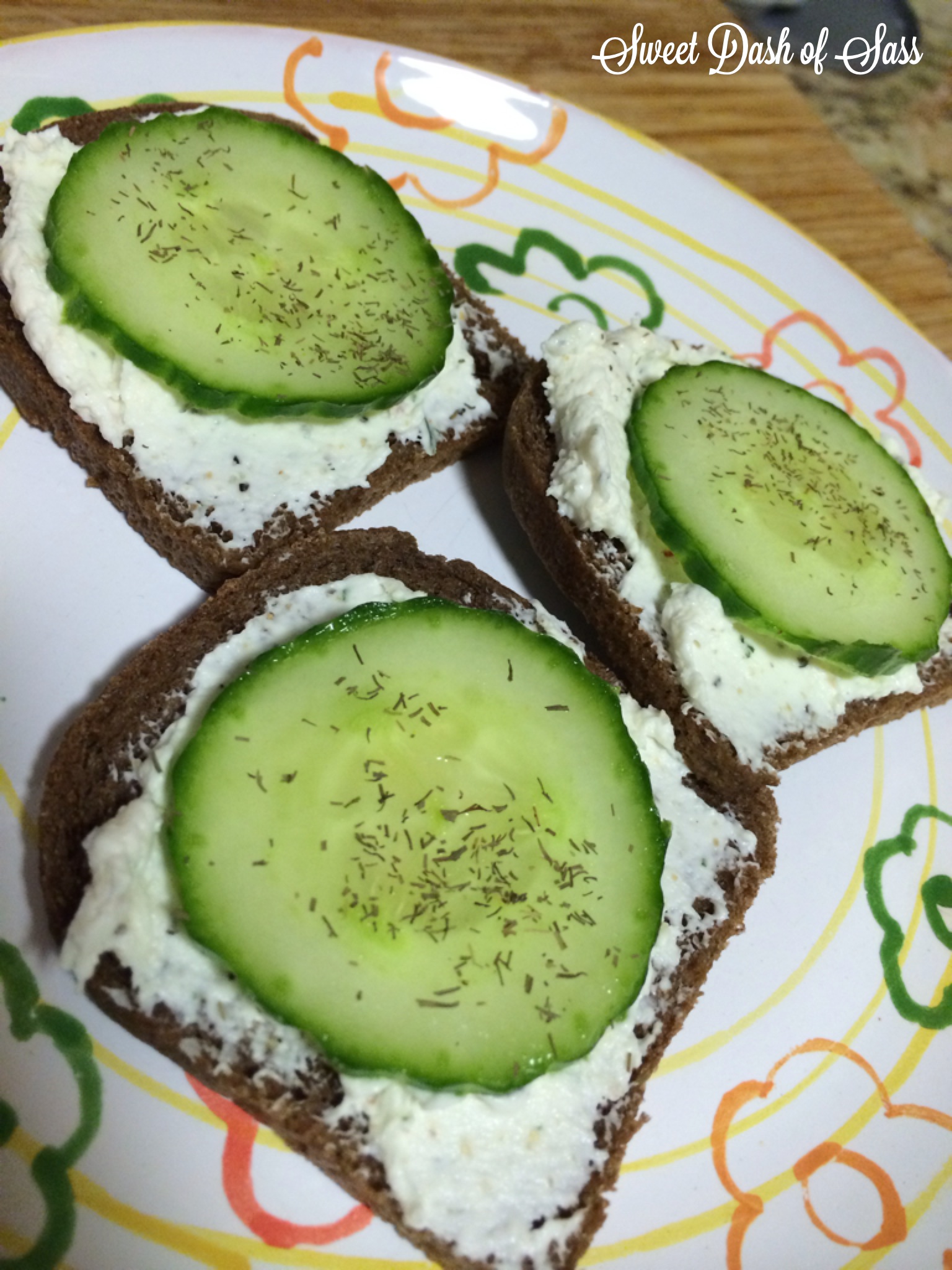 Looking for a super easy appetizer to make for your next party?  This tasty recipe is for you!  Especially if you do not want to turn on the oven – the perfect summer appetizer.
The one thing I miss about living in Ohio:  my house parties with my family and friends.  I would always have at least 2 big parties each year.  Once for the holidays and the other in the summer!  Usually around the time of our birthdays (since they are only a week apart).
One of my friends happened to bring this appetizer over a few years ago and it was a huge hit!  I have been making the recipe ever since.  Not only is it great to use for an appetizer, but it's even great to use the leftover cream cheese mixture on regular deli sandwiches instead of mayo!  Such great flavor.
ENJOY! 

Cucumber Dill Cocktail Sandwiches
Author:
Sweet Dash of Sass
Ingredients
1 (8 oz) container of whipped cream cheese
1 (0.7 oz) package of Italian Dressing & Recipe Mix
1 (1 lb) package of cocktail pumpernickel bread (or any other flavor you prefer)
1 cucumber, thinly sliced
Dried dill
Instructions
In a small bowl, mix whipped cream cheese and dry Italian-style dressing mix. (Optional: let mixture sit for an hour or two to allow flavors to incorporate fully into cream cheese.)
Spread equal portions of the mixture on the slices of cocktail bread. Top each bread with a slice of a cucumber. Sprinkle a little dried dill on top of each cucumber slice.
You can store in fridge, on a platter, covered in plastic wrap until ready to serve.
Tip #1:
This cream cheese mixture even works great on a regular sandwich/wrap. Great flavor alternative to Mayo!
—————————————————————————
Like me on Facebook: Sweet Dash of Sass  CLICK LINK —>    Sweet Dash of Sass
Follow me on Instagram @SweetDashofSass
Follow me on Twitter @SweetDashofSass
—————————————————————————