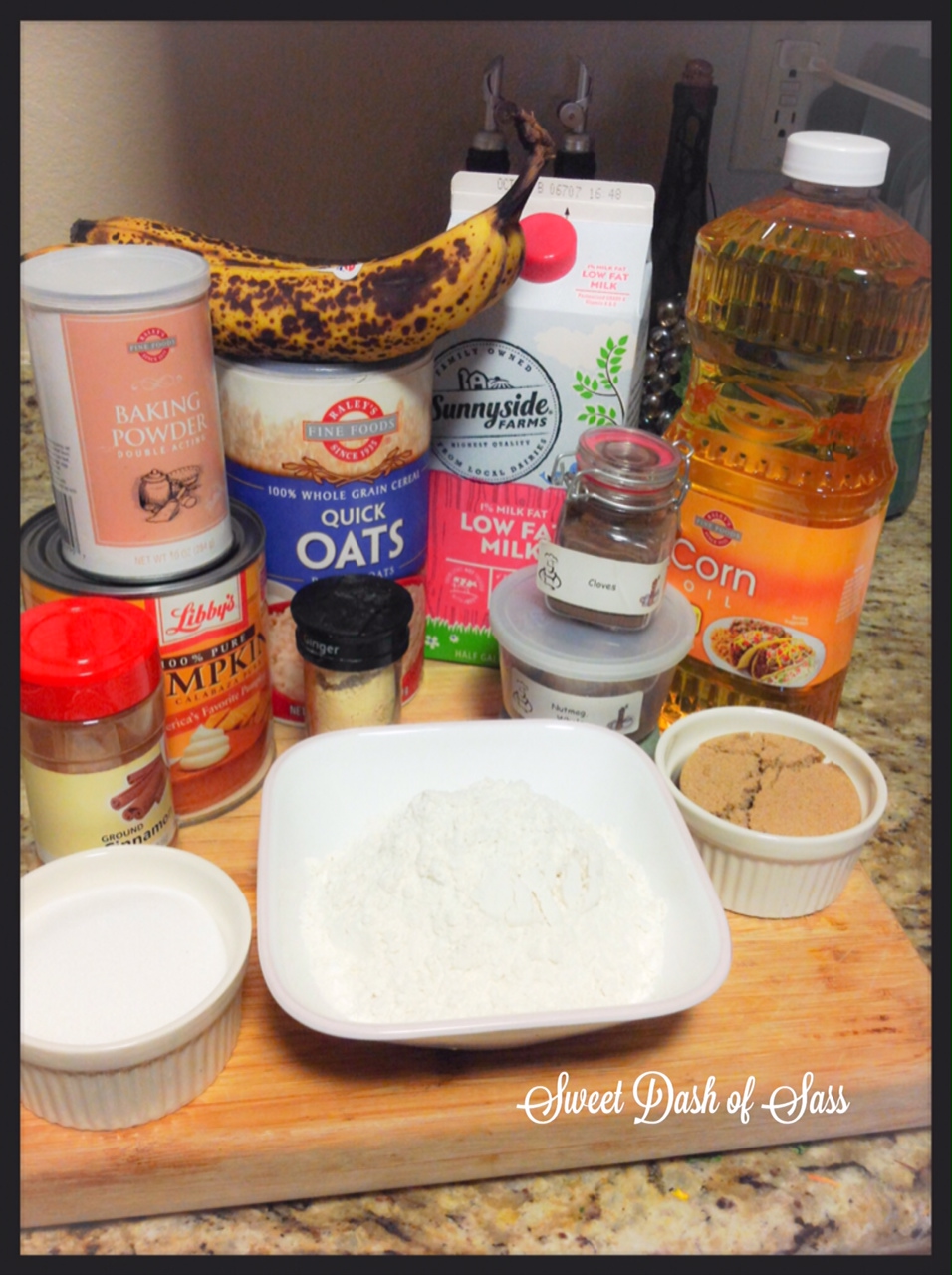 I happened to have 2 ripe bananas on hand and wanted to make something other than the usual Banana Bread!  Since it's Fall and with having canned pumpkin on hand, I thought this would be a perfect combination recipe wise.  Very tasty – my husband said it's very fragrant (in a good way).

Pumpkin-Banana Streusel Muffins
Author:
Sweet Dash of Sass
Ingredients
2 large ripe bananas
½ cup canned pumpkin
½ cup sugar
¼ cup milk
¼ cup vegetable oil
1 egg
1¾ cup flour
2 teaspoons baking powder
1 teaspoon pumpkin pie spice
½ teaspoon salt
Streusel Topping:
½ cup flour
¼ cup brown sugar
½ stick cold butter, cut into small pieces
2 tablespoons quick cooking oats
½ teaspoon cinnamon
Instructions
Pre-heat oven to 375 degrees.
In a small bowl, mash bananas with a fork. In a medium bowl, mix bananas, canned pumpkin, sugar, milk, oil, and egg until well blended.
Combine flour, baking powder, pumpkin pie spice, and salt in a large bowl. Stir banana mixture into flour mixture just until moistened.
Spoon batter into muffin tins sprayed with non-stick spray (or you can use muffin liners).
To make streusel topping: Combine all ingredients in a small bowl with a fork until crumbly. Sprinkle topping equally over all the muffins.
Bake 20-22 minutes until toothpick comes out clean. Serve warm.
Tip #1:  Don't have pumpkin pie spice?  1 tsp substitute = 1/2 tsp. ground cinnamon plus 1/4 tsp. ground ginger, 1/4 tsp. ground allspice, and 1/8 tsp. ground nutmeg.
Tip #2: Definitely invest in a large cookie scoop!  It has many other uses besides making your cookies a perfect size.  Simply scoop your batter, squeeze and release into your muffin cups.