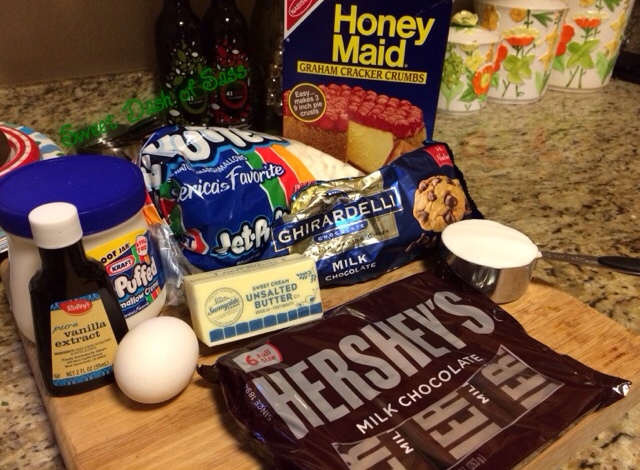 Who doesn't love a great S'more?  I love Marshmallows, especially when they are ooey-gooey!  If you aren't near a fire pit and craving the flavors of a S'more, this pie is for you.  It's amazing and super quick & easy to make!!  This is the perfect dessert to make when you plan on getting together with friends.  My husband loved every bite and gave two thumbs up!  Warning:  This is a very rich dessert.  Don't eat too much or you might get a sugar rush.

S'more's Pie
Author:
Sweet Dash of Sass
Ingredients
1 stick butter, softened
½ cup sugar
1 large egg
1 teaspoon vanilla
1 cup flour
1 teaspoon baking powder
1 cup graham cracker crumbs
1 container (7oz) Marshmallow Creme
6 whole (1.55 oz bars) Hershey's Chocolate Bars
1 cup small marshmallows
¼ cup Milk Chocolate Chips
Instructions
Pre-heat oven to 350 degrees.
Spray a 9-10″ pie pan with non-stick cooking spray.
Crust:
In a large bowl, beat butter and sugar together. Stir in egg and vanilla; mix until combined.
Add graham cracker crumbs, baking powder, and flour. Blend until all combined.
Take about half or slightly more than half of dough and press into the bottom of pie dish. Make sure to try and go up along the sides of the pie plate. This will be your bottom crust. Save the remaining dough, as that will be used at the end of the recipe as the top crust.
Filling:
Empty container of Marshmallow Fluff onto bottom of crust. Use a small spreader to help evenly spread the fluff on the pie. (See Tips below.)
Unwrap all bars of chocolate. Break each Hershey bar into the mini squares. Evenly spread the chocolate pieces over the Marshmallow Fluff. Feel free to snack on a few squares. (You could even get away with 5 bars in this recipe.)
Sprinkle marshmallows on top of Hershey's Chocolate Bars.
Top Crust:
Take pieces of the remaining dough and flatten in your hands. Lay flatten pieces on top of the pie to cover marshmallows. You will still see Marshmallows peek thru some sections — this is okay!
Press Chocolate chips into top of the crust.
Bake 20 minutes, or until golden brown.
Let cool for a few hours or even overnight. If you cut too soon, it will not have had a chance to harden and will be all gooey. Mind you, it's still yummy warm – but will just be hard to cut.
Tip: #1:  If you use large chocolate chips, you can push them in the dough point side down.  It will almost resemble a chocolate chip cookie!  My favorite chips to use are Ghiradelli brand!
Tip #2:  Marshmallow Fluff is sticky and could be tricky to spread.  I highly recommend using a Small Spreader. 
WHAT IS A SMALL SPREADER?   Its a baking tool that has an ergonomic handle, which is easy on your hand.  It's mainly used for icing cakes, but also has many other uses such as:  smoothing batter and spreading fillings or ganaches.  It also can be used to help lift cake layers or transferring cookies.  Dishwasher safe!  Recommended Brand:  Pampered Chef, cost $6.
Tip #3:  Leftovers can be left out at room temperature.  Cover with foil.
Tip #4:  Heat up slice of pie for a few seconds in microwave. This will make the chocolate and marshmallow gooey, just as if you were at a campfire making a fresh S'more!
Tip #5:  Place pie plate on a cookie sheet before putting in oven.  This will save you from potentially cleaning up a mess in your oven.  (Mine oozed some marshmallows, not too bad, but thought I would give everyone a fair warning.)