I made my first Dutch Pancake back in 8th grade Home Ec class.  I had some apples on hand and thought this would be a perfect mash-up.  Usually Sunday's are my husband's day off work.  I typically will make a breakfast this day instead of the usual cereal, oatmeal, or toast that we have during the week.  We absolutely loved this apple pancake – FYI — it's definitely a sweet breakfast!

Dutch Apple Pancake
Author:
Sweet Dash of Sass
Ingredients
Pancake Batter
4 eggs
½ cup flour
½ teaspoon baking powder
1 tablespoon sugar
pinch of salt
1 cup milk
1 teaspoon vanilla
2 tablespoons butter, melted
½ teaspoon ground nutmeg
½ teaspoon cinnamon
Apple Filling:
¼ cup butter
½ cup sugar, divided
¾ teaspoon cinnamon
½ teaspoon nutmeg
2 large apples, cored, peeled, and thinly sliced
Instructions
In large bowl, beat eggs.
Blend in flour, baking powder, sugar, and salt.
Gradually mix in milk, stirring constantly.
Add vanilla, melted butter, and ½ teaspoon of nutmeg and ½ teaspoon cinnamon.
Let batter stand in covered bowl in refrigerator for 30 minutes, or overnight.
Pre-heat oven to 425 degrees.
In a small bowl, combine sliced apples, ¼ cup sugar, ¾ teaspoon cinnamon, and ½ teaspoon nutmeg.
In a cast iron skillet (or 10 inch skillet), melt ¼ cup of butter over medium high heat.
Brush butter up sides of pan.
Line apple slices on bottom of cast iron or skillet. Sprinkle remaining sugar on top of apples. Let mixture come to a bubble and cook for 1-2 minutes.
If using a cast iron, gently pour in batter over apple mixture and put directly into pre-heated oven.
If using a skillet not oven proof, then pour apple mixture into a greased 10-inch pie plate.
Pour batter over apples and put directly into pre-heated oven.
Bake for 15 minutes at 425 degrees.
After 15 minutes, turn down heat to 350 degrees and bake for 11-14 minutes.
When pancake comes out of oven, it will be "puffed" up. Let cool in pan for 4-5 minutes.
The pancake will sink back down, see photos below.
Slide pancake onto serving platter and cut into wedges.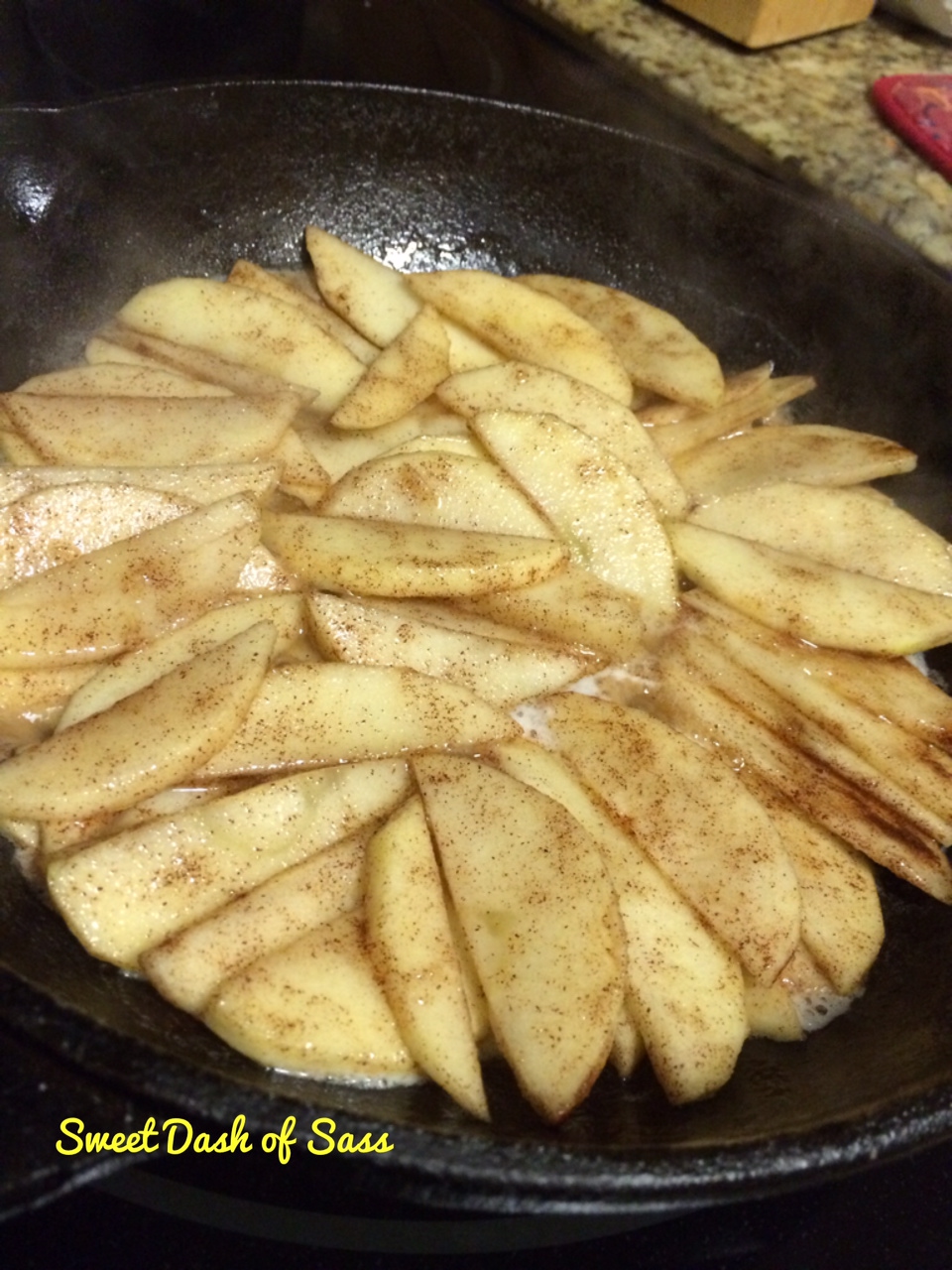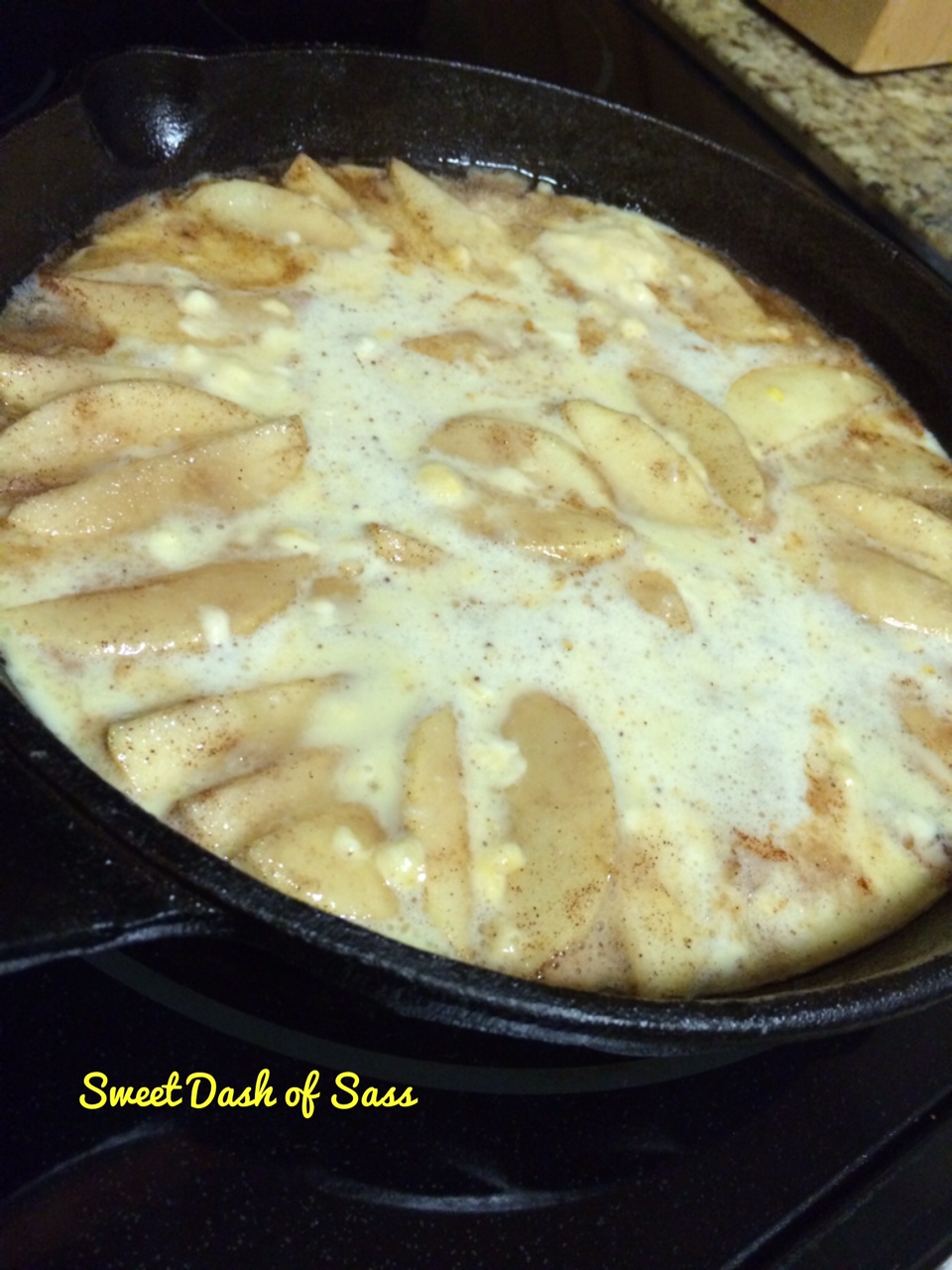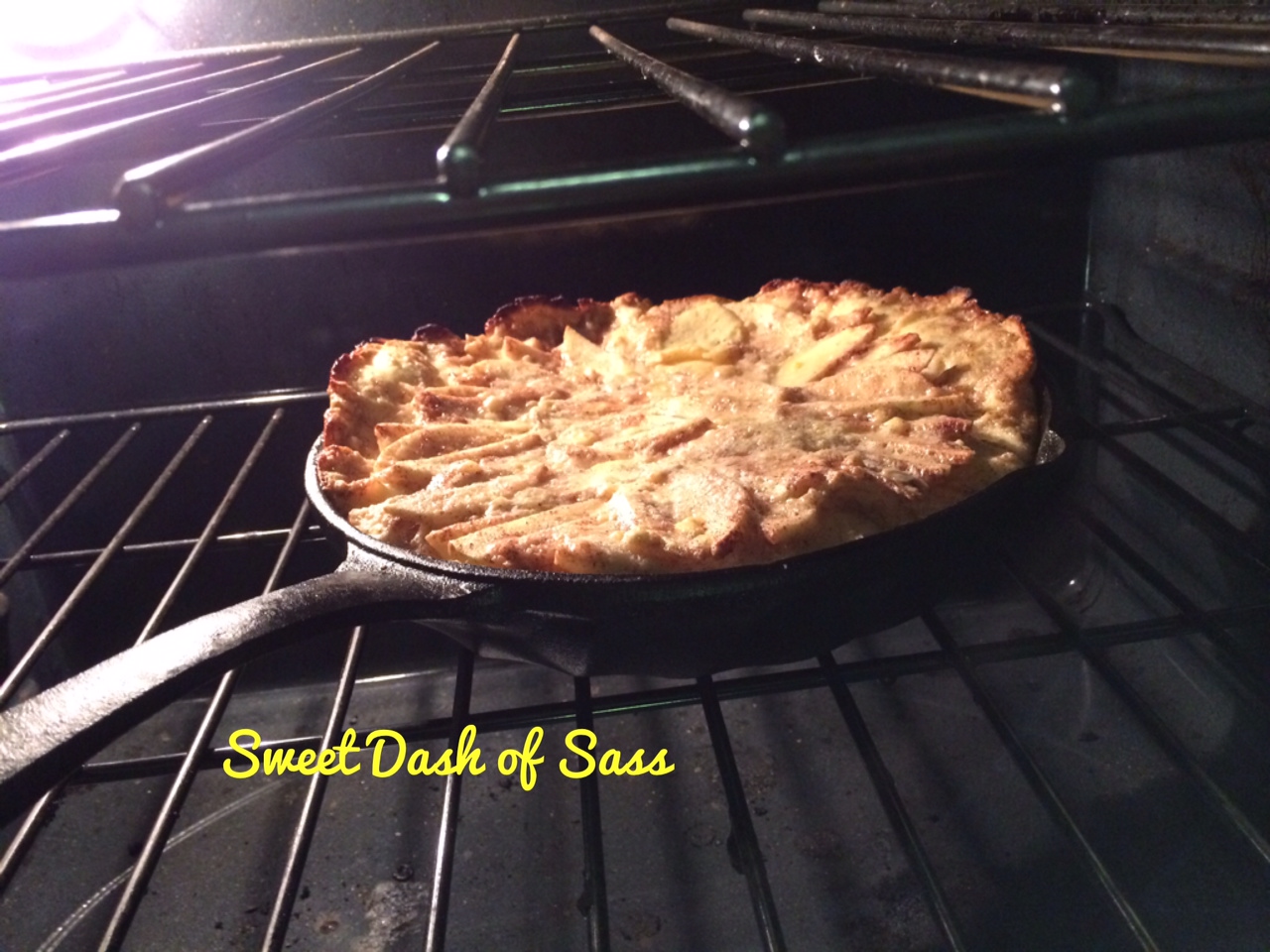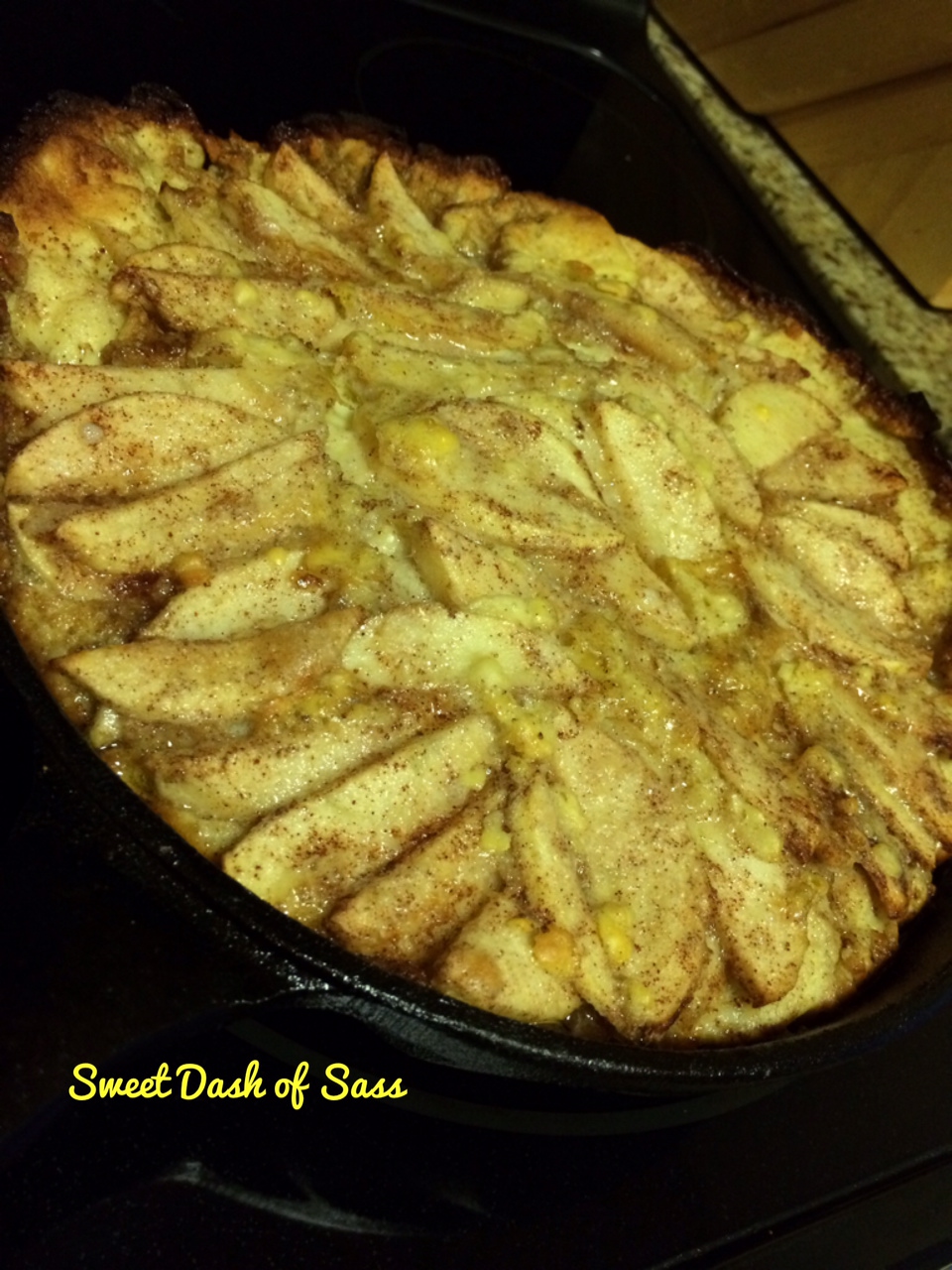 Tip #1:  Recommend using McIntosh, Gala, or Granny Smith apples.  Even better if you use one tart and one sweet!  The only apple I do not recommend is Red Delicious, as they will not hold up in the baking process.
Tip #2:  Highly recommend using Fresh Nutmeg vs. Ground.  Fresh nutmeg has a much stronger flavor and has a much longer shelf life than ground. 
How to Use?  Simply grate the Nutmeg Seed over a microplane and grate as much as you need for a recipe. 
Note:  Since fresh nutmeg has a strong flavor, you might want to use a dash less than noted based on personal preference. I used full amount of fresh in this recipe.