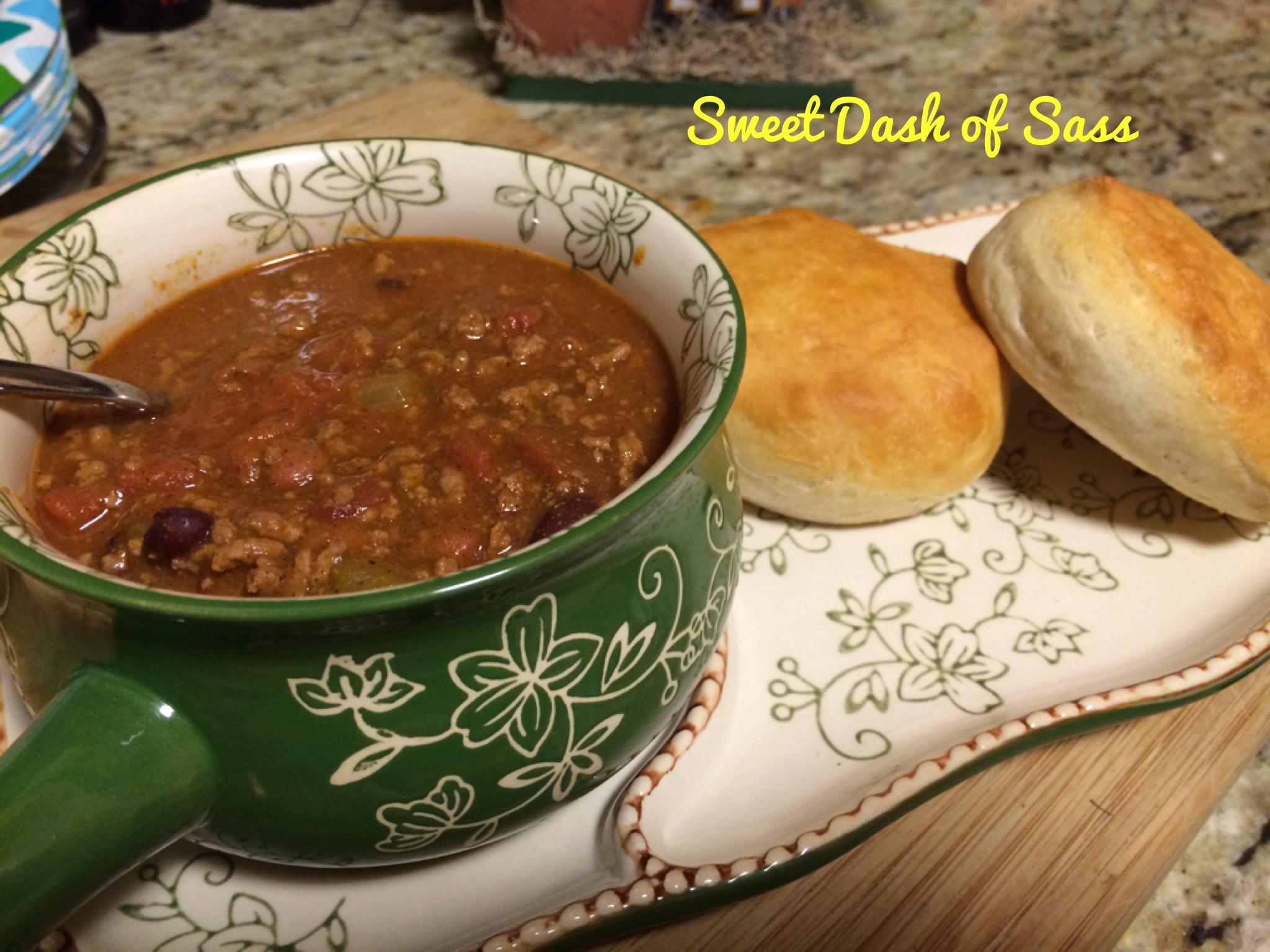 I love Pumpkin! So far, I have made Pumpkin pie, Pumpkin-Banana Muffins, Apple-Bacon Pumpkin Soup…and I thought how about some Pumpkin Chili!  I'm a big fan of chili, especially on a Fall Sunday afternoon.  This was a perfect meal to sit back and enjoy while watching NFL.  Don't forget to make some corn bread muffins or biscuits to enjoy with it!

Pumpkin Chili
Author:
Sweet Dash of Sass
Ingredients
1 pound ground beef
½ large onion, diced
½ green pepper, diced
1 (15 oz) can kidney beans, drained
1 (16 oz) can chili beans in a chili sauce (recommended brand: Bush's Mild or Hot)
1 (10.75 oz) can condensed tomato soup (recommended brand: Campbell's)
1 (10.75 oz) empty can from tomato soup filled with water
1 (14 oz) can diced tomatoes (do not drain)
⅓ cup canned pumpkin puree (plain, no seasonings)
1½ teaspoons pumpkin pie spice
1½ teaspoons chili powder
2 tablespoons sugar
Instructions
In a large pot over medium heat, cook ground beef until browned. Drain excess oil.
Stir in onions and green pepper and saute for 5-6 minutes.
Season vegetables and beef with a pinch of salt.
Stir in kidney beans, chili beans, tomato soup, can of water, diced tomatoes, and canned pumpkin.
Season with pumpkin pie spice, chili powder, and sugar. Simmer for 1 hour.
Tip #1:
Like it spicy?  Add 1/2 teaspoon of crushed red pepper when you add the veggies in the pot -or- add 1 can of Rotel Hot Diced Tomatoes with Habaneros when you add the chili beans. 
Tip #2:  Got leftovers?  Serve chili over elbow macaroni for a different spin!  My personal favorite way of eating chili!
Tip #3:   Don't have pumpkin pie spice?  1 tsp substitute = 1/2 tsp. ground cinnamon plus 1/4 tsp. ground ginger, 1/4 tsp. ground cloves or allspice, and 1/8 tsp. ground nutmeg.