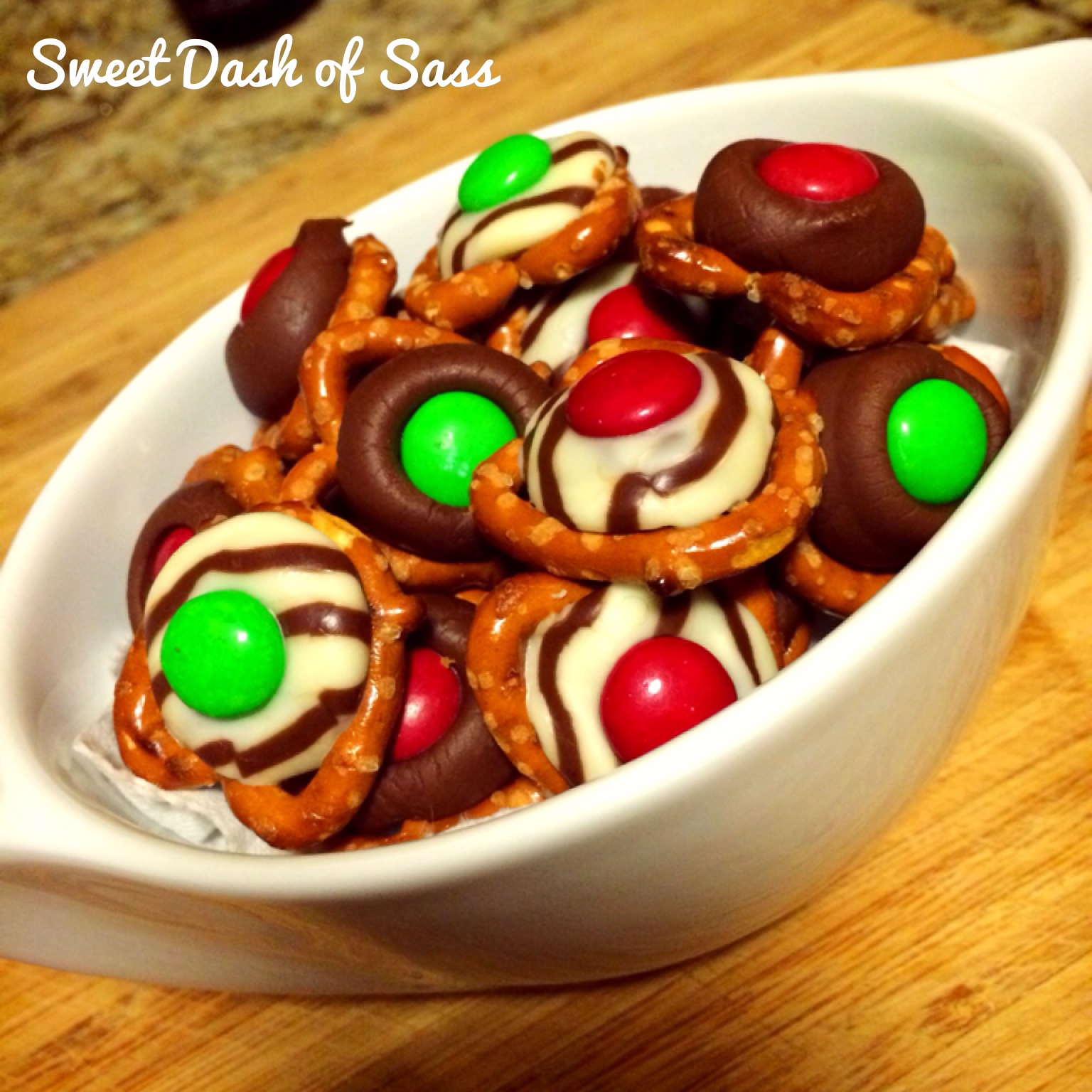 Day 18:  25 Days of Christmas – Cookie Style 
You can't get an easier recipe than this one!  3 ingredients… A perfect combination of salt / sweet!  Several years ago, I had a get together at my house and decided to make these for my friends.  They were a hit and the bowl was instantly empty.  They are a perfect addition to any cookie platter!
Check out and 'LIKE' Sweet Dash of Sass on Facebook!  Click here for direct link! 

Chocolate Pretzel Bites
Author:
Sweet Dash of Sass
Ingredients
50 Pretzels (Mini, Square, or Circle shaped)
50 Hershey's Kisses (Plain or Hugs, whatever your preference)
¼ cup M&M's
Instructions
Pre-heat oven to 275 degrees.
On a baking sheet lined with parchment paper, arrange pretzels.
Place 1 Hershey's Kiss on the center of each pretzel.
Bake 2-3 minutes, or until chocolate is softened. Remove from oven.
Immediately place M&M candy on each, pushing down slightly.
Refrigerate 5-10 minutes until chocolate hardens. Store in an airtight container at room temperature.
Tip #1:  If you end up using Hugs (white chocolate swirled with milk chocolate ones), these will melt faster than the regular milk chocolate ones.  This was the first time that I mixed both kinds on the same cookie sheet.  I would recommend separating the batches on different cookie sheets to ensure equal melting time for all on sheet.
Tip #2:  If you have a lot of pretzels on the baking sheet, you might want to have an extra hand to assist you in placing the M&M's on the pretzels. 
Tip #3:  BONUS ALTERNATIVE RECIPE!  Swap Hershey's Kisses for Rolo's and M&M's for Whole Pecans.  Now you have mini Turtle Bites!  My mom does this recipe around the holidays!