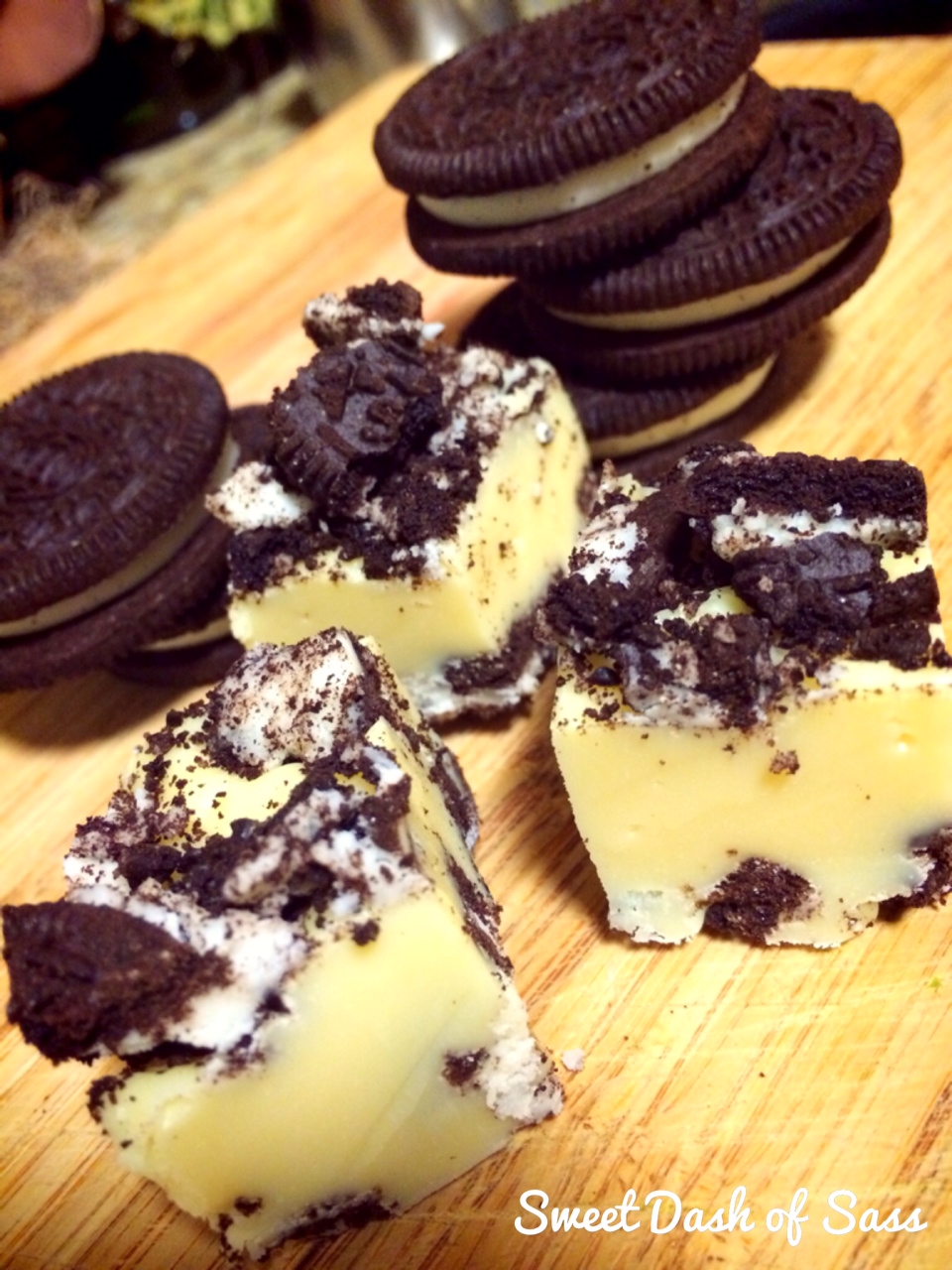 Day 9:  25 Days of Christmas – Cookie Style
Fan of fudge and OREO cookies?  This is a super easy fudge recipe that anyone can make.  The best part?  Prepping will take you less than 10 minutes.  Plus, no baking required!!  This fudge is super sweet – I can never eat more than a piece in a sitting.
Check out and 'LIKE' Sweet Dash of Sass on Facebook!  Click here for direct link! 

Cookies & Creme Fudge
Author:
Sweet Dash of Sass
Ingredients
20 OREO Cookies, crushed – divided (I prefer Double Stuffed!)
1 can (14 oz) Sweetened Condensed Milk
2 tablespoons butter
2⅔ cups white chocolate chips
1 teaspoon vanilla
Instructions
Line a 8-inch baking dish with aluminum foil or parchment paper. Note: If you end up using aluminum foil, spray with non-stick spray.
Place half of crushed cookies in the bottom of pan.
In a medium saucepan, combine condensed milk, butter, and white chocolate chips. Cook and stir over low heat until melted. Remove pan from heat and stir in vanilla.
Pour mixture over crushed cookies in pan. Sprinkle with remaining crushed Oreo's. Cover and refrigerate for at least 2 hours. Cut into squares with a sharp knife.
Tip #1:  When crushing your cookies, save some of the larger pieces for the top of the fudge.
Tip #2:  Not a fan of white chocolate?  You can substitute semi-sweet chocolate chips for the white chips.
Tip #3:  Extend the life of your fudge! 
Refrigerator:  Fudge will stay fresh up to 3 weeks in the refrigerator.  Line an airtight container with a piece of wax paper and separate layers of fudge with additional layers of wax paper.  The wax paper will prevent the fudge from sticking to the container or to itself while being store.  Before serving fudge, allow it to remain sealed in the container until it returns to room temperature.
Freezer:  You can also freeze fudge for several months.  When storing fudge in the freezer, it should be wrapped with wax paper as well as aluminum foil and placed in an air-tight, freezer safe container.  The combination of the wax paper, aluminum foil, and the air tight container will reduce the amount of moisture the fudge is exposed to and will maintain the same consistency once thawed.  Keep fully wrapped until it has reached room temperature.  Then, ENJOY!