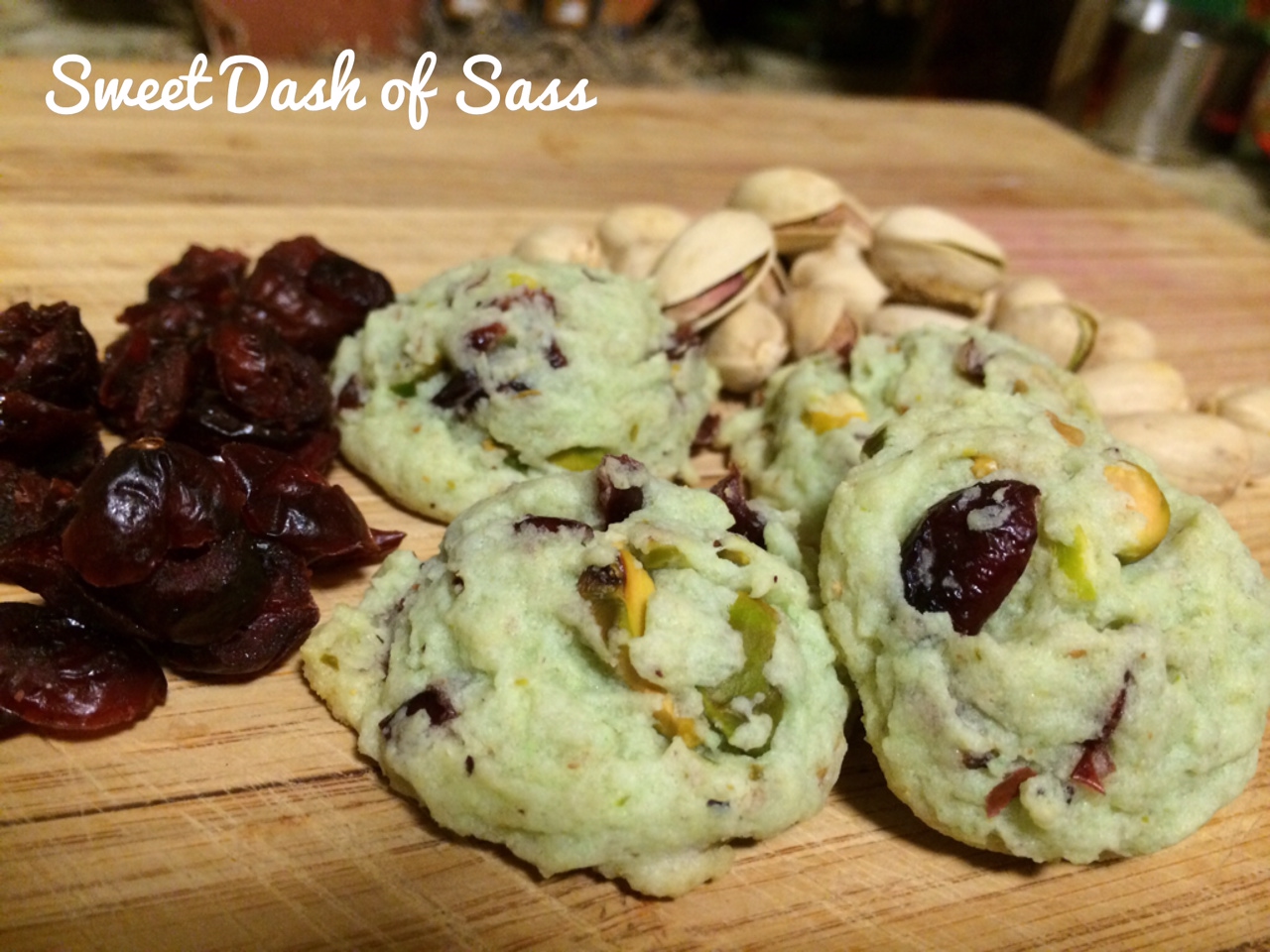 Day 4:  25 Days of Christmas – Cookie Style
From appearance, these cookies look like they would be difficult to make.  The most difficult part is un-shelling the pistachio nuts!   Thanks to Betty Crocker for this inspiration!  Plus, my taste testers gave this recipe two thumbs up.
Check out and 'LIKE' Sweet Dash of Sass on Facebook!  Click here for direct link! 

Pistachio Cranberry Cookies
Author:
Sweet Dash of Sass
Ingredients
1 (17.5 oz) Betty Crocker Sugar Cookie Mix Pouch
1 box (3.4 oz) Jell-O Pistachio Pudding Mix (you can also use Sugar-Free)
¼ cup flour
½ cup butter, melted
2 eggs
1 cup unshelled, dry roasted salted pistachio nuts, chopped
½ cup dried cranberries, chopped
Instructions
Pre-heat oven to 350 degrees.
In a large bowl, combine cookie mix, box of pudding, and flour.
Add butter and eggs; stir to combine.
Add pistachios and cranberries; mix well.
Using a medium cookie scoop, drop by rounded spoonfuls onto parchment lined cookie sheets. Slightly flatten with your fingers or the bottom of a glass.
Bake 8 – 10 minutes.
Let cool on baking pan for 4-5 minutes before removing to a wire rack. Store in an airtight container.
Makes 4 dozen.
Tip #1:  Trust the cooking time.  The cookies won't look done, but you do not want to over bake them.  You want them to stay green (not brown) and have a soft texture.
Tip #2:  Variation — Add 1 cup of White Chocolate Chips to the batter -or- sprinkle with Bright White Sparkling Sugar.
Related articles