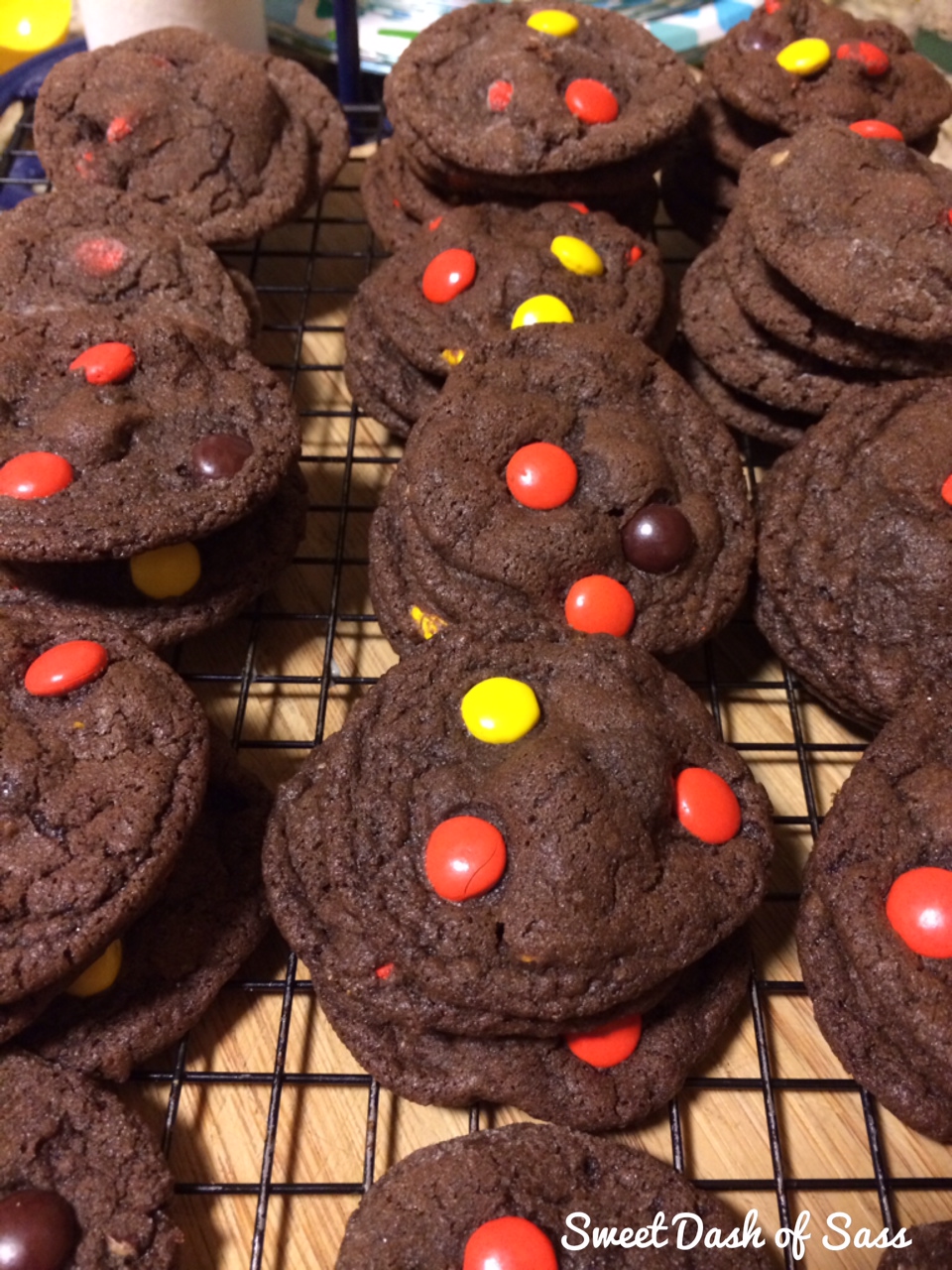 Day 23 : 25 Days of Christmas, Cookie Style
I love Reese's Pieces candies!  I don't know why they are hard to find at times.  I think my favorite way of eating them is with ice cream – actually a DQ Blizzard!  Yum, I haven't had one of those in ages.  I found this recipe on the Hershey's package of Peanut Butter Chips.  However, I swapped the peanut butter chips for Reese's Pieces!  Definitely recommend these cookies if you love chocolate and peanut butter combination.  These are very easy to make.  Cookies are soft and chewy.  Add a scoop of ice cream in between two cookies and you have yourself one delicious ice cream sandwich!

Reese's Pieces Chocolate Cookies
Author:
Sweet Dash of Sass
Ingredients
2 cups flour
¾ cup Hershey's Cocoa
1 teaspoon baking soda
½ teaspoon salt
1¼ cup (2½ sticks) butter, softened
2 cups sugar
2 eggs
2 teaspoons vanilla
1¾ cups Reese's Pieces candies (reserve ¼ cup for extras on top)
Instructions
Pre-heat oven to 350 degrees.
In a large bowl, beat butter and sugar until fluffy.
Add eggs and vanilla; beat well. Add cocoa, baking soda and salt; mix well.
Gradually add in flour and mix just until combined.
Stir in Reese's Pieces candies (1½ cups).
Using a cookie scoop, drop by rounded teaspoons onto ungreased cookie sheet (or baking sheets lined with parchment paper).
Press 2-3 individual Reese's Pieces candies into the tops of each cookie.
Bake 8 to 9 minutes. (Do not overbake – they will look puffed, but will flatten while cooling.)
Cool on baking sheet for 4-5 minutes before removing to a wire rack.
Store cookies in airtight container.
Tip #1:  Dough can be sticky — if you have a cookie scoop, I highly recommend using it within this recipe!