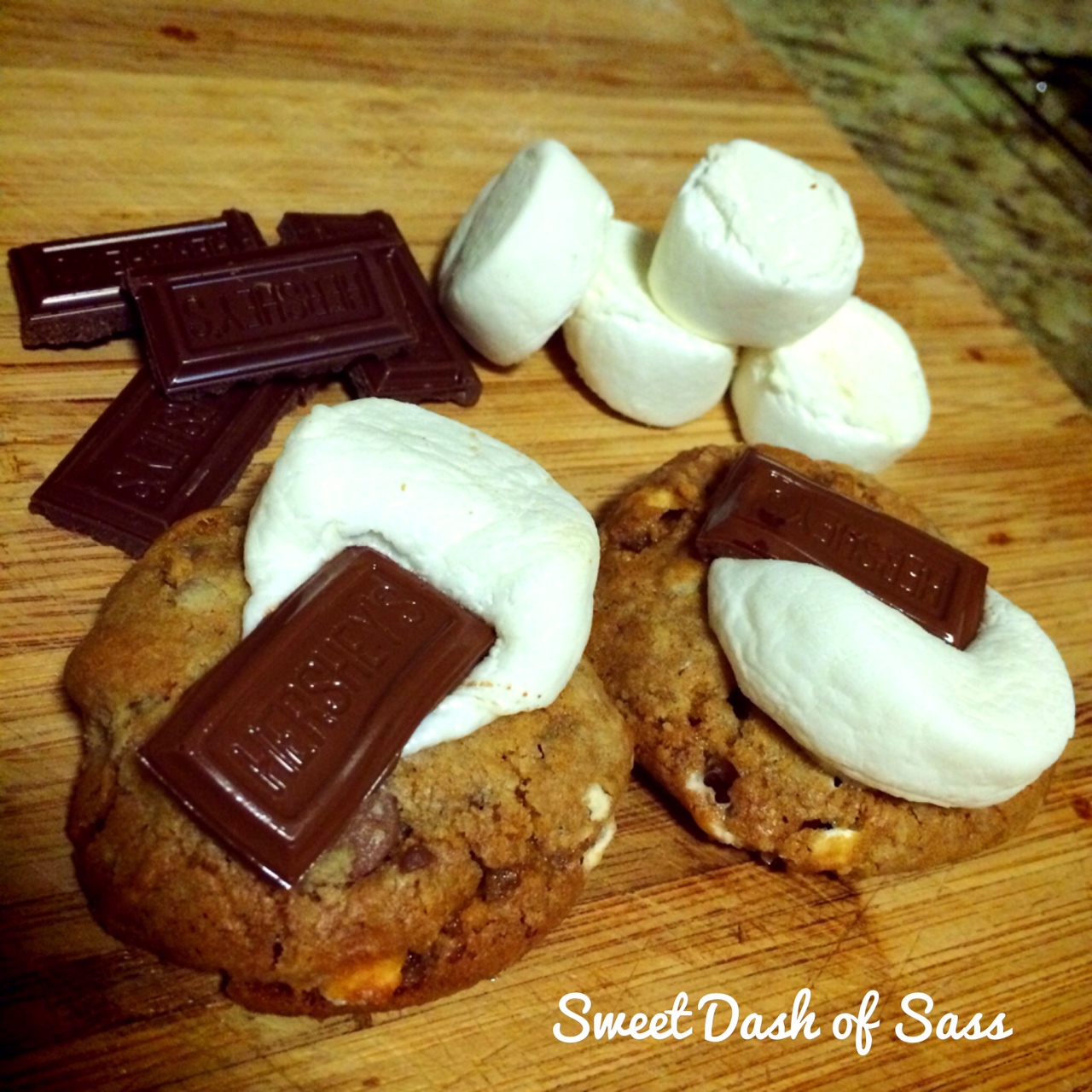 Day 20 : 25 Days of Christmas, Cookie Style
First off, OMG…this cookie is insane…INSANELY GOOD!  If any of you love S'more's or have tried my S'more's Pie recipe that was previously posted, then this cookie recipe is for you!!!  I saw the initial recipe idea from Pinterest from Cookies & Cups site.  As soon as I saw it, I knew these had to be part of my list.  Plus, I was excited to use of my whoopie pie pan that I have only used maybe once or twice in the last 3 years – HAHA!!   I did slightly alter the recipe from my learning experience from baking my own batch.  These will definitely be made again. 

S'more's Cookies
Author:
Sweet Dash of Sass
Ingredients
1 cup butter, softened
1½ cups brown sugar
2 eggs
2 teaspoons vanilla
1½ cups graham cracker crumbs
1 teaspoon baking soda
1 teaspoon salt
2¼ cups flour
1 (3 oz) container Marshmallow Bits
1 pkg. (1¾ cups) Milk Chocolate Chips
Toppings:
8 Large Marshmallows, cut in half
2 Hershey Bars broken into pieces
Instructions
Pre-heat oven to 350 degrees.
Spray whoopie pie pan dish with cooking spray. In a large bowl, cream together butter and sugar until light and fluffy, about 2 minutes.
Add eggs one at a time, beating after each addition.
Add vanilla and mix until smooth.
Add in graham cracker crumbs, baking soda, and salt; mix until incorporated.
Slowly add in flour and mix just until combined.
Stir in Marshmallow Bits and chocolate chips.
Using ¼ cup of cookie dough for each cookie, pressing mixture evenly into the pan.
Bake for 8-9 minutes, remove from oven and press marshmallow half on the top.
Continue baking 4-5 minutes until marshmallow if puffed and cookie is lightly golden. Remove from oven and immediately press reserved Hershey's Chocolate Bar piece on top of the cookie. It will melt from the heat of the cookie.
Allow cookies to cool in pan for at least 10 minutes.
Loosen edges with knife and carefully remove from pan, transferring to a wire rack to continue cooling.
Makes 16 cookie cups.
Tip #1:  If you don't have a whoopie pan, you can easily make these as regular basic cookies too!!  Once you have dough complete, using a cookie scoop place dough onto parchment lined baking sheet, 2 inches apart.  Bake 8 minutes, pull out of oven and add marshmallow.  Cook an additional 4-5 minutes until marshmallow is puffed and cookie is lightly golden.  Remove from oven and immediately press chocolate bar piece on top of cookie.  Allow cookies to cool on pan for 10 minutes or so before moving to wire rack.
Tip #2:  I made the cookies both ways in the whoopie pan and regular.  The original recipe called for more dough portioned out per "whoopie cup", which clearly you can see in the picture that my cookies came out HUGE!  Even though they were still tasty, they needed to be cut in half.  That is why I altered the recipe to putting less dough in the whoopie pan.  However, I think when I make these again, I will just make the cookies regular style by using the cookie scoop. 
Tip #3:  As a reminder — If you go the cookie scoop route instead of the whoopie pan, you will need additional marshmallows and chocolate pieces for the tops of the cookies.  The dough will probably make roughly 3-4 dozen regular cookies.
Tip #4:  Where can you find Marshmallow Bits?  I found mine at Target, right in the baking aisle next to the regular marshmallows!!