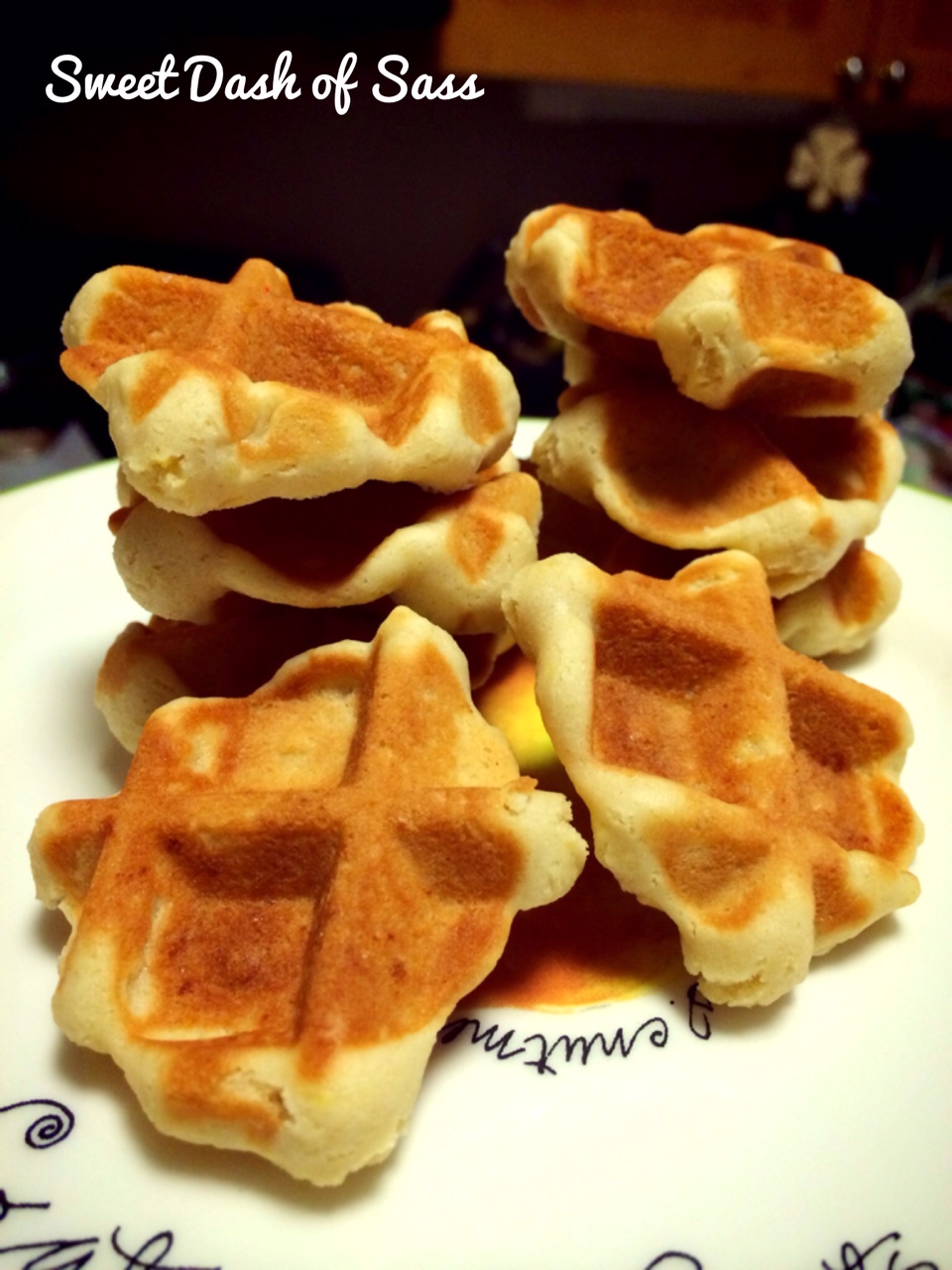 Day 11 (of 25 Days of Christmas, Cookie Style)
I originally tried my first waffle cookie several years ago at my aunts house during the holidays.  I thought they were super cute and unique for a cookie platter.  At the time, I had never seen anything like that before.  I absolutely loved them too.  I wasn't able to get the recipe from my aunt, so I was determined to research online to see how I could attempt my own for this 25 Days of Christmas, Cookie Style blog.  Not only did I find a recipe, but they are insanely delicious and one of my personal favorites.  The taste testers agreed, but I don't think I overshared too many of these cookies (because I wanted them all for myself, HAHA!!).  Super easy – no oven required!  You only need your waffle iron!  LOVE LOVE LOVE!  This one you gotta try!

Vanilla Waffle Cookies
Author:
Sweet Dash of Sass
Ingredients
½ cup (1 stick) butter, melted
2 eggs, beaten
½ cup sugar
½ cup brown sugar, packed
1 teaspoon vanilla
2 cups flour
Instructions
Mix together butter, eggs, and sugars; add vanilla.
Slowly mix in flour just until combined.
Drop teaspoonfuls (I used my small cookie scoop) onto an ungreased waffle iron.
After one minute, check on them.
Cookies are done when they have a medium golden color in the center and light golden color on edges.
Makes 3 dozen.
Tip #1:  When the cookies first come out of waffle iron, they will be soft, almost like a waffle.  After cooling on wire rack, the outside will start to harden up like a cookie.  The inside will be similar to a soft cookie. 
Tip #2:  Prior to serving, sprinkle cookies with powdered sugar!  Or you can even drizzle icing or melted white chocolate on them.  I personally liked mine plain.
Related articles