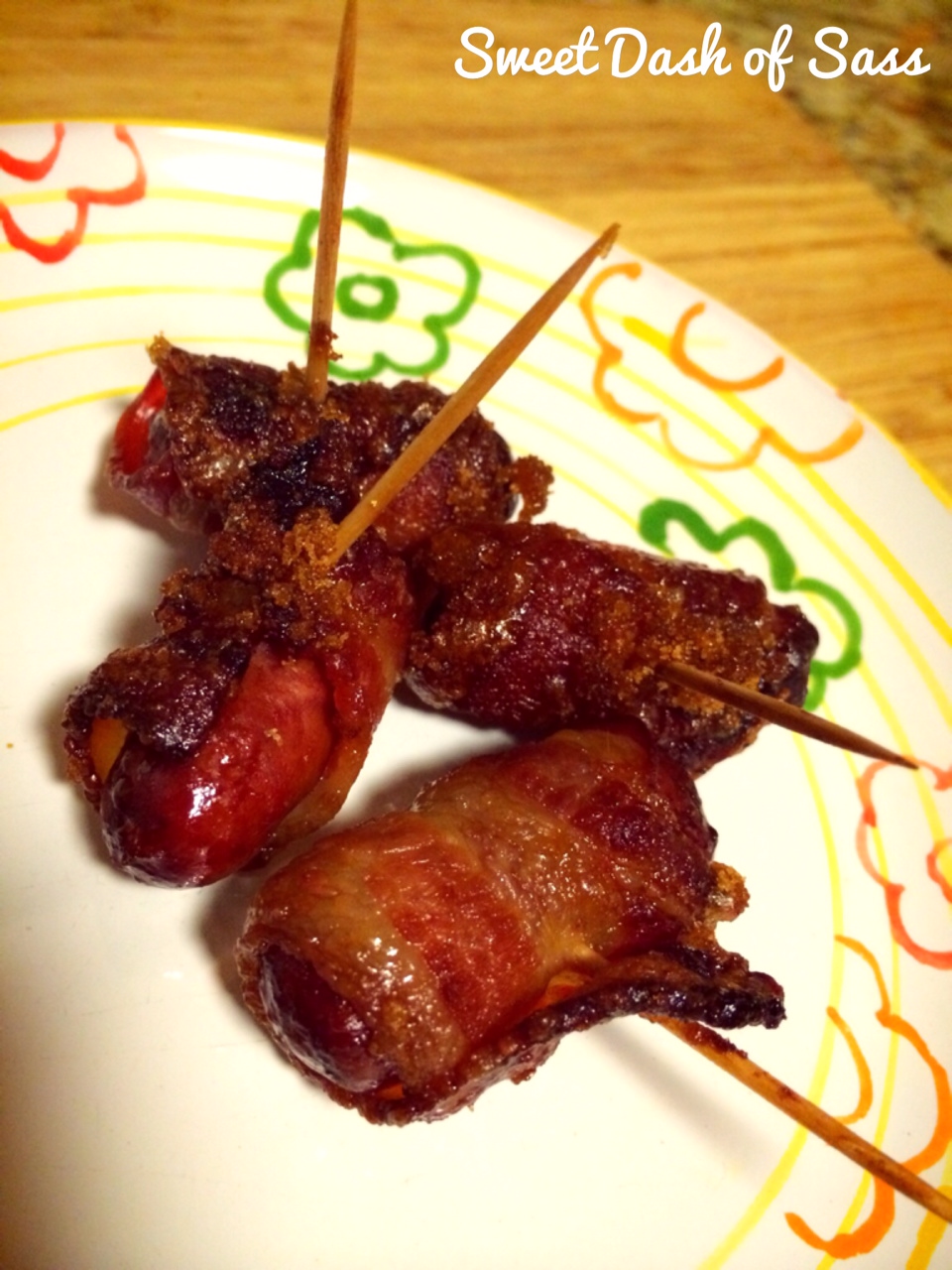 I have been making this appetizer for probably over 10 years now.   I happened to make it for a holiday party and it was an instant hit among all the guests.  When I say hit, I mean devoured 3 trays in less than 10 minutes.  Everyone starting coming up to me asking for the recipe.  When I would tell them that it was only 3 ingredients, they wouldn't believe me.  They thought it had to be much more than just that.   From that day, this recipe has been a highly requested appetizer for me to make or bring to every party.  Actually my friends have even re-named this dish as "Bacon wrapped bacon."  I'm telling you….Super Easy and VERY delicious. 
Definitely a great appetizer to make for Super Bowl, which I will be making next Sunday!

Brown Sugar Bacon Wrapped Sausages
Author:
Sweet Dash of Sass
Ingredients
1 pkg. (14 oz.) Lil Smokies Cocktail Sausages
1 lb. package of bacon
½ cup brown sugar, packed
Instructions
Pre-heat oven to 350 degrees.
Using a pair of kitchen scissors, cut each slice of bacon into thirds.
Wrap ⅓ of each slice of bacon around each sausage and secure with a toothpick.
Place into a 13×9 serving platter.
Repeat with remaining sausages and bacon.
If you make more than 1 package or you can't fit them all into your serving dish, you can lay a few on top to make a second layer. I wouldn't completely cover though.
Sprinkle cocktail sausages evenly with brown sugar.
Bake 55-60 minutes until bacon has cooked and is starting to brown. I like my bacon more on the crispy side, so I tend to cook a little longer than 60 minutes.
Tip #1:
When I pull the cocktail sausages out of the oven, I typically will transfer the sausages to another serving platter.  This is to separate it from the bacon fat.  You don't necessarily have to, but when the platter starts to cool, the bacon fat will harden and look "unappealing" to the natural eye.