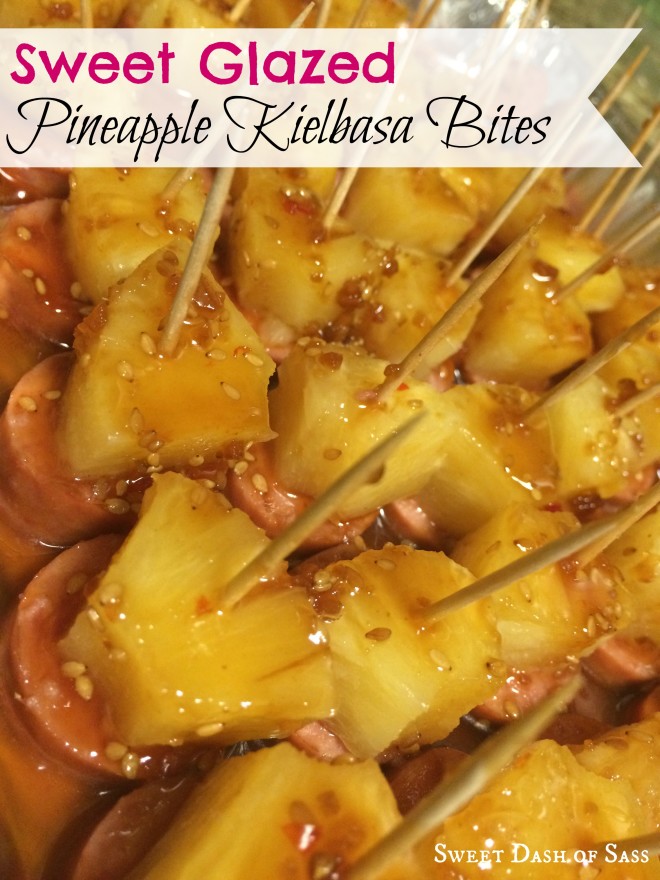 I love entertaining!  That's one thing I miss doing.  Before we relocated out to California, my husband and I were always inviting friends and family over for get togethers.  The most popular appetizer that was requested for each and every party were these Brown Sugar Bacon Wrapped Sausages!
This was my chance to try new recipes and have plenty of taste testers.
A few months ago, I happened to be searching through Pinterest for some new appetizer ideas and came across this one.  I decided to try this one out a few months ago for our neighbor's SuperBowl party.  Super easy to make.  Plus, extra bonus points, you can prep in advance and keep in fridge prior to baking.  Just keep the glaze in a separate container and brush on just prior to baking.
I adjusted from the initial recipe slightly.  I happened to make extra glaze, which worked perfectly as we used it as a dipping sauce for the bites afterwards!  Plus, I sprinkled some sesame seeds prior to baking to add another layer of flavor!
Highly recommend!

Sweet Glazed Pineapple Kielbasa Bites
Author:
Sweet Dash of Sass
Ingredients
1 (14oz) kielbasa, sliced
1 (20 oz) can pineapple chunks, reserve juice
6 Tablespoons Teriyaki Sauce
2 Tablespoon Sweet Chili Sauce
2 Tablespoon Honey
2 Tablespoon Pineapple Juice (from can)
2 teaspoons Sesame Seeds
Instructions
Pre-heat oven to 425 degrees.
Line a baking sheet with parchment paper or you can use a 9x9 square non-stick baking dish.
Place a piece of pineapple on top of slice of kielbasa and hold together with a toothpick.
In a small bowl, combine remaining ingredients except sesame seeds. This will be your glaze.
Place kielbasa bites onto baking sheet/dish and brush glaze over tops and sides of bites.
Sprinkle bites with sesame seeds prior to baking.
Bake for 15-20 minutes until hot. Let cool slightly and serve warm.
Notes
Any extra glaze can be used as an extra dipping sauce!