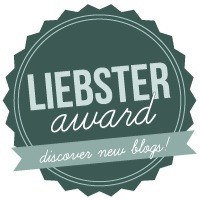 SWEET DASH OF SASS | LIEBSTER AWARD 2013
I am so excited to have been nominated by Jessica from Jessie Cakes (<— click on name for direct link!)  for the Liebster Award!  She is a fellow blogger and has some very tasty sweet treats featured on her page – from cookies, to cakes, to brownies, and even Healthy Bakes!  Definitely check it out and follow her blog!  Thanks Jessica!!! 
What does Liebster mean?  It's a German word that has several definitions such as dearest, sweetest, kindest, nicest, beloved, lovely and kind.  This award exists only on the internet, and is given to bloggers by other bloggers.  The Liebster Award is given to up-and-coming bloggers with fewer than 200 followers to help their blog receive more views.
The RULES of this Award are as follows:
Thank the person who nominated you and link to their blog.

You must answer the 10 questions given to you by the nominee before you.

You must nominate 3-10 of your favorite blogs with fewer than 200 followers and notify them of their nomination.

You must come up with 10 questions for your nominees to answer.
My Answers to Jessica's Questions:
What is your most favorite city/country/place in the world and why?
This is a tough one.  I would have to say Las Vegas, NV — specifically during March Madness time.  I always loved Vegas in general, but for the last 4 years, my (now) husband and I have gone during March Madness.  It's, by far, the best time to go to Vegas.  Even if you aren't in to gambling, just watching the games and watching other people watching the games is priceless.  My second favorite city is Chicago.  LOVE LOVE LOVE that city.  I have been there so many times and still feel like there are things to still see on future trips.
Who is your favorite actor or actress?
My favorite actress by far is Julie Andrews.  I don't know what I would do if I ever got the chance to meet her.  But I'm a bit obsessed with Mary Poppins (see favorite film question below).  I also loved her in Princess Diaries as well.  She resembles a bit of royalty to me.
Who is your favorite chef?
My favorite chef currently is Kelsey Nixon.  You might know her if you watched 'The Next Food Network Star".  She was Fan Favorite in Season 4.   I have been watching her show Kelsey's Essentials on Cooking Channel for awhile now.  She recently got moved over to the Food Network channel, which is so exciting.  You will have to check your local listings, but it's featured Monday-Thursday afternoons between Rachael Ray 30 Minute Meals and Ina Garten's Barefoot Contessa.  Check out her website:  Kelsey's Kitchen.
What is your ultimate fear?
Dying.
If you could only eat one meal for the rest of your life, what would it be?
Poppyseed Roll
What is your favorite song?
That's a tough question, as it changes often.  I would say at this very moment — "Drunk In Love" by Beyoncé.  However, also love "Perfect for Me" by Ron Pope.  That was our wedding song.
[youtube=http://www.youtube.com/watch?v=p1JPKLa-Ofc&w=640&h=360]
[youtube=http://www.youtube.com/watch?v=xEes9dKyjfA&w=480&h=360]
What is your favorite film?
One of my favorite films is Mary Poppins.  It's "practically perfect in every way."
I love fruit.  All different varieties!
Why do you like blogging?
I originally started my blog to help keep track of all my recipes in one location.  Plus, I noticed I was uploading a lot of food photos on my Facebook wall with friends requesting for the recipe.  This is how Sweet Dash of Sass was created.  However, what I didn't realize is that I would be able to meet other fellow bloggers and get some excellent recipe ideas to try!  Not only from the US, but from various countries as well.
Describe yourself in 3 words:
Caring, Thoughtful, and a bit of Sassy
Now for MY Nominations for the Liebster Award:
Definitely check them out!  If you click on their name, it will link you directly their blog.
My Questions for you are:
Favorite Childhood Memory?

3 Favorite Online Shopping Sites

Favorite Season?

Your dream location spot?

If you could meet anyone dead or alive, who would it be?

What is your favorite post you have blogged about?  Provide link!

How did you pick your blog name?

Favorite TV Show?

Favorite Chef?
————————————————————————————————–
Like me on Facebook: Sweet Dash of Sass  CLICK LINK —>    Sweet Dash of Sass
Follow me on Instagram @SweetDashofSass
Follow me on Twitter @SweetDashofSass
————————————————————————————————–