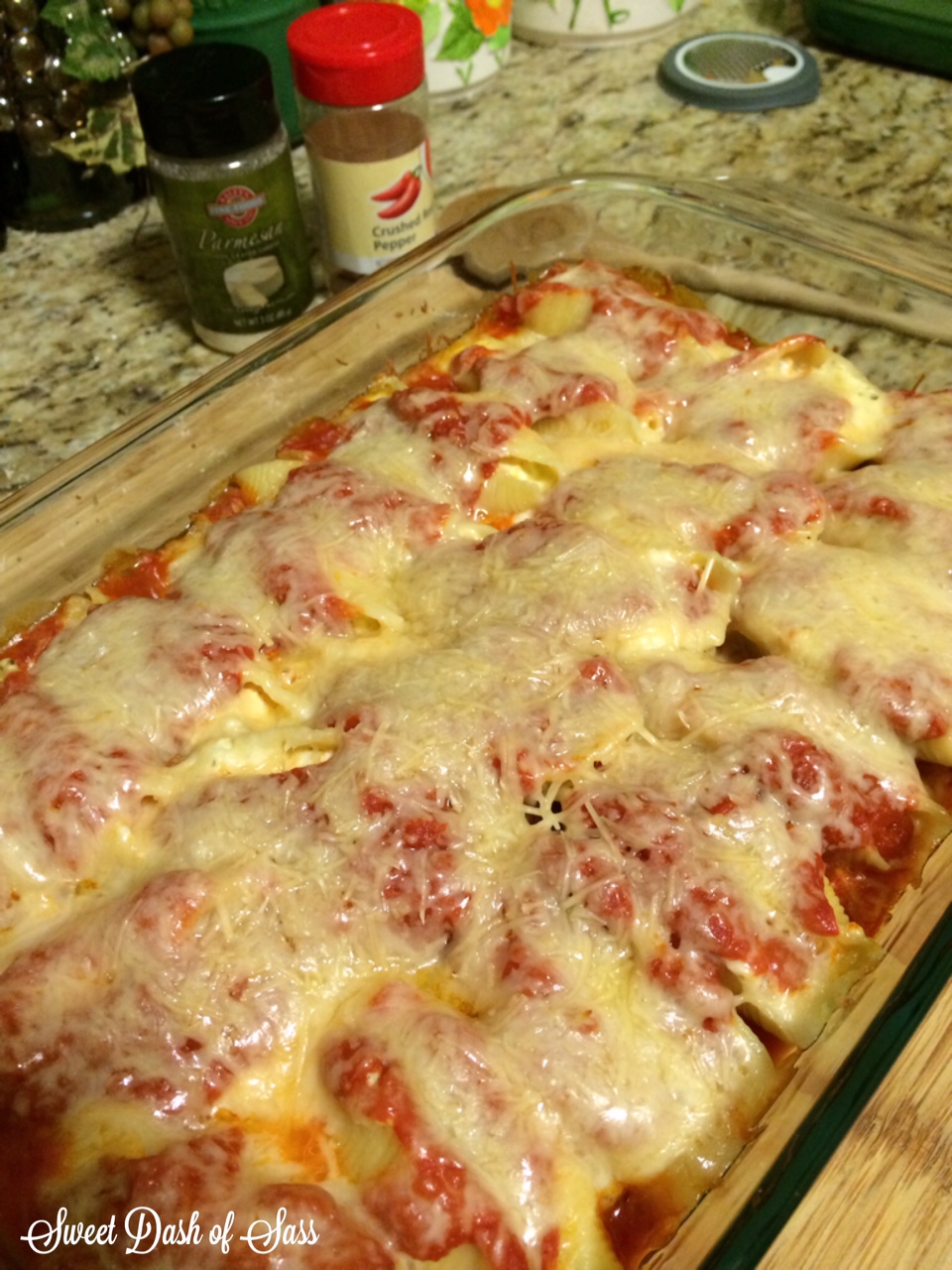 I absolutely love Pasta and one of my favorite pasta dishes (and my husbands) is Stuffed Shells.  This year, since we spent Christmas at home in California, we decided to start a tradition and make stuffed shells on Christmas Eve as our Special Holiday meal.  We both enjoyed this dish.  Just looking at these pics make me want some now.  Maybe I could surprise my hubby and make this as our Valentine's Day meal?  :)  I know for most of my dishes I state it's super easy to make.  This really is.  Plus, you can prep in advance and leave in fridge till you are ready to make!
Stuffed Cheesy Shells
Author:
Sweet Dash of Sass
Ingredients
24 jumbo pasta shells, cooked
16 oz container of ricotta cheese
1 egg, beaten
¼ cup fresh parsley chopped or 1-2 TBSP dried
2 cups mozzarella cheese, shredded
½ cup Parmesan cheese (+ ¼ cup additional to add on top)
½ teaspoon salt
¼ teaspoon pepper
⅛ teaspoon nutmeg (freshly ground is best!)
1-26 oz jar spaghetti sauce
Instructions
Pre-heat oven to 350 degrees.
In large bowl, combine ricotta, egg, Parsley, Parmesan, 1-1/4 cups Mozzarella, salt, pepper, and nutmeg.
Spoon cheese mixture into shells.
In a 13×9 baking dish, pour ½ to ¾ of spaghetti sauce on the bottom of the dish to fully coat.
Arrange shells within dish. Pour remaining sauce over shells.
Sprinkle with remaining mozzarella cheese and Parmesan (optional). (If you are making in advance, you can put in fridge at this step — covered, of course.
Before you are ready to bake, pull out of fridge and let sit at room temp for at least 30 minutes.)
When ready to bake — Cover with foil and bake for 30 minutes.
Uncover and continue to bake 5-10 more minutes to fully melt cheese and starts to turn golden. Let cool for 5 minutes before serving.
ENJOY!!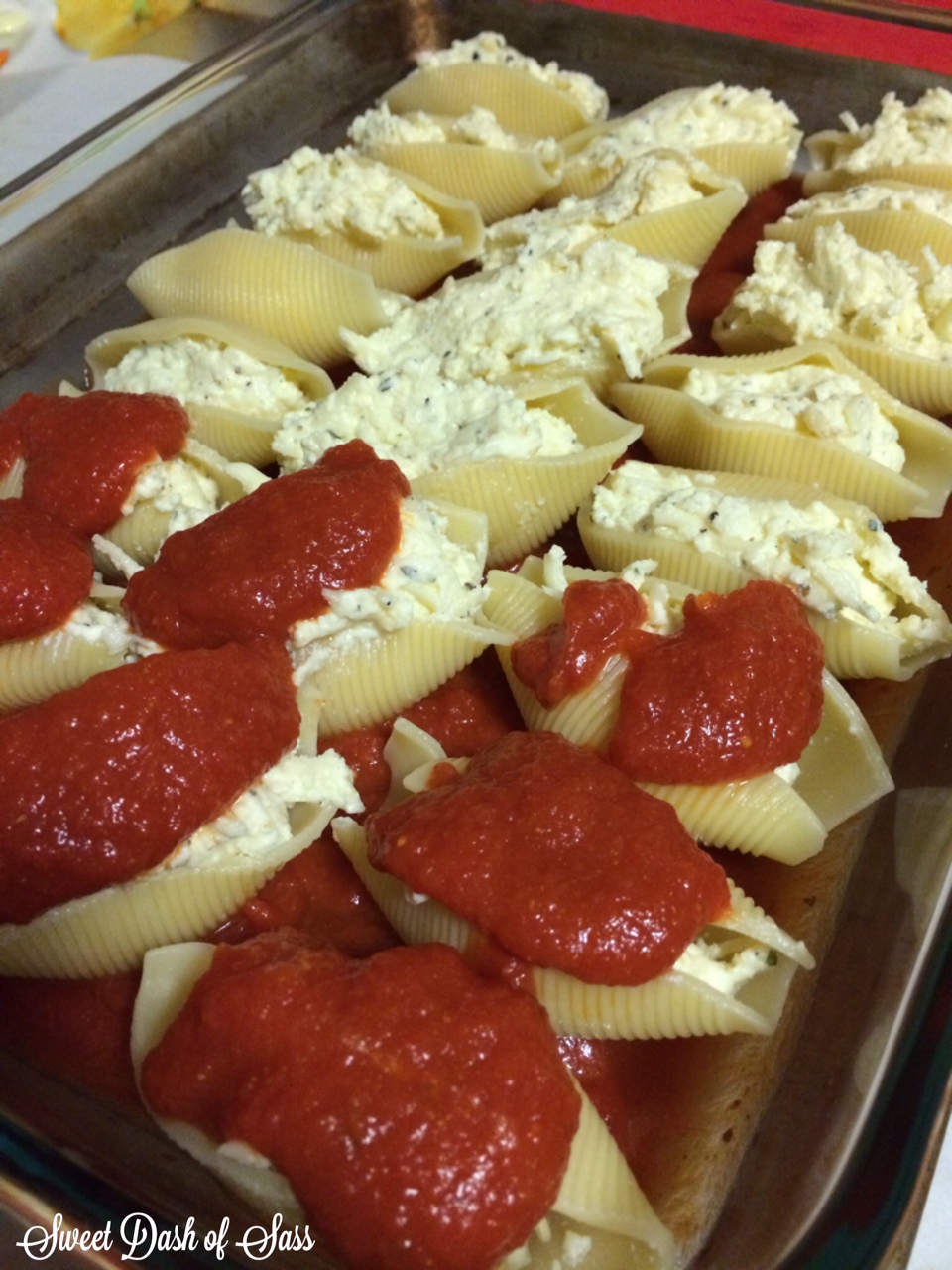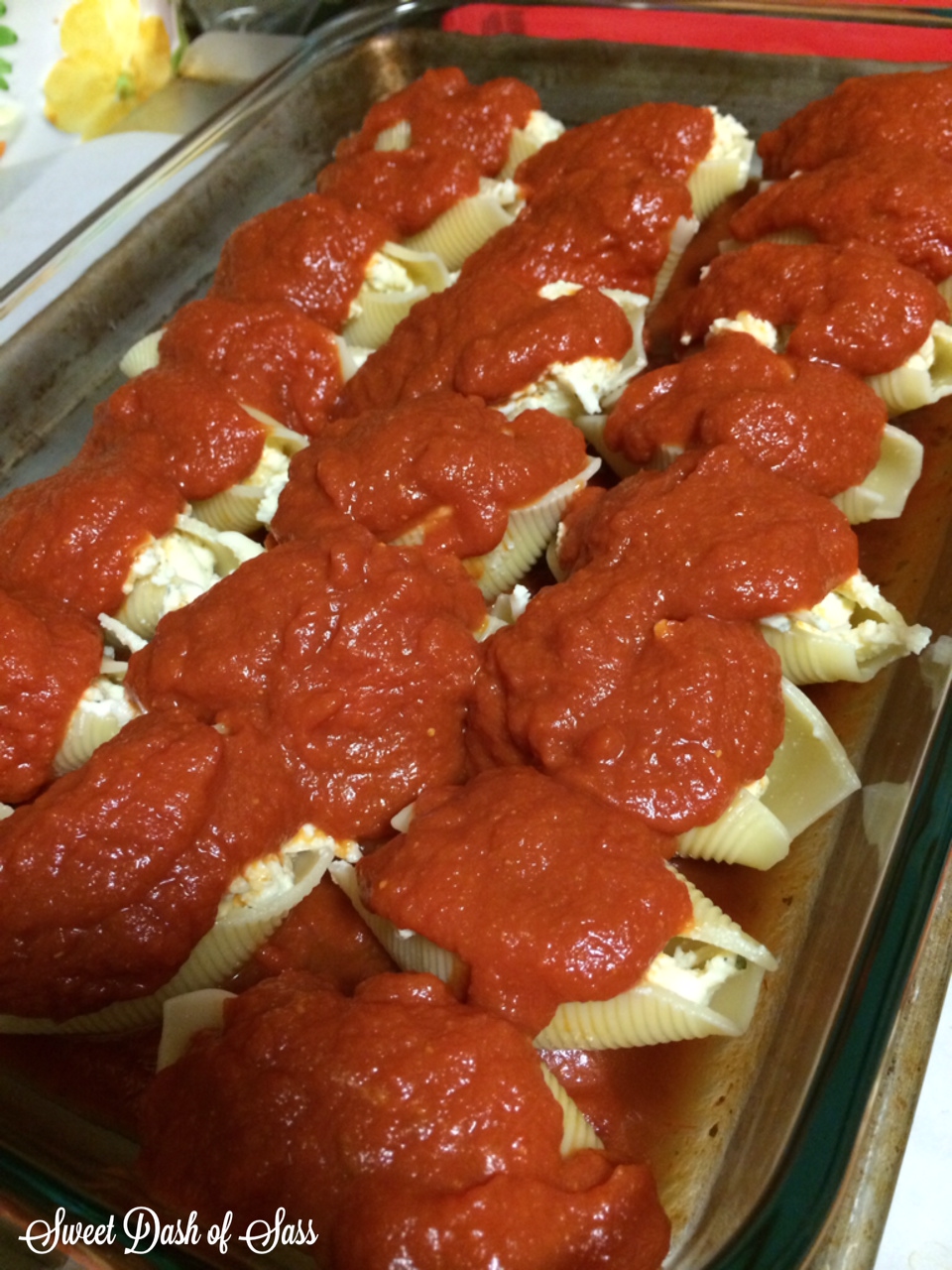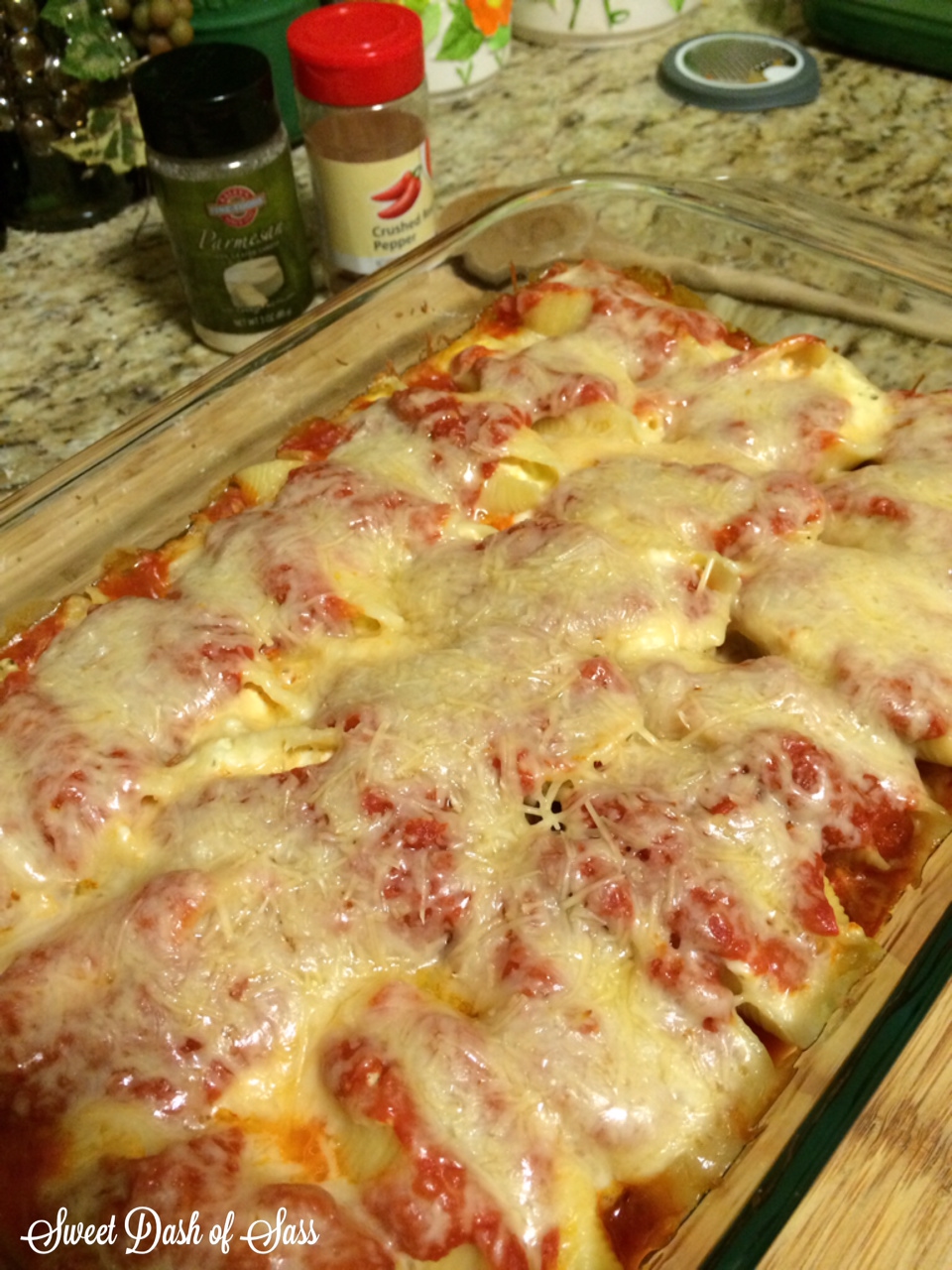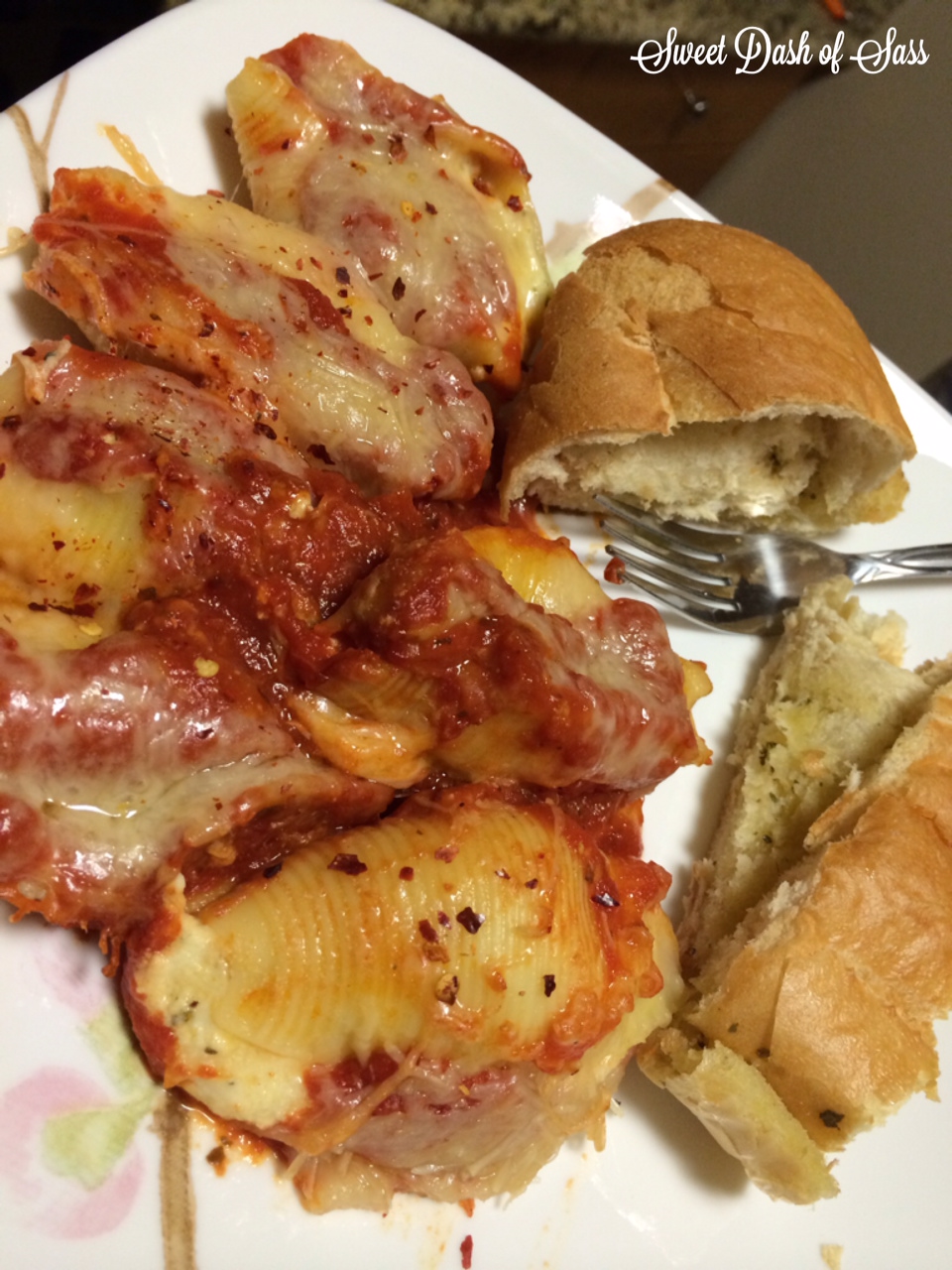 ________________________________________________________________________________
Like me on Facebook: Sweet Dash of Sass  CLICK LINK —>    Sweet Dash of Sass
Follow me on Instagram @SweetDashofSass
Follow me on Twitter @SweetDashofSass
________________________________________________________________________________