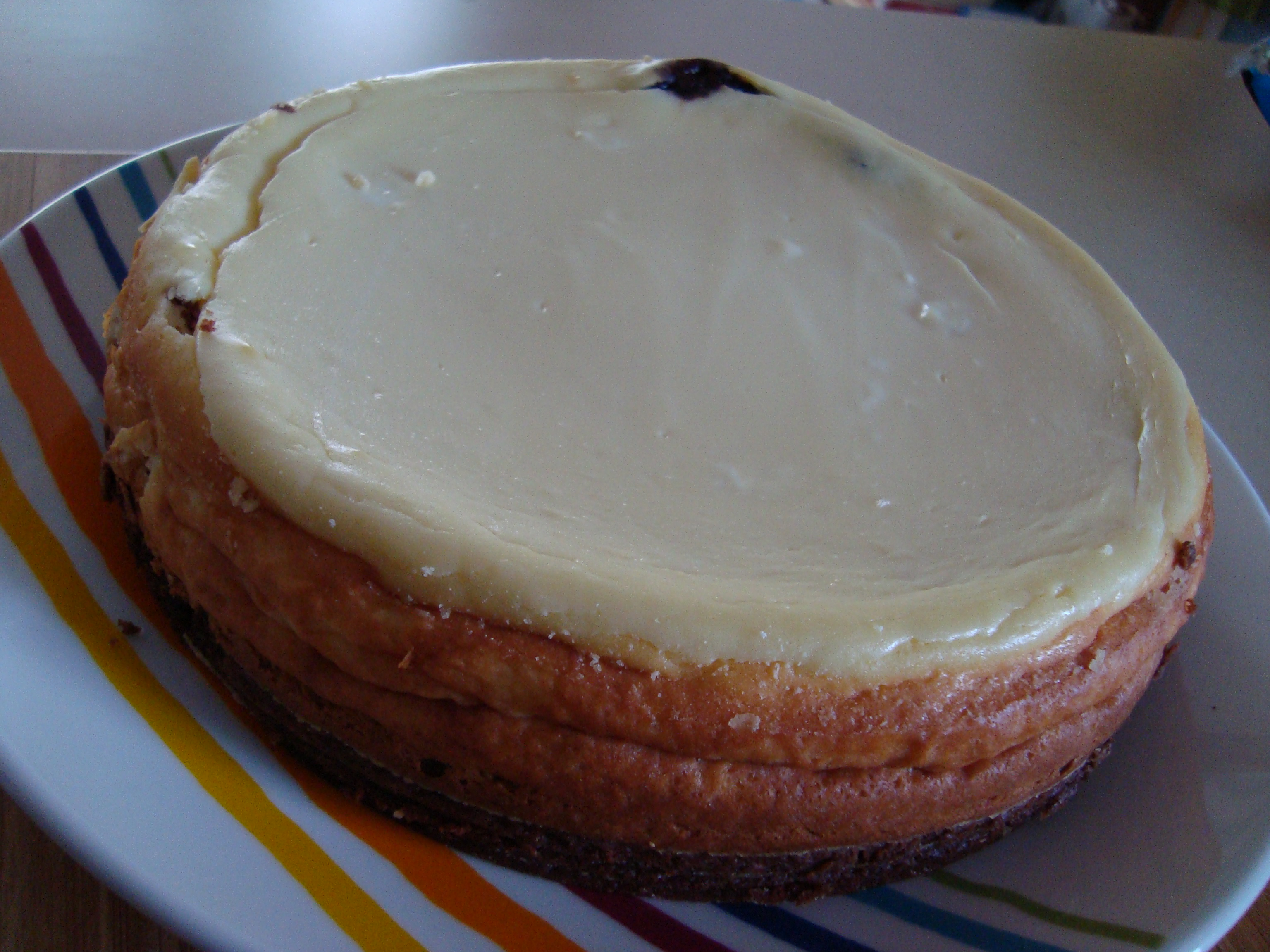 In a previous blog (Chicken Broccoli Alfredo Stuffed Shells), you might recall my first dinner that I ever made for my now husband.   I had mentioned, if that dinner failed, at least I could win him over by my dessert.  My husband loves 2 desserts:  brownies and plain cheesecake.    I thought, what if I were to combine his two favorites into one?  However, there was one problem.   I had never made a cheesecake from scratch in my life.
The outcome:  Bob LOVED not only dinner, but loved the cheesecake too.  He said it was the best cheesecake he had ever had in his life.  Even if I were to attempt to make again, I feel I could not create the perfection.  It must have been beginner's luck.  The cheesecake didn't crack!  The brownie bottom portion was perfect — Chewy, chocolately goodness.  Plus, the center portion (between the brownie/cheesecake) had a fudgy consistency.    I got upset thinking the brownie didn't cook all the way and that I ruined dessert. But as soon as Bob ate it – that was his favorite part about the whole cheesecake.   He kept asking how I created that fudge flavor in the middle.  I answered — "my little secret."  HAHA…if he only knew….
They say to a man's heart is through his stomach!  I must have won him over that day, because he stuck around.

Brownie Bottom Cheesecake
Author:
Sweet Dash of Sass
Ingredients
1 box of brownie mix (19-20 oz.) — prepare batter according to box
3 (8oz) packages cream cheese (not low fat or fat free), softened
¾ cup sugar
1 teaspoon vanilla
½ cup sour cream
3 eggs
Instructions
Prepare brownie mix according to directions on box.
Pour mixture into a greased and floured springform pan. Bake 18-25 minutes at 325 degrees. Center should be almost set.
Meanwhile, beat together on medium speed, cream cheese, sugar, and vanilla.
Add sour cream and mix well. Add eggs, 1 at a time, to mixture. Beat on low speed.
Spoon over brownie batter.
Bake 55 minutes or until center is set. Refrigerate 4 hours to overnight.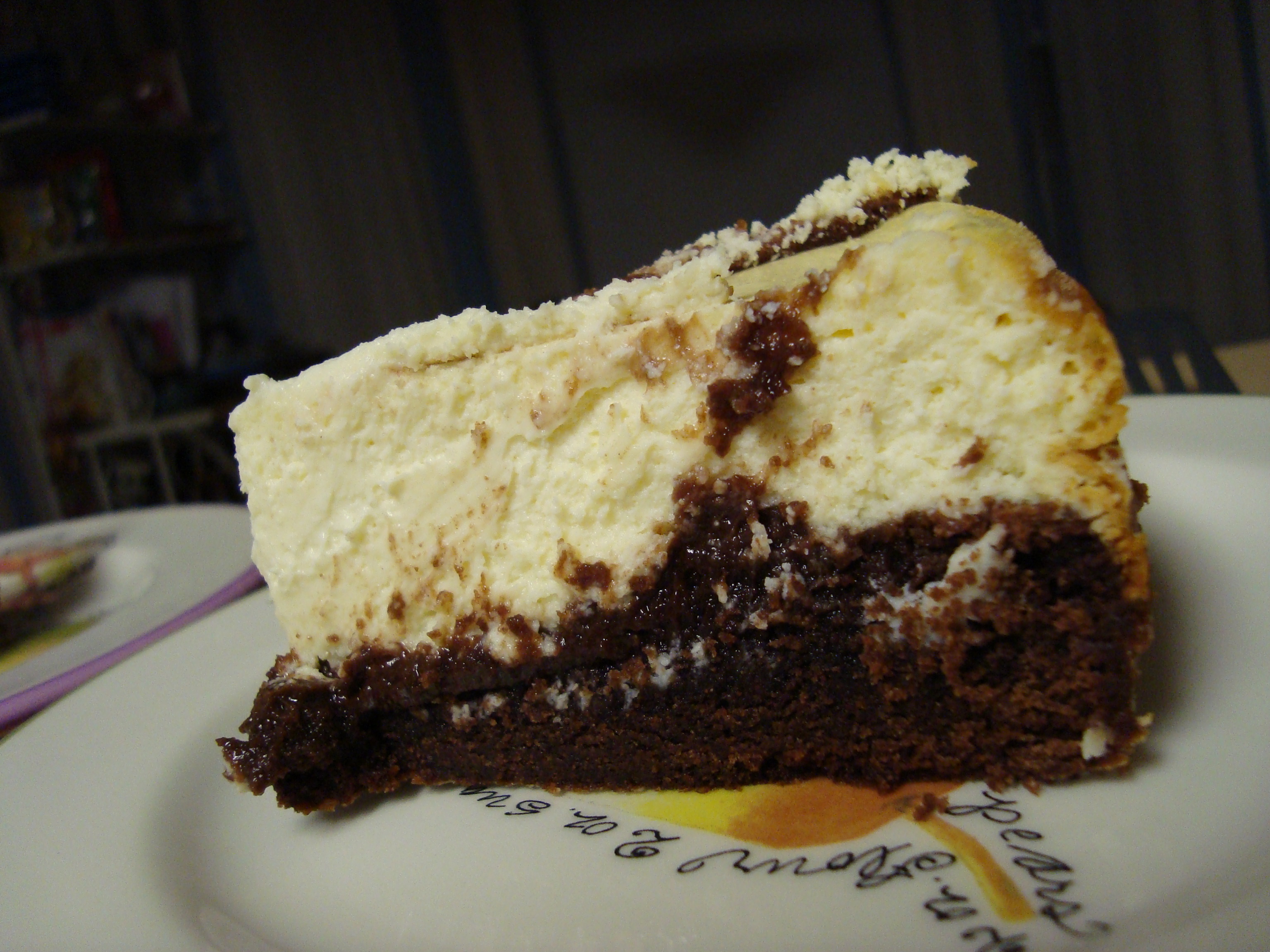 FLASH BACK 5 YEARS AGO!  When I served him this lovely dessert!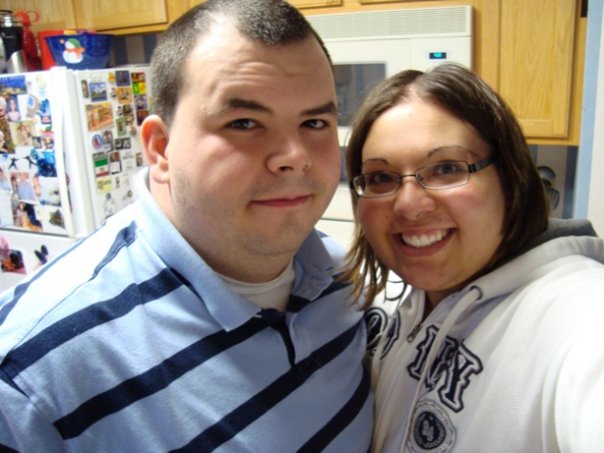 Tip #1:  When beating in eggs or sour cream into cheesecake mixture, beat on low speed and mix until combined. Do not overbeat — as this will add air into the batter, resulting in a sunken cheesecake when cooled.
Tip #2:  Cheesecake will still appear to be not fully cooked.  It should jiggle slightly in the center – edges will seem done.  The cheesecake will continue to firm up / cook as it cools down after baking and when chilled in refrigerator.
Tip #3:  Cracks could appear on the surface after baking due to coming into cold air suddenly after baking.  To prevent cracks, turn off oven, leave oven door opened a crack, and let cool in a turned off oven gradually for 15-25 minutes before moving to a wire rack to cool completely.
—————————————————————————
Like me on Facebook: Sweet Dash of Sass  CLICK LINK —>    Sweet Dash of Sass
Follow me on Instagram @SweetDashofSass
Follow me on Twitter @SweetDashofSass
—————————————————————————