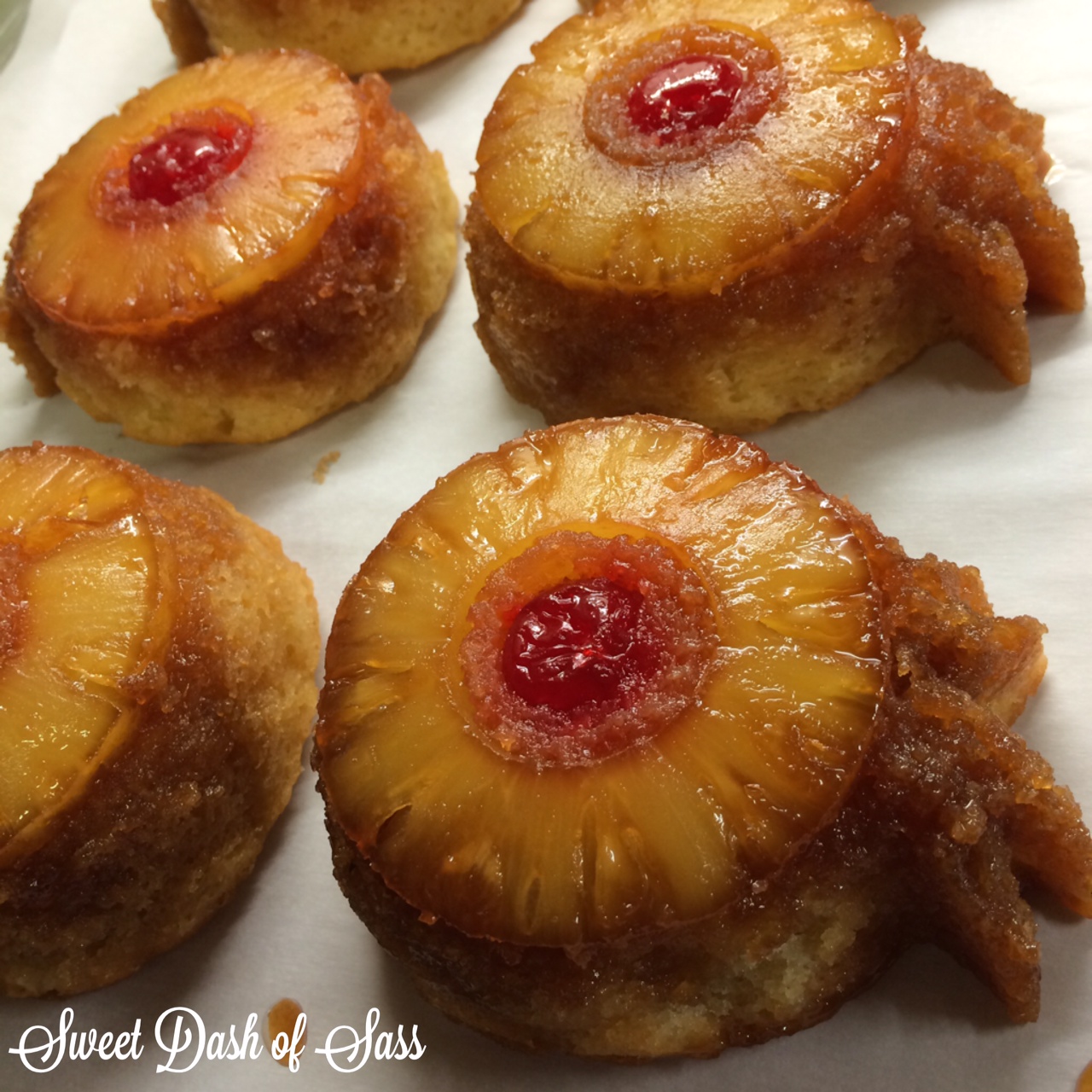 Let's Flash back to 5 years ago…I had just recently started dating my now husband.
We ended up taking an adventure over to our local Sur La Table.  I believe they had a free knife sharpening event going on, so I convinced Bob to go with me.  As you can imagine, me in a cooking store is like a kid in a candy store.  There were so many kitchen gadgets I wanted to get.  Bob was making me laugh trying on all the aprons and oven mitts.  Some of my favorite memories are from this date. 
Here are some photos from our adventure.
Everytime I see these pictures, it cracks me up and brings back wonderful memories of that date.  He continues to make me smile and laugh each day.  I love that about him. 
He ended up buying me the Nordic Ware Pineapple Pan.  You can imagine what our dessert was the following weekend on our next date!  Pineapple Upside Down Cake!  I loved how cute they turned out too. 
I have tweaked the recipe that I used each time.  With Easter being in late April this year and to honor 5 years later – I made Pineapple Upside Cake as our dessert for Easter.  I have to say, this might be my favorite Pineapple Upside Down Cake to date. 
HIGHLY RECOMMEND!!
———————————————————————————————-

Mini Pineapple Upside Down Cakes
Author:
Sweet Dash of Sass
Serves:
Make 6 plus 8 cupcakes
Ingredients
6 Tablespoons of butter, melted
¾ cup brown sugar
6 pineapple rings from a can, contained in 100% Pineapple Juice (not heavy syrup), + reserve ⅔ cup of pineapple juice from can
6 Maraschino Cherries
Cake Batter
2-1/4 cups all-purpose flour
1-1/2 cups sugar
3-1/2 teaspoons baking powder
1 teaspoon kosher salt
⅔ cup reserved pineapple juice
⅓ cup + ¼ cup milk
⅛ cup oil
1 stick butter softened
1 tablespoon vanilla
3 large eggs
Instructions
Pre-heat oven 350 degrees.
Using your Nordic Ware Pineapple Cake Pan, place 1 TBSP of butter at the bottom of each mini cake portion of the pan.
Place pan in oven for 1-2 minutes to melt the butter. Remove pan from oven.
Divide the ¾ cup of brown sugar evenly in all 6 cake portions.
Quickly mix the brown sugar and butter together in each section.
Place one pineapple ring in the pineapple spot in the pan.
Then, place 1 cherry in the center of each pineapple ring. Set pan aside while you make the cake batter.
In a stand-up mixer, place softened butter and mix on medium speed for 1-2 minutes.
Add flour, sugar, salt, and baking powder and mix well for 1 minute.
Add pineapple juice, milk, oil, vanilla, and eggs.
Mix on medium for another minute. Fill each cake portion with batter until 90% full.
Note: You will have leftover cake batter. See below for what to do with remaining cake batter.
Bake 25-30 minutes until toothpick comes out clean.
Remove pan from oven.
Line a baking sheet with parchment paper.
Invert baking sheet with parchment paper over the pineapple pan. Quickly flip the pineapple pan upside down.
Set pan on counter, slightly tap on top of each mini cake portion to help loosen.
Carefully flip pineapple pan. Let cakes cool on parchment paper/baking sheet.
Serve warm or at room temp.
**You will have enough batter remaining to make 8 – 9 cupcakes. Divide batter in cupcake pan – bake 15-20 minutes, until toothpick comes out clean. Cool completely and then Frost!
Tip #1:  Don't have the special Pineapple Pan?  Bake in a 9″ cake pan. 
—————————————————————————
Like me on Facebook: Sweet Dash of Sass  CLICK LINK —>    Sweet Dash of Sass
Follow me on Instagram @SweetDashofSass
Follow me on Twitter @SweetDashofSass
———————————————————-