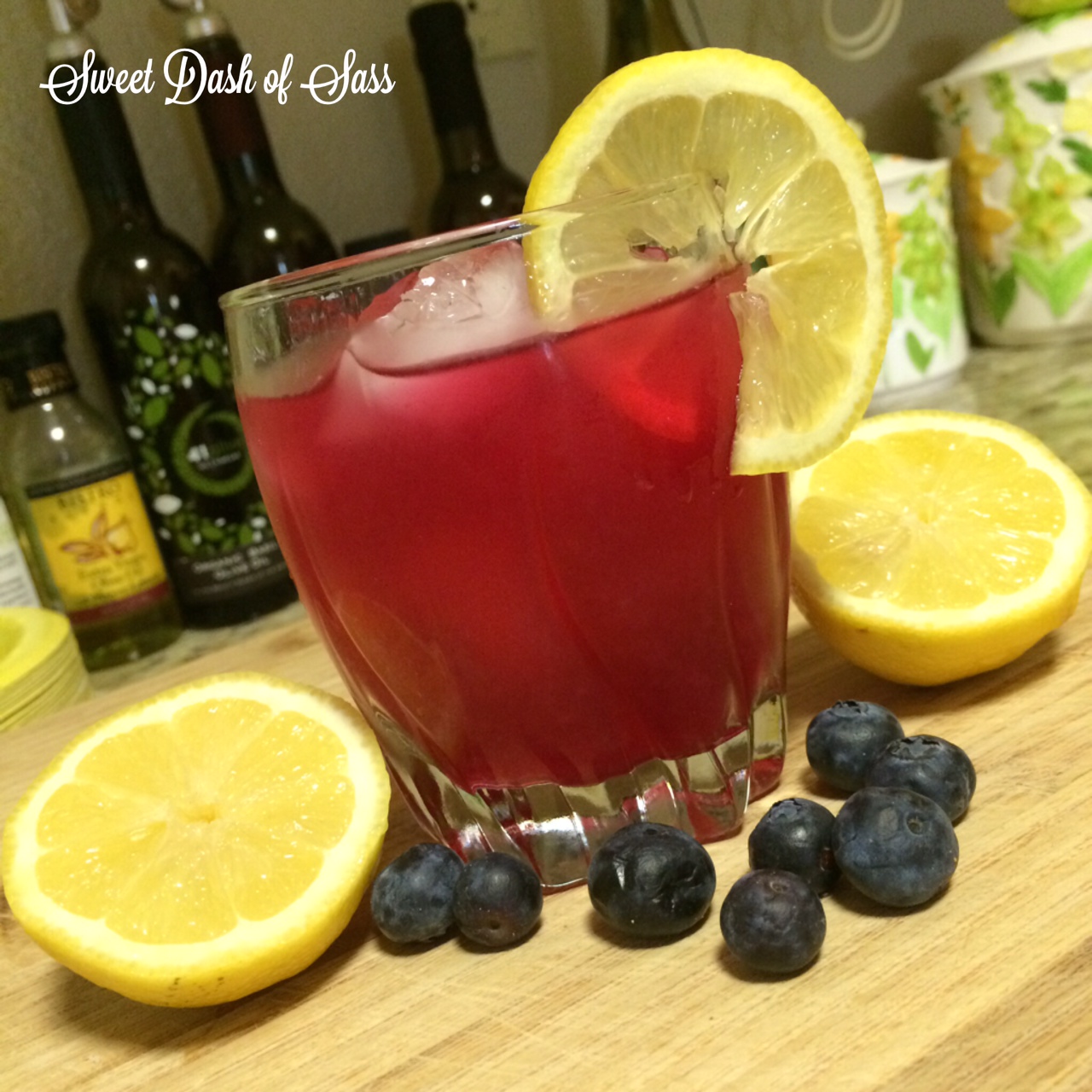 You might remember reading my previous post for Mint Lemonade back in January.  It is still one of my favorite drinks.  I first tried Mint Lemonade several years ago from the Cleveland Airport Marriott.   They even made me a special pitcher just for me on my wedding day!  I can't get enough of it.  Hence, I knew I had to attempt to re-create it.  My version definitely came out a success (even though Marriott's version I will hold very close to my heart. )
Since I had several Meyer Lemons on hand, I thought I would make a batch while my mom was in town over the last few weeks.   I thought I would step it up a notch by making a blueberry version since I had some fresh blueberries in my 'Farm Fresh to You' box for the week.
Definitely was tasty!  A Great twist to the classic lemonade.

Blueberry Mint Lemonade
Author:
Sweet Dash of Sass
Ingredients
1-1/2 cups sugar
1-1/2 cups water
1-1/2 cups blueberries
1 bunch of mint (optional)
Juice of 4 Meyer Lemons
5-1/2 cups cold water
Lots of ICE
Instructions
To make the blueberry simple syrup:
Coarsely chop ⅓ of the mint leaves.
In a saucepan, over medium heat, combine mint, sugar, and 1-1/2 cups of water. Continue to stir till sugar is completely dissolved. Bring to a boil. Once it comes to a boil, stir in blueberries. Reduce heat and simmer until blueberries have broken down (About 5-7 minutes). While blueberries are breaking down, mash blueberries with a back of a fork (or potato masher) and stir. Turn off heat.
Strain blueberry mixture through a fine sieve strainer. Let cool while you assemble the rest of the drink.
In a large pitcher, combine juice of 4 Meyer Lemons and cold water; stir.
Combine blueberry simple syrup with the Lemon Water. Add 3-4 cups of ice; stir.
To serve: Fill glass half full with ice. Add a few mint leaves on top of the ice in glass. To help release some of the oils in the leaves, rub or "crumble" the leaves in your fingers before placing in the glass. Pour lemonade in glass.
If you have extra lemons, you can always garnish the glasses with a slice of lemon (as seen in picture).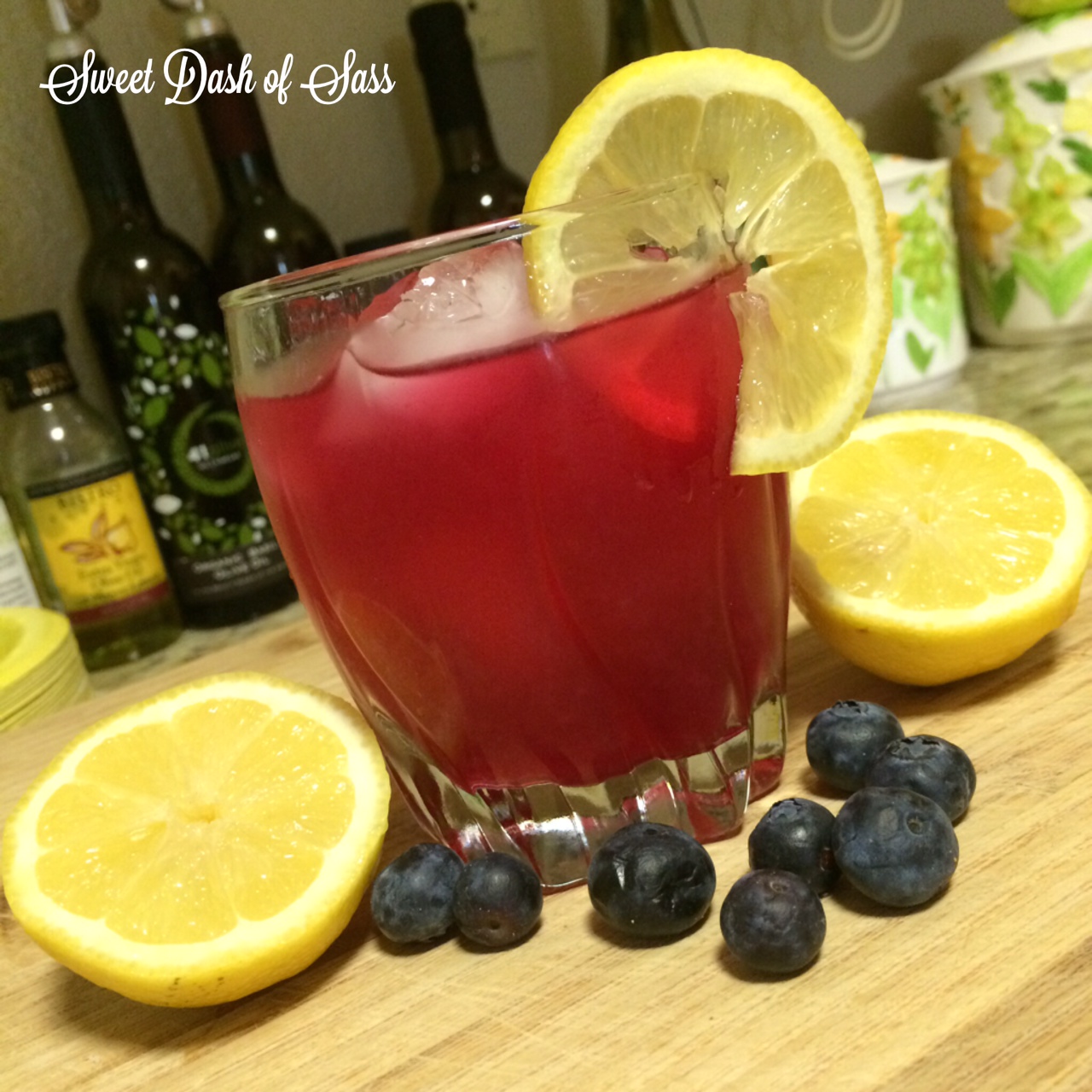 Tip #1:  Want to make a delicious cocktail — highly recommend mixing with Blueberry Vodka!  DELISH!!!
Tip #2:  Highly recommend having a Lemon Squeezer in your kitchen as well!  All you have to do is place 1/2 lemon or lime cut side down in tool.  Close handle and it will extract all the juice without the pulp or seeds!  It will extract more juice in less time!  (Price:  $10-$35, depending on which model you go with.)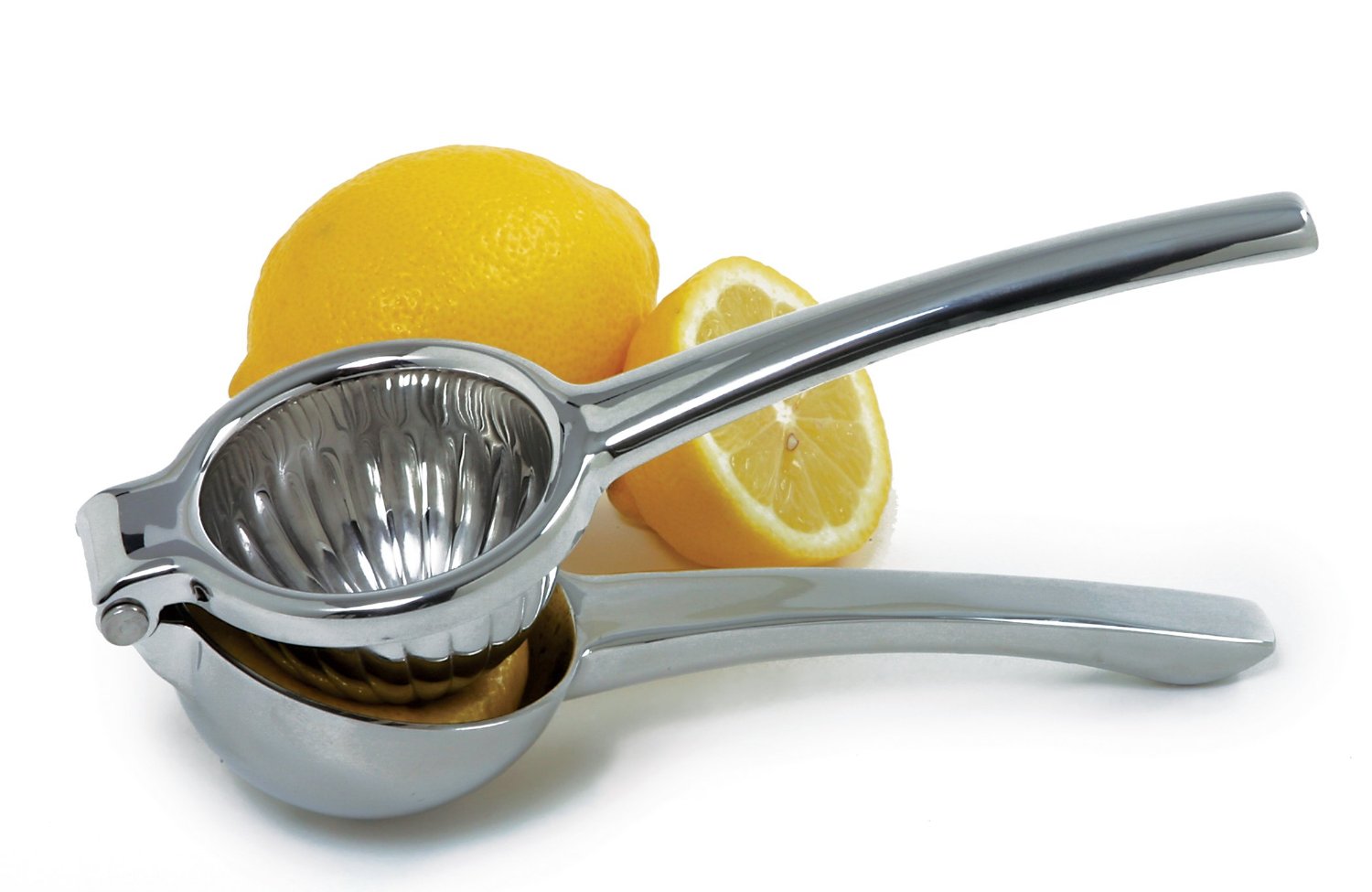 Tip #3: The reason you make a Simple Syrup vs. just adding sugar directly to the drink — the sugar will not totally dissolve in cold liquids.  Also, sugar tends to sink to the bottom, which requires you to constantly mix.  The simple syrup allows the water to absorb more of the sugar!  This is the secret to a perfect Southern Style Sweet Tea!
————————————————————————————————————
LIKE me on Facebook: Sweet Dash of Sass CLICK LINK —> Sweet Dash of Sass
Follow me on Instagram @SweetDashofSass
Follow me on Twitter @SweetDashofSass
————————————————————————————————————