In my Farm Fresh to You box this past week I received apples, zucchini, and carrots.  I originally had other plans for these items, but decided to try out a new recipe.  I'm so glad I did, because this bread was super delicious and moist!  You might even be able to fool a few people who typically don't care for zucchini or carrots.
Plus, I was able to use some more of the macadamia nuts that I purchased while in Hawaii!  Mmm Mmm Good!
Some Fun Facts Regarding Zucchini:
Zucchinis contain 95% water; One zucchini has just 25 calories.

The flower of the zucchini plant is also edible.  Fried squash blossoms are considered a delicacy.

According to World's Healthiest Foods Nutrition info, nutrients and vitamins found in zucchini can help prevent cancer and heart disease.

Bigger is not necessarily better. Small to medium sized zucchinis are the most flavorful and the darker the skin, the richer the nutrients.

Zucchini is fat free, cholesterol free, low in sodium, rich in manganese and vitamin C and has more potassium than a banana.

 Zucchinis were first brought to the United States in the 1920s by the Italians.

 Zucchini bread is one of the most popular ways to use zucchini.
Apple Carrot Zucchini Bread
Author:
Sweet Dash of Sass
Ingredients
1 cup butter, melted
2 cups sugar
3 eggs, room temperature
the juice of 1 large orange
1 tablespoon vanilla extract
3¼ cups all-purpose flour
½ teaspoon salt
2½ teaspoon baking powder
¾ teaspoon baking soda
1 tablespoon cinnamon
pinch of ground cloves
pinch of ground nutmeg
2 cups shredded carrots
1 cup shredded zucchini (unpeeled)
1 cup diced, peeled apple (2 medium apples)
½ cup pecans or macadamia nuts, chopped (optional)
Instructions
Pre-heat oven to 350 degrees. Grease and flour 2-8×4 inch loaf pans.
Mix together butter, sugar, egg, orange juice, and vanilla. Combine flour, salt, baking powder, baking soda, cinnamon, cloves, and nutmeg together. Fold dry ingredients into wet.
Add apple, carrots, and zucchini. Pour into prepared pans. Bake for about an hour, until golden brown.
After about 25-30 minutes into baking, I sprinkled macadamia nuts on top and placed back into oven to bake the remaining time.
Toothpick should come out clean.
Tip #1:
If you prefer to have nuts within your loaves, add 1/2 cups of pecans in batter at the same time as the apples, carrots, and zucchini. 
Tip #2:  Want to freeze one of the loaves?   After loaf has completely cooled, wrap in plastic wrap and then aluminum foil.  You can freeze up to 3 months.  Just make sure to thaw at least 3 hours on the counter a day before serving!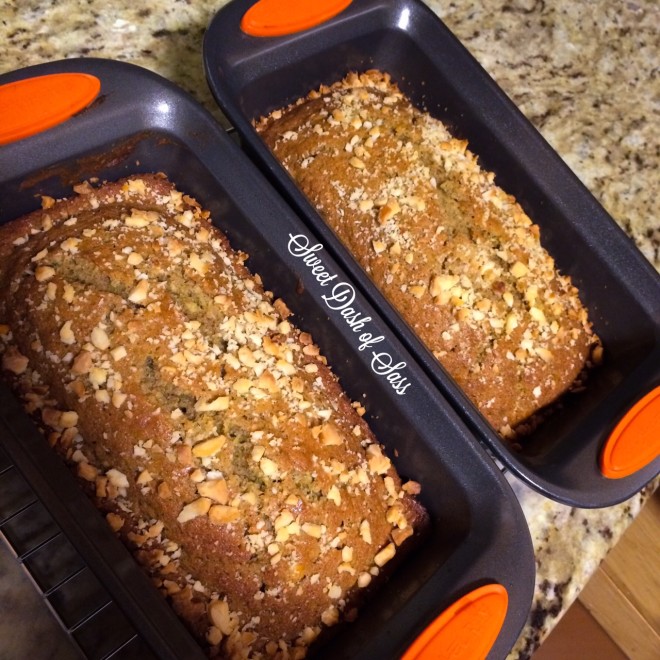 —————————————————————————
Like me on Facebook: Sweet Dash of Sass  CLICK LINK —>    Sweet Dash of Sass
Follow me on Instagram @SweetDashofSass
Follow me on Twitter @SweetDashofSass
—————————————————————————