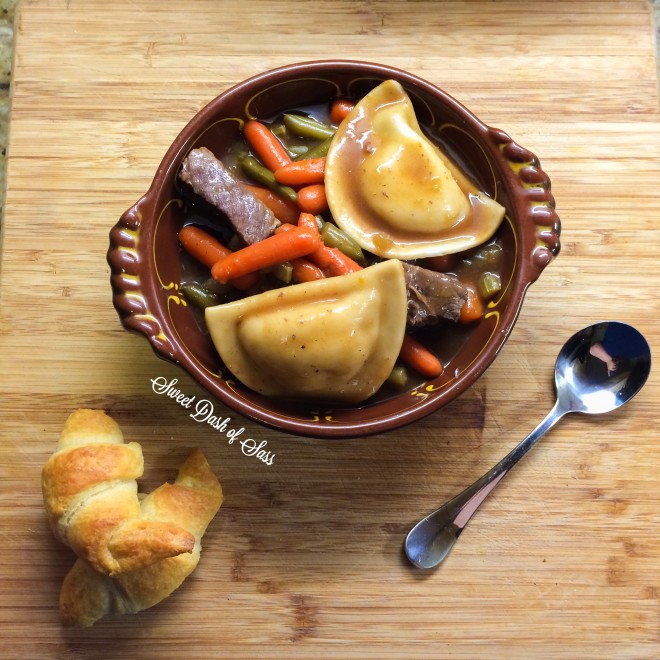 First, I hope everyone is having a great start to 2015!  I am so excited for this New Year.  I'm not one for "resolutions",  I feel like those never get accomplished.  Over the last few years, I have been creating a "Bucket List" of things that I would like to see/do for each given year.
It just so happens I started doing this the year I met Bob.  When we were getting to know each other, I had mentioned my whole "Bucket List" idea and what items I wanted to see/do that year.  Well, on our first date he surprised me and we completed two things off my list!  I was so impressed that he was actually listening on our phone conversations — I knew he was a keeper then.
Here are some pictures from our first date (March 6, 2009).
Unfortunately, the restaurant we went to on our first date closed in mid-2012.  It will always hold a special place in our hearts.  Maybe another restaurant will take over that spot for us to visit the next time we are in Cleveland.
Fun Fact:  Bob even proposed at that very gazebo in December, 2011!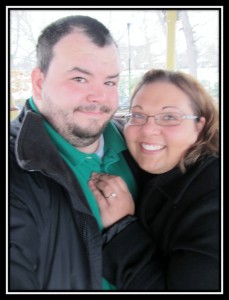 I'm still working on creating my list for 2015.  However, we already crossed off one by getting our passports!  We are planning our first international trip in late April to Punta Cana — my cousin is having a destination wedding.  Can't wait.
The next big thing that was on my list was to re-vamp my blog, which I am super excited to unveil to all of you today!  Over the last few weeks, I have been working with Melissa from Jelly Design Studio. She has been so wonderful to work with and I highly recommend if you are looking to re-design your website/blog.
I absolutely love my official logo!

There are several new features on the site.   I have to say my favorite one is being able to print the recipes without all the photos/comments on the page as well!  Definitely play around on the site – let me know what you think of it. I'm looking forward to food blogging this year with it!
Now, for what you've all been waiting for…
Beef & Pierogi Stew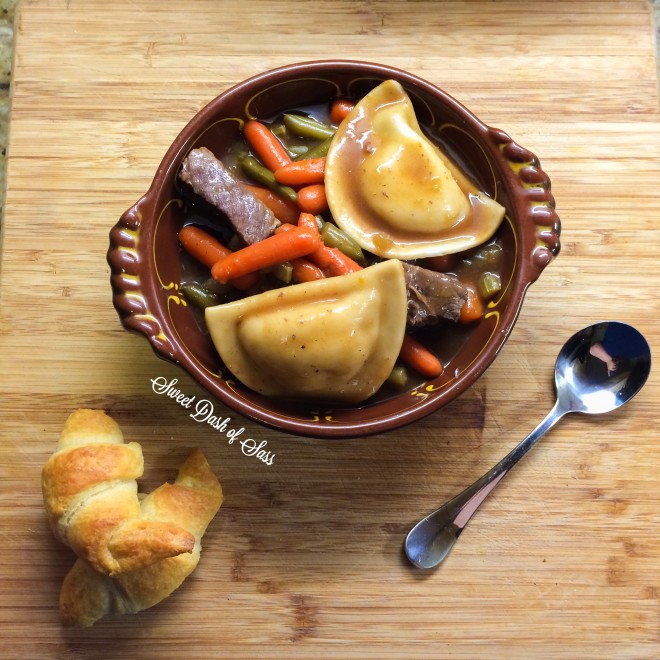 If you are looking for a new spin on the traditional beef stew – this recipe is for you.  This has been (and still is) a family favorite I have been making for several years now.  It's a perfect meal for those cold, wintery nights!
If you can get your hands on homemade pierogies at your local farmers market, even better – but frozen pierogies work perfectly.  If you aren't a fan of beef and prefer chicken instead,  you can easily alter the recipe accordingly.  Click HERE for Chicken version.  I alternate back and forth between both versions during this Fall/Winter season.
This is a perfect recipe if you are looking for a quick dinner meal idea and short on time (under 30 min!).  Which is totally up my alley, because usually I'm working late and then by the time hubby gets home from work, I'm scrambling around wondering what I am going to make.
I'm typically not a fan of leftovers, but this dish actually tastes just as great the next day.
Just serve with your favorite dinner or crescent rolls.

Beef & Pierogi Stew
Author:
Sweet Dash of Sass
Ingredients
1 - 1-1/2 lb. beef (stew beef), cut into smaller size pieces
3 tablespoons oil
1 – ½ cups of carrots, sliced
1 cup celery, diced
1 medium white onion, diced
¼ teaspoon thyme (optional)
⅔ cup beef broth
1 (16 oz) package frozen pierogies – roughly 12 pierogies — I always use Potato/Cheddar flavor!
2 (12 oz) jars of beef gravy
1 can of Green Beans
Salt/Pepper to taste
Instructions
In a large skillet, heat 2 TBSP of oil over medium-high heat.
Sprinkle beef with a good pinch of kosher salt and pepper.
Brown beef on both sides; remove to a plate.
Add remaining 1 TBSP oil; stir in carrots, onion and celery.
Cook and stir until vegetables are barely tender, about 3-5 minutes.
Return beef to pan. Add thyme and beef broth.
Simmer, covered, until vegetables are tender and beef is fully cooked/tender, about 20-25 minutes.
Meanwhile, cook pierogies in boiling water for 5 minutes, drain. Stir in beef gravy into the vegetable mixture.
Stir in green beans. Lightly Stir in pierogies. Add salt and pepper to taste.
Notes
Serve with your favorite dinner rolls or bread. I love having crescent rolls or a good loaf of Dutch Crunch bread with butter.
Tip #1
: 
You can easily make this with chicken instead!  I have done this version several times myself.  Check out recipe HERE!