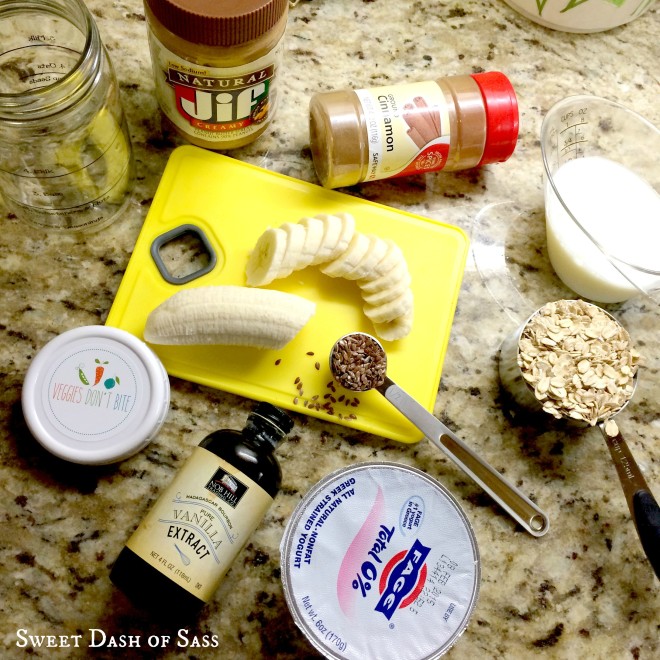 What exactly is Overnight Oats?  Basically it's raw rolled oats (not quick cooking) that are soaked overnight to absorb whatever liquid you put with them.  Put in the fridge overnight and in the morning, you have a delicious (and healthy) breakfast ready-to-go.
I kept seeing all different recipes on my Pinterest feed.  All of them looked so yummy, but I didn't have a special container/mason jar to make my oats in that everyone seemed to have.  Around that same time, Sophia from Veggie's Don't Bite posted on her blog that she created her own jar – which is Patent Pending.  This made me really excited.  Two reasons :  One – I wanted to support a fellow food blogger who I have been following since I started blogging.  Two – I could finally attempt and try some of my own Overnight Oats recipes!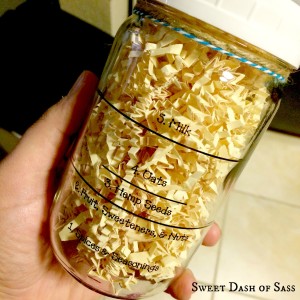 Special Features on the Overnight Oats Jar:
16 oz glass mason type jar
Dishwasher / Microwave Safe
Designated Lines – so you don't need to measure how much of each item you need to add ("Create As you Go")
To learn more about the VDB Overnight Oats Jar and/or to purchase your very own – CLICK HERE!!
The thing that I LOVE the most is it's so easy to create and prep in advance.  So when I am working at my desk in the morning – I have a quick and healthy breakfast option to start my day!  I enjoyed my first creation so much, I was already thinking of other future flavor combinations that I can't wait to share with all of you!
Basically you can start with your Base Ingredients:  Rolled Oats/Greek Yogurt/Milk (see quantities within recipe below) — then add whatever other flavors/ingredients you desire (Endless Possibilities)!
Here is a short video clip I created:
No Baking or Cooking Required!  It's literally that easy!  Customize the flavors to whatever you desire!  Hope you enjoy!

Peanut Butter & Banana Overnight Oats
Author:
Sweet Dash of Sass
Ingredients
½ cup rolled oats (not quick cooking)
½ cup milk
⅓ cup greek yogurt (I used 6 oz. container of Fage Total 0%)
1 teaspoon vanilla extract
½ teaspoon cinnamon
1 tablespoon sliced almonds
½ banana, sliced
½ tablespoon flax seeds
1 tablespoon peanut butter
1 tablespoon honey
Instructions
In a jar, "dump" the following ingredients in this order: vanilla, cinnamon, sliced almonds, banana, flax seeds, peanut butter, honey, rolled oats, yogurt, and milk.
Stir ingredients together in jar.
Close jar with lid - place in refrigerator overnight.
In morning, Grab a spoon and you are ready to eat! You can eat them cold or warm.
Notes
For this particular flavor, I prefer to heat up in microwave (without the lid) for 30 seconds or so to take the chill out.
Optional : You can garnish with a few extra almonds, bananas, honey or peanut butter.