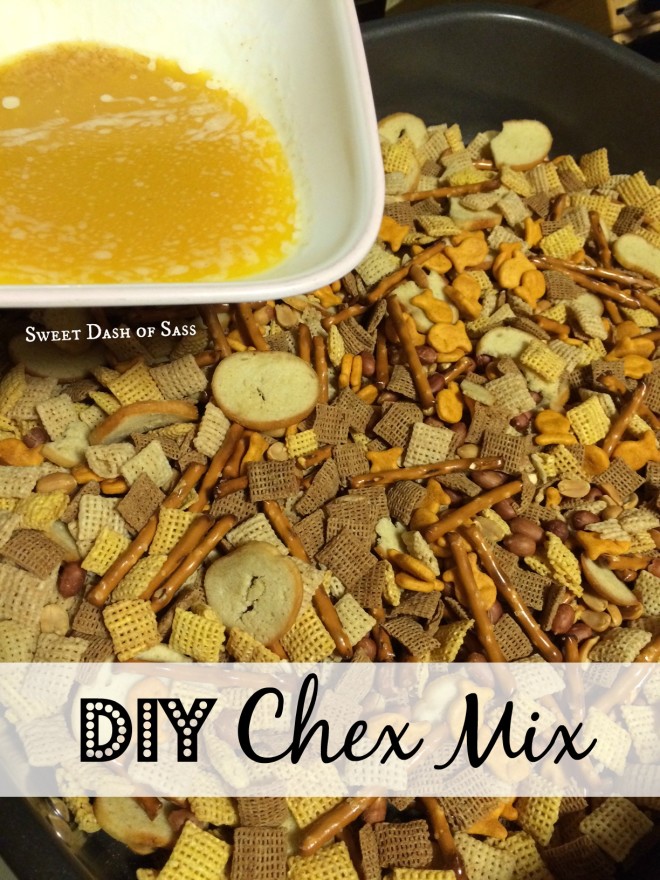 I love Chex Mix.  I prefer it over Potato Chips any day.  Plus, there are so many varieties to buy in the stores now from Sweet to Savory.  However, have you noticed the prices lately?  If it's not on sale, you could be paying up to $3.99 for a small bag.  YIKES!  With that said, I haven't had Chex Mix in a while.
It never crossed my mind that I could attempt making Chex Mix from scratch until our friend Julie introduced us to her homemade version during the holidays.  It's soooo good!  Literally, it's so hard to stop eating it.  After enjoying hers this past Christmas, I thought I would attempt my own version.  It's very close to the version Chex Mix company uses, but I slightly altered it to my own taste preferences.
It's so easy.  Why haven't I done this sooner?  I have already made two batches since Christmas.  You can make so much more compared to the amount you pay/receive in 1 small bag.
I can't wait to attempt some other flavors, but to start – this is just a basic version.  Not too salty, very mild – just right.  You can easily alter this recipe to your liking.  Not a fan of one of the mix ingredients?  Leave it out.  Love extra pretzels?  Add more in!
Once you attempt making your own, you will never want to buy the packaged mixes again!  Enjoy!

DIY Chex Mix
Author:
Sweet Dash of Sass
Serves:
Roughly a Gallon Size Ziplock
Ingredients
1 stick of butter (1/2 cup)
3 TBSP Worcestershire Sauce
¾ teaspoon garlic
1-1/2 teaspoon season salt (may add more to taste)
2 cups Corn Chex
2 cups Wheat Chex
2 cups Rice Chex
2 cups pretzels
½ cup peanuts (or mixed nuts)
1 cup Goldfish crackers
1 cup plain bagel chips
Instructions
Pre-heat oven to 300 degrees.
In a large roasting pan, pour Corn, Wheat, and Rice Chex, pretzels, peanuts, Goldfish crackers, and bagel chips.
Toss gently with a rubber spatula (or hands will do!)
In a microwave safe bowl, melt butter in microwave for 30-60 seconds.
Once melted, stir in Worcestershire sauce, garlic, and season salt . Mix until fully combined.
Pour mixture evenly over cereal.
Toss with rubber spatula to fully coat.
Bake in oven for 30-35 minutes, stirring every 10 minutes.
Let cool.
ENJOY!!!!
Notes
You can easily to your own tastes. Add more or less salt to taste. Swap with different shaped crackers or pretzels. Tastes so much better than the packaged stuff - plus you can make a huge batch vs. the cost of a tiny bag in the store!